Offered is an amazing old treasure that will not be easily replaced. Nor will such a glass fishing float in this size, with such character and history ever be made again. This great big antique glass fishing float has been named with honor, gratitude and a sense of humor. The HUGE, venerable old glass fishing float has been knighted "MONSTER".

And 'Monster' it is - the glass on its own - measures between 14" to 15" - call it 14-1/2" diameter. With or including the net, the circumference measures a full 49". The saving grace for 'Monster' is the gorgeous, delicate color! Imagine pretending to be a Monster with a light, celestial teal blue color. Yes - the color really is as pretty, or prettier than the photos. If anything the beautiful blue is dampened down by the combination of the net and the brown deck -together having the effect of down playing the color. And the thick, 'battleship' heavy glass is LOADED with a literal MILKY WAY of bubbling. This hand blown collectible antique glass fishing float is unique and will be nearly impossible to duplicate, in terms of the glass alone!

The original, authentic net has probably been borrowed from a Mammoth's Halloween costume or a Friday the 13th scarecrow! This is no wimpy net! This is a net fit for a monster! The net is not an aristocratic refinement. This is a working rough-neck net in sisal or manilla rope. About 2/3 of the net is this natural fiber, with the other 1/3 or less being a sturdy, thick, high quality polyester in a dual color, cream and blue. The net probably has a story to tell.

My best guess is that the polyester portion of the net may not represent a repair, nor that a portion of the manilla rope was damaged, thereby warranting repair. It looks like the net maker possibly ran out of manilla rope, or possibly took a break, returning days later and finished up using what was readily at hand - that being the dual colored polyester of similar thickness.

It's even possible that the sisal or manilla portion of the net had not been completed by its original maker. Heaven knows what may have happened to him? Some other kind soul took over the unfinished work. Both types of rope look to be equally aged, exhibiting natural wear, yet the full net is snug, fully intact and in very good condition. A rare thing, as most nets have long ago disintegrated, fallen off, rotted - especially sisal or manilla - or show broken tines or holes within the body of the net. An intact net in very good condition on a float this size is not an easy find and increasingly rare as the decades roll on - and as collectors tend to hang on to such prizes.

The net further looks to have been completed 'as a whole' as there are three or four lengths or strands traversing the float, woven in to anchor the tie offs on either side. A master net weaver or maker would know, few and far between these days! This is my best guess and what I observe in discussion with a float buddy. If the poly portion does represent a repair, it is at least as worn as the manilla, which is a curious thing 'if' it represented a repair. Observing the two portions and fibers, I tend to think as does the 2nd brain consulted that the net was likely made as a whole and fished as a whole from the beginning. There is a 'pig tail' at either end measuring 8" to 9" and one bit of the anchor weave rope hanging out of one end. If you see this in photos, it's not a problem. Just an end that's healthy, sturdy and can easily be tucked in. So there we have the terrific 'Monster' rough-neck net!

The body of Monster is nothing short of gorgeous. It's outstanding. Seldom do we see a large or very big float with such 'movement' and character within the antique hand blown glass! We may see this type and quantity of movement in a small baseball size float, but seldom in a big float. It is said that the older the float - as a general rule, there are always exceptions - the more bubbling, the more complexity and movement in the glass.

The photos do little justice. The float should be held up high and a photo taken of the entire glass, not shadowed, shaded or darkened by surroundings in the environment. When held up to the light in a bathroom mirror - the entire body of the float lights up to a beautiful celestial light teal blue and is literally a galaxy of bubbling! The density of bubbling is astounding, not like anything else I've come across. Surface wear could be said to be 'normal', yet for a float so old and fished for decades - yes, I see the odd buff here and there as light 'frosting' - but on the whole I'd assess surface wear to be lighter than would be expected. Wear hardly seems even something to be addressed. The float is in excellent vintage condition.

The seal 'button' on this wonderful glass fishing float appropriately fits the rest of the float. It shows fine craftsmanship. It's nicely rounded and about 3-3/4" in diameter. The 'eye' in center of the seal is concave. The surround edge on the seal is in MINT condition. There are no chips, no nicks, no grazing. What are the odds of finding a float 60 to 80 years old with a mint seal? A sign of enormous good fortune and prosperity! This is Monster. Fall in love.

Monster must go to absolutely the best home where it will be preserved, cared for and passed on to posterity, along with gratitude to the Japanese culture for sharing these ingenious hand blown collectibles with the world.

(A word on shipping: The weight of the float is around 15 pounds. My antique scales are wobbling with the float not quite balanced on its own, so about 15 pounds. Add 10 to 12 pounds insulation (25 to 30 pounds total) and the equivalent of triple boxing to journey to its new home. Add full insurance with signature confirmation, required for value above $250. Shipping goes by weight plus dimensionality now and it's not cheap anymore. Please note $125.00 is based on USPS research based on size/dimensions of outer box plus weight. A handling fee of up to $10.00 or NONE may be added. If a refund of more than $5.00 is due, you will receive a shipping credit via Paypal upon shipping. If, on the other hand, shipping is more than $5.00 above the $125.00 charged for shipping, you may be asked to contribute the difference. The protection and safety of this priceless, irreplaceable antique glass fishing float is top priority - and fairness in shipping costs are equally important. I promise to treat you the way I would want to be treated. This note is added as explanation on the ridiculous high cost of shipping this precious historical item. Please note Parcel Post is slower, but the most cost effective way to ship a large, heavy item.) Thank you!

Thank you for helping to care for vintage fishing floats which are rapidly being replaced with plastic or synthetic floats.

Your time and energy are valued. Thank you for your interest in lightinawormhole.
**********************************************************************************
SHIPPING: Parcel Post shipping is offered for this float. It will be double or triple boxed with extra insulation for maximal protection of its antiquity while in transit. The cost is $125.00. This includes your tracking number, full insurance and the required 'Signature Confirmation'. It will be packed with absolute care. *** Please allow 1 to 2 days to ship and 8 to 9 days for the carrier. You should receive it in 'about' a week if everything is optimal. Please read section above in () parentheses, at end of description. That paragraph thoroughly explains the cost of shipping this special item.
Thank you!

COMBINED SHIPPING: Yes - I will normally combine! But sorry, Monster is too big to include safely with other floats.

THANKS AGAIN FOR YOUR TIME AND INTEREST. HOPE YOU RE-VISIT lightinawormhole.
Learn more about the shop and process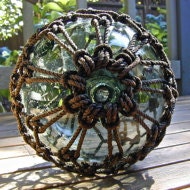 lightinawormhole by Robi
Glass Fishing Float, MONSTER 14 to 15 INCH Netted, Antique, Nautical Decor, Coastal Cottage, Fishing Decor, Ocean, Home and Garden, Sea
---
Overview
Vintage item from the 1940s
Materials:

glass, sisal, manilla, polyester

Only ships within

United States

.
Feedback: 836 reviews
Favorited by: 41 people