This item sold on December 14, 2012.
Wrapped in the inspirational words of the great writers before us, these mini notebooks fit perfectly in your pocket and are prepared to capture whatever the Muses might bring you. Be it poetry, journal entries, sketches, or even to-do lists, your work will feel right at home in these pages.

Great for gifts, young and old, male and female.

Each book has 40 cream colored blank pages (20 leafs), and is covered with textured, granite, pastel card stock, printed with passages from literary classics in a typewriter font. Books are roughly 3.5"x5.5", the standard Moleskine Cahier size, and are bound with a cream thread.

PLEASE CONTACT Batch of Sparrows TO SIGNIFY COLOR AND PASSAGE OR TO REQUEST CUSTOM ORDERS

THE AVAILABLE CHOICES INCLUDE:

WORK: C.S. Lewis, The Chronicles of Narnia, The Last Battle
COLOR/QUANTITY AVAILABLE: Pink / 1, Gray / 1
TEXT:"The dream is ended: this is the morning. And as He spoke He no longer looked to them like a lion; but the things that began to happen after that were so great and beautiful that I cannot write them. And for us this is the end of all the stories, and we can most truly say that they all lived happily ever after. But for them it was only the beginning of the real story. All their life in this world and all their adventures in Narnia had only been the cover and the title page: now at last they were beginning Chapter One of the Great Story, which no one on earth has read: which goes on for ever: in which every chapter is better than the one before."

WORK: Shakespeare, Macbeth
COLOR/QUANTITY AVAILABLE: Sand / 1
TEXT: "She should have died hereafter; there would have been a time for such a word. Tomorrow, and tomorrow, and tomorrow creeps in this petty pace from day to day, to the last syllable of recorded time; and all our yesterdays have lighted fools the way to dusty death. Out, out, brief candle! Life's but a walking shadow, a poor player that struts and frets his hour upon the stage and then is heard no more. It is a tale told by an idiot, full of sound and fury signifying nothing."

WORK: Shakespeare, Romeo & Juliet
COLOR/QUANTITY AVAILABLE: Pink / 1 , Gray / 1
TEXT: "He jests at scars that never felt a wound. But, soft! what light through yonder window breaks? It is the east, and Juliet is the sun. Arise, fair sun, and kill the envious moon, who is already sick and pale with grief, that thou her maid art far more fair than she: Be not her maid, since she is envious; Her vestal livery is but sick and green and none but fools do wear it; cast it off. It is my lady, O, it is my love! O, that she knew she were! She speaks yet she says nothing: what of that? Her eye discourses; I will answer it. I am too bold, 'tis not to me she speaks: Two of the fairest stars in all the heaven, having some business, do entreat her eyes to twinkle in their spheres till they return. What if her eyes were there, they in her head? The brightness of her cheek would shame those stars, as daylight doth a lamp; her eyes in heaven would through the airy region stream so bright that birds would sing and think it were not night. See, how she leans her cheek upon her hand! O, that I were a glove upon that hand, that I might touch that cheek!"

SOLD OUT
WORK: Lewis Carroll, "The Jaberwocky"
COLOR/QUANTITY AVAILABLE: Blue / 0
TEXT: "Twas brillig, and the slithy toves
 did gyre and gimble in the wabe; 
all mimsy were the borogoves,
 and the mome raths outgrabe.

 "Beware the Jabberwock, my son! 
The jaws that bite, the claws that catch!
 Beware the Jubjub bird, and shun 
the frumious Bandersnatch!" 

He took his vorpal sword in hand:
 Long time the manxome foe he sought — 
So rested he by the Tumtum tree,
 and stood awhile in thought.

 And as in uffish thought he stood,
 the Jabberwock, with eyes of flame,
 came whiffling through the tulgey wood,
 and burbled as it came!"

SOLD OUT
WORK: Lewis Carroll, "The Walrus and the Carpenter"
COLOR/QUANTITY AVAILABLE: Green / 0
TEXT: "But four young Oysters hurried up, all eager for the treat: Their coats were brushed, their faces washed, their shoes were clean and neat – and this was odd, because, you know, they hadn't any feet. Four other Oysters followed them, and yet another four; and thick and fast they came at last, and more, and more, and more – all hopping through the frothy waves, and scrambling to the shore. The Walrus and the Carpenter walked on a mile or so, and then they rested on a rock conveniently low: and all the little Oysters stood and waited in a row."
Learn more about the shop and process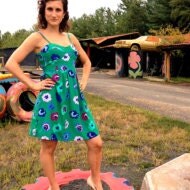 Cassie
Literary Lovers Blank Pastel Mini-Notebook / Cahier
Overview
Handmade item
Quote and Color: RomeoGray
Materials:

card stock, cardstock, typewriter, cream paper, textured cardstock, blank paper

Only ships within

United States

.
Feedback: 15 reviews
Favorited by: 8 people
Listed on Dec 13, 2012
194 views