An old 'Double FF' marked glass fishing float with an intact net is a wonderful thing from out of the past, especially one with two MINT condition seals, one of them showing a clear 'FF' mark. This is the very famous, well known mark was initially used in the early 1940's by the North Sea Canned Crab Company, likely made by Sasa Glass, Japan. By probably 1949 the mark was being used by the Hokuyo Glass Company. An approximate translation for the 'FF' mark, or "kita" in Japanese would be 'North Business' or 'Company of the North'. (A special thanks to A. Wood and W. Pich for their amazing research.)

Properly marked, the 'FF' appears upside down, with the two F's spine to spine, and the horizontal bars facing outwards, east - west. If my calculations are correct, Hokuyo quit manufacturing their gorgeous commercial glass fishing floats around 1980. So a 'Double FF' float may be 70 years old, or less. Apparently the oldest 'FF' marks were crude, thinner or more stick like. As the stamp progressed down the decades, it gradually took on a 'rounder' or 'fatter' appearance, with some being quite graceful as in calligraphy.

A portion of the 'FF' mark on this antique glass fishing float may be seen in photo #4 on a beautiful separate seal, made especially to show the mark. This looks to be perhaps not the most recent style of mark, but definitely not the earliest. Possibly this float is 40 to 50 years old. The special seal measures about 1-3/4" diameter, a typical size for such a seal. A portion of it is hidden by the tight net, fortunately so taut it cannot be moved aside, but makes for a difficult photo. The seal washed out with bright, hot sunlight (too much reflection) outside, so this particular photo was taken at an angle o catch some of the beautiful detail in the glass - and it was taken near a halogen desk lamp for minimal lighting. This light, however did serve to turn the rope a rich sable brown, which it is not! This extra or 2nd seal, showing the 'FF' mark, is in absolutely marvelous condition with no nicks or grazing that I can detect. If you see it head on, and able to rotate it or the eye a bit in real time, it's a beautiful thing and so fortunate it escaped decades of work, yet remains unharmed.

A float buddy and I took turns and must have taken 20 photos to get a few good ones! Not easy as the glass curves, so the topography reflects light in funny ways which aren't helpful when an observer is trying to identify refined characteristics in the reflective glass. I never use a flash on glass fishing floats. It tends to sensationalize and distort the glass. However it's worth noting that the color on this float can appear a gray green, or slight olive, or even teal green! It is a chameleon! In part due to the orange-red PVC (poly vinyl chloride) semi-hard plastic stanchion mount on one end. Note a portion of it that can be seen in the last photo.

This stanchion mount is for a mounted pole light. The light was helpful in long line fishing to mark the end of the line for the fishers. The orange-red mount is about 7-1/2 - 8" across (diameter) and curved to fit the glass ball. It resides fully inside the netting. In the center is a 2" diameter receptacle into which the pole light could be attached. A brilliant idea but it cuts down on the total reflectivity of the glass ball. I have a head-on photo of the stanchion mount but had to choose just five photos for this listing. The mount is in very good condition and for some collectors, a coveted item, as part of the gear and history.

The seal 'button' on the float is, as the 'FF' seal, in terrific MINT condition. How both seals escaped damage is a miracle, and indeed good fortune. You may catch the seal button in photo #3. Instead of a close-up (as it's in perfect condition anyway) in order to maximize what the viewer may see in five photos, I included a portion of the basal area (technically the 'top' of the float, but the 'base' or 'bottom' as a float normally sits on its greatest center of gravity) to show the lovely ripples or swirls in the glass in that area.

The float measures 12" diameter (the glass) - with the total circumference, including the width of the net, measuring 41" around. The most outstanding thing about the glass itself is the swirling throughout the body of the float. This one is not big on bubbles. The swirling, two seals, a clear mark and intact net are definite pluses.

The net is 100% thick cotton rope. It had been tarred, as most were, to help preserve it. The net shows natural wear, yet remains sturdy, tight, and fully intact. Such nets are more and more difficult to come by as collectors hang onto them, and many show partial disintegration, tears or holes. Sad that we won't forever have them. Remarkable that we can still enjoy those that remain intact.

Surface wear on this glass fishing float is 'normal' yet normal can vary greatly. In my opinion, this one is lighter normal, or medium normal. It's not bad for wear at all. Though it's had a scrub down, my guess is, it could pretty up with some gentle detailing. Try a soft, small nylon toothbrush, or even Q-tips can get in around the tines of rope for better clean up. These old floats all show some natural 'frosting' or buffing to the glass from a bit of sand-blasting. This, of course, will not clean off, nor should we want to remove it.

This is an amazing piece with so many positives going for it. Put the historic 'stanchion' mount to use! Mount a battery operated stanchion pole with Christmas lights. Or light up the float to honor your particular cultural celebratory time of the year. Please care for and treasure this wonderful old fishing float. Be sure to pass it on to posterity with enough history to impress them of its marvelous intrinsic value. Thank you:)

Thank you for helping to care for vintage fishing floats which are rapidly being replaced with plastic or synthetic floats.

Your time and energy are valued. Thank you for your interest in lightinawormhole.
**************************************************************************************************
SHIPPING: Upgraded to Priority shipping for this float. It will be DOUBLE or TRIPLE equivalent boxed with extra insulation for maximal protection of its antiquity while in transit. The cost is $50.00. This includes your tracking number, full insurance and the required 'Signature Confirmation' as value exceeds $250.00. It will be packed with absolute care. *** Please allow 1 to 3 days to ship and 3 to 4 days for the carrier. You should receive it within a week, depending on when business days fall. Thank you:)

COMBINED SHIPPING: Yes - I will normally combine! But sorry, this big, heavy float is too big to include with other floats.

THANKS AGAIN FOR YOUR TIME AND INTEREST. HOPE YOU RE-VISIT lightinawormhole.
Learn more about the shop and process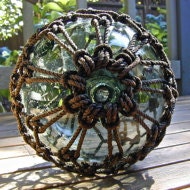 lightinawormhole by Robi
Glass Fishing Float, 12" Diam MARKED Netted, Antique, Home Decor, Nautical Decor, Beach Decor, Fishing Decor, Ocean Decor, Coastal Cottage
---
Overview
Vintage item from the 1940s
Materials:

glass, cotton

Only ships within

United States

.
Feedback: 836 reviews
Favorited by: 36 people
Listed on Apr 1, 2013
662 views