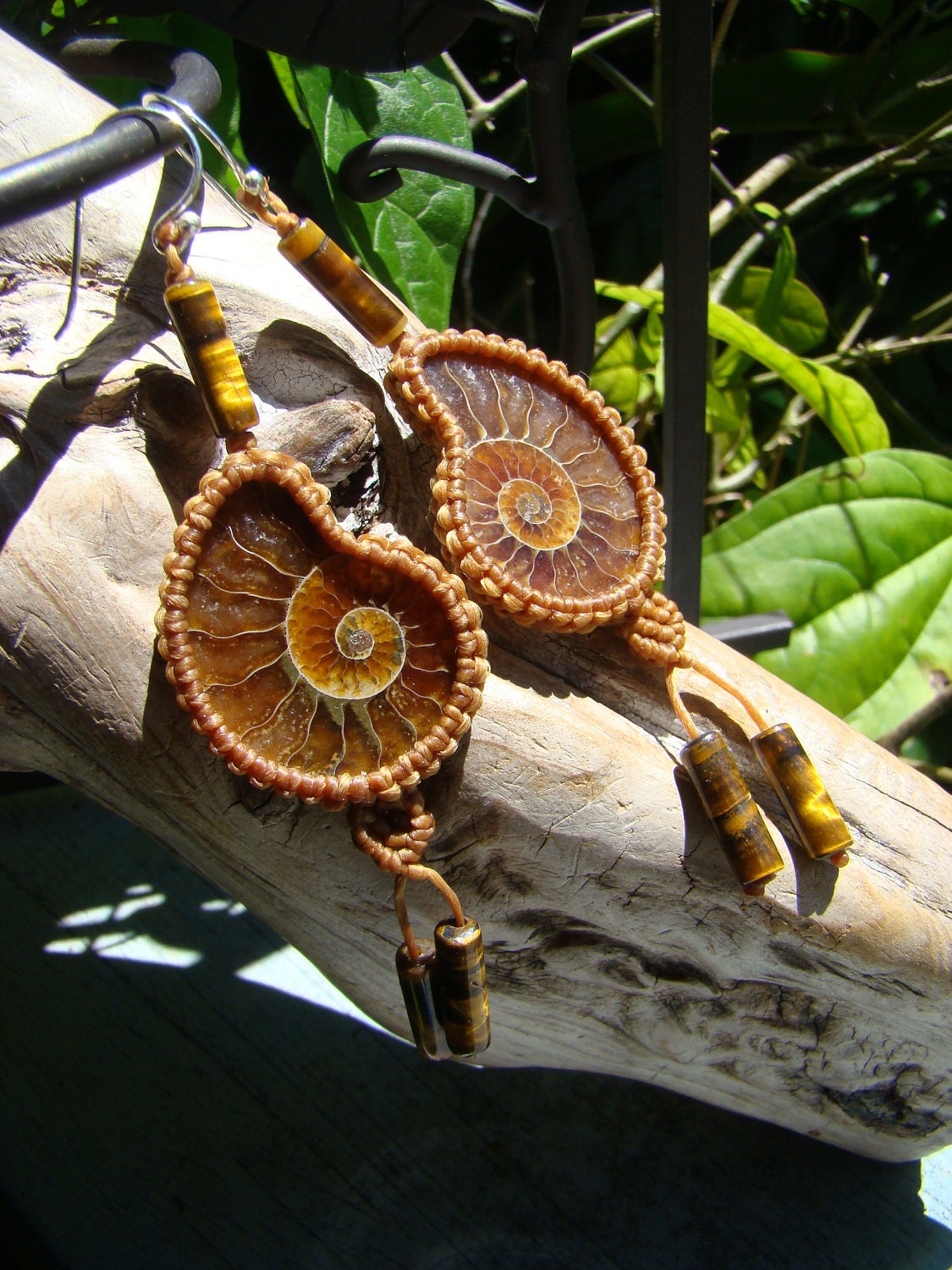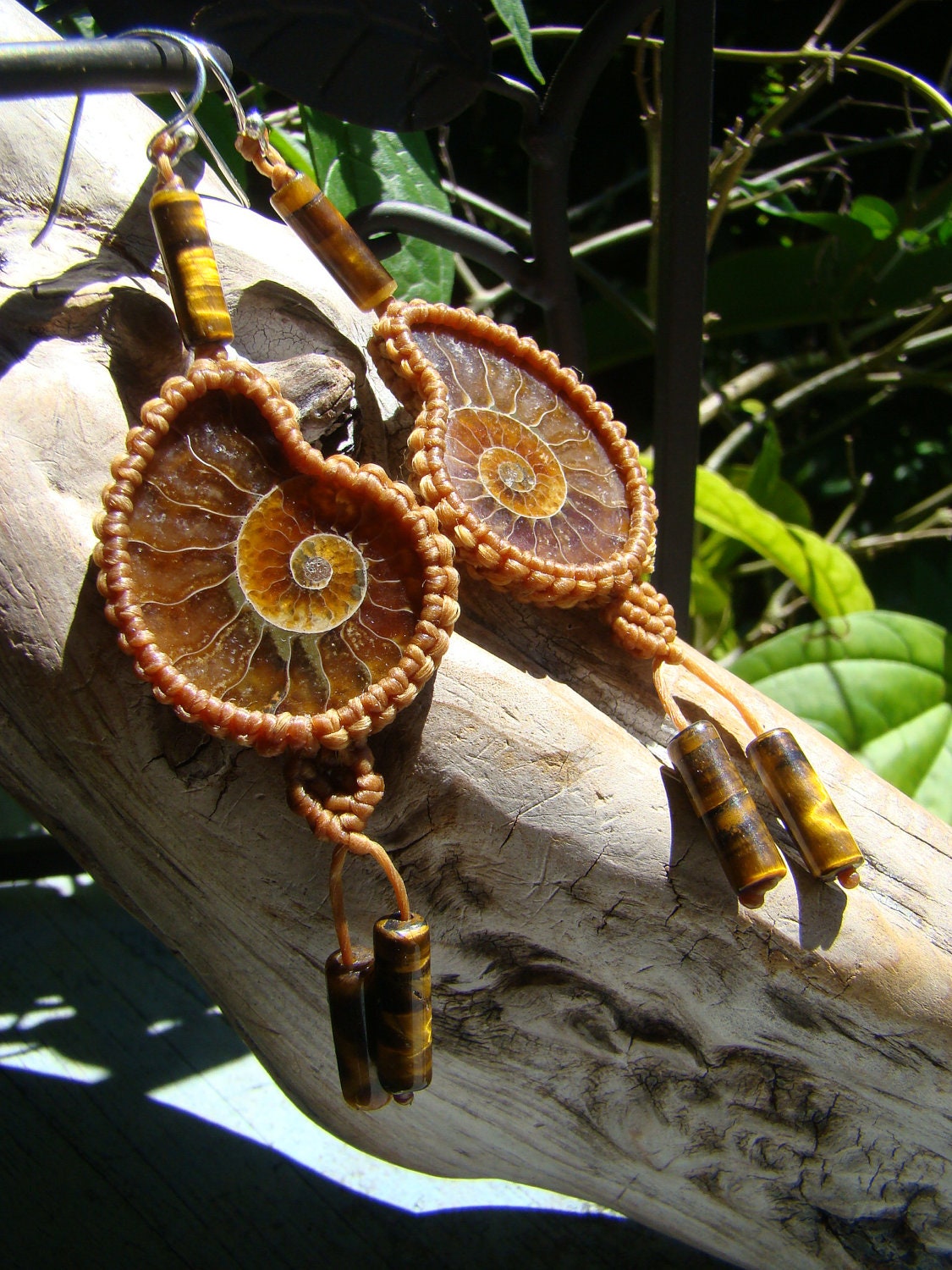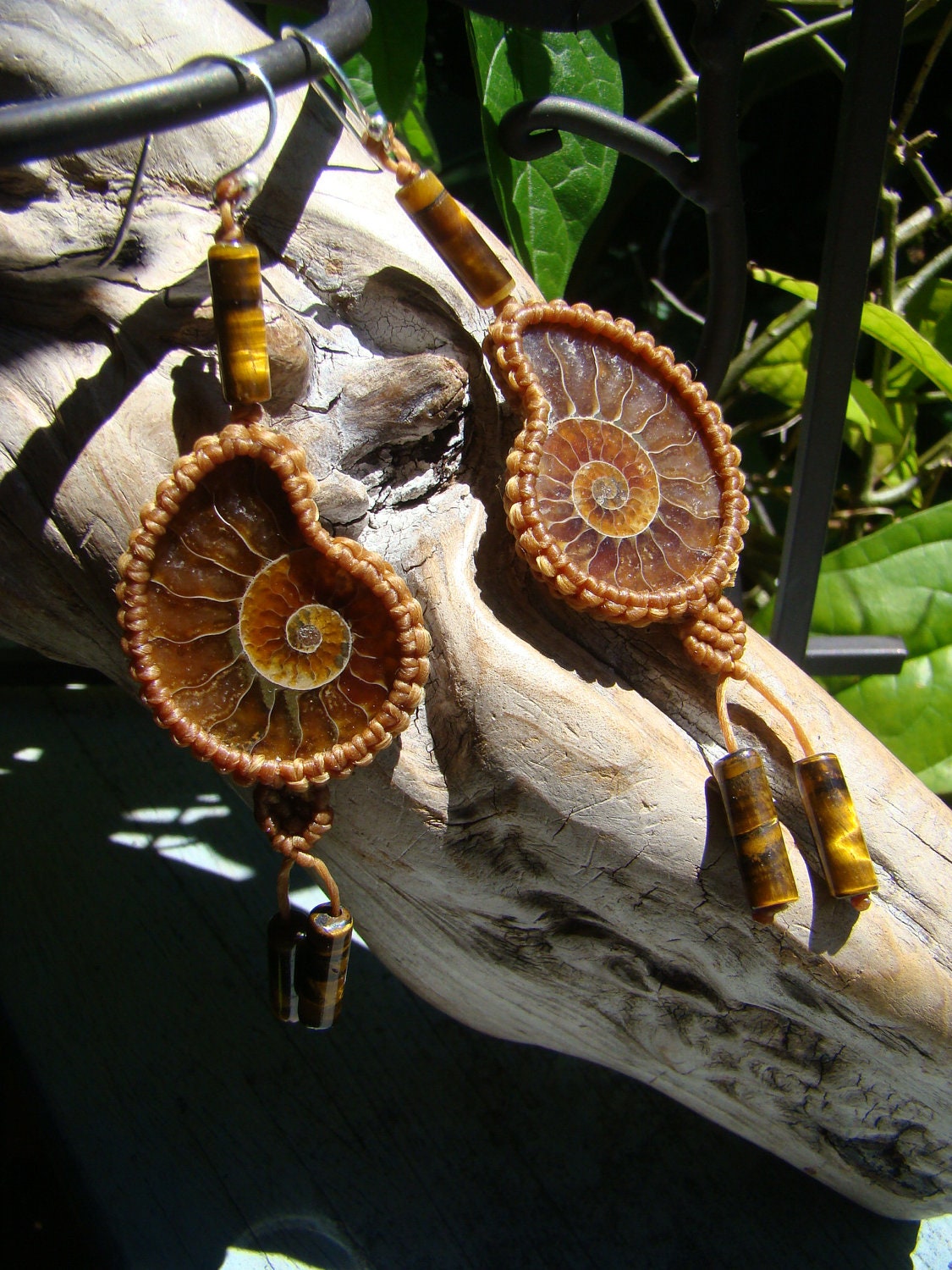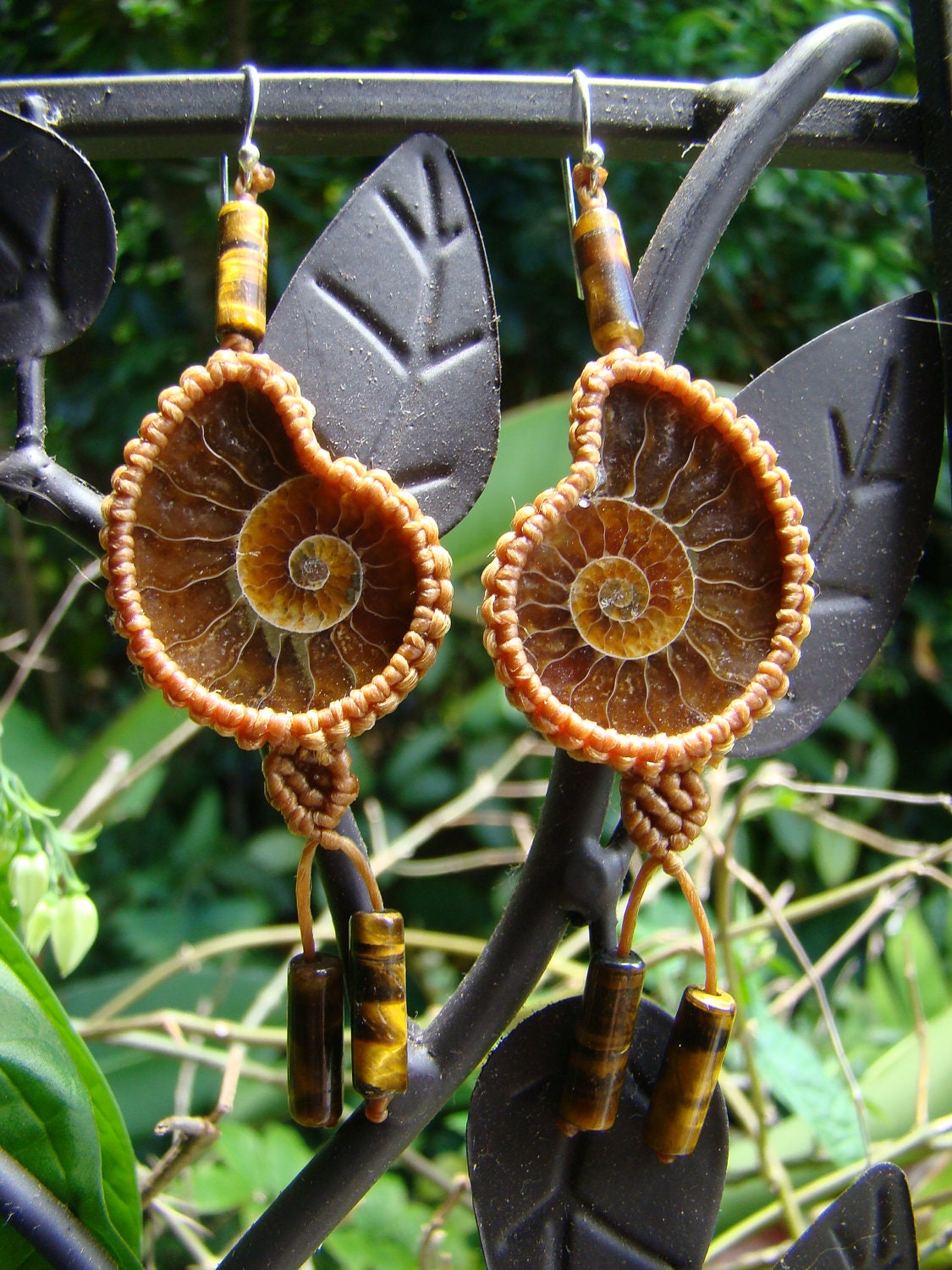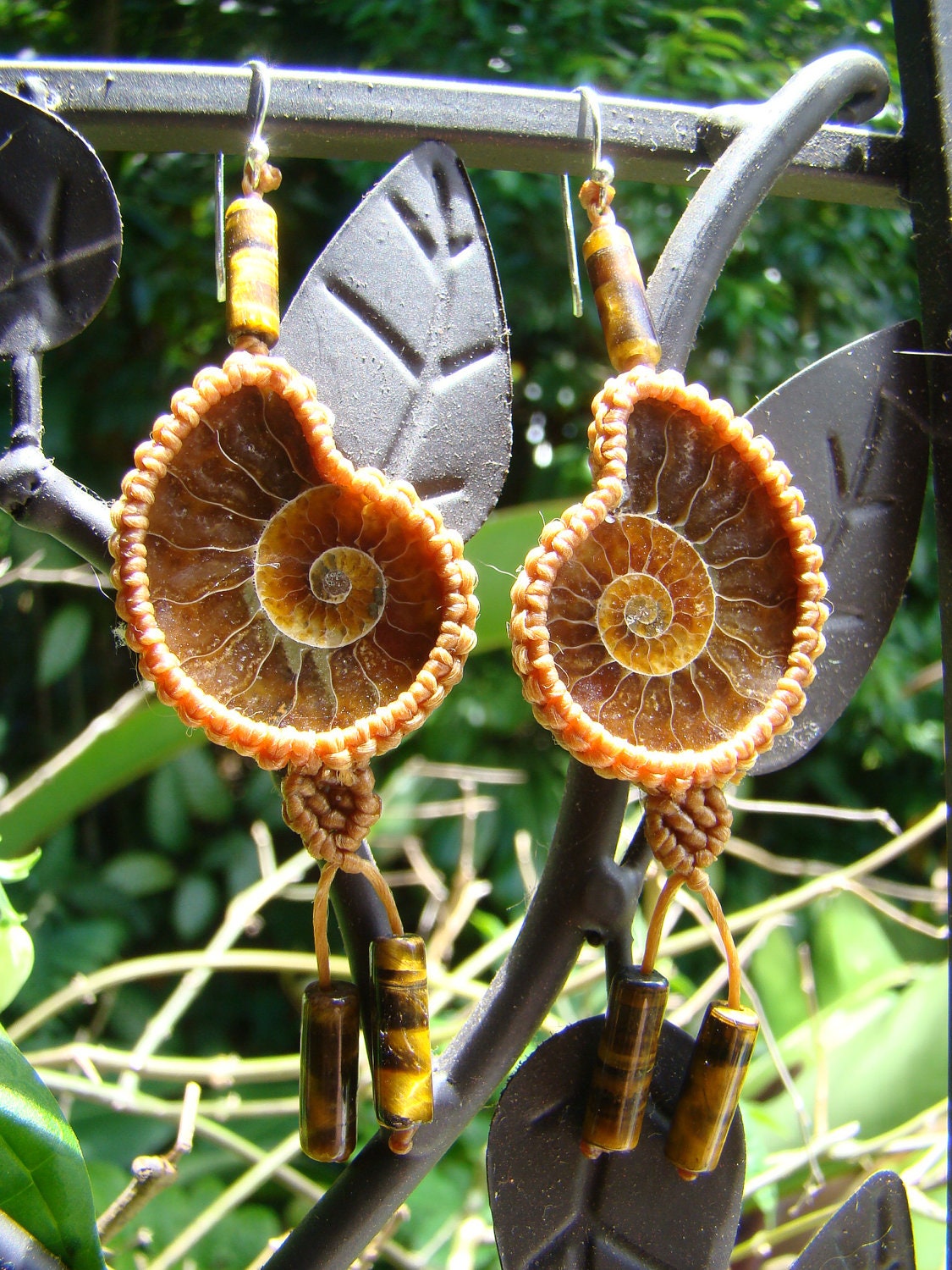 I have just opened this special Store to show-case my Micro-Macrame Jewelry! Please also check out my Fossils Store for more fantastic items:
http://www.etsy.com/shop/Fossils2Art
Macrame Fossil Ammonite, Tiger Eye Gemstone Earrings Sterling Silver wire, Pierced dangle Earrings, Hand Made Hemp Cord Micro Macrame - Free USA Shipping & Tracking!
Beautiful, perfect, natural look!
Macrame Earring Size: 3 1/4" long x 1 " wide - w/ Sterling Wire: 3 1/2" total earring length
Fossil Ammonite: 1 1/4" x 1" x 3/16"
Pierced Earring Materials: Fossil Ammonite & Tiger Eye Gemstone beads. .925 Sterling Silver Wire for Pierced , Brown Hemp Cord
Check out this Store and my
http://www.etsy.com/shop/Fossils2Art
Store for matching Bracelets & Necklaces.
Hemp is Eco-friendly and looks great when you want an organic hand-made look in what you wear.
Hemp a natural, renewable resource. Superior non-toxic product. Earth & Animal friendly!
Macrame weaving and knotting. A skill as old as humanity.
History: Now extinct, the ammonite mollusk was a shelled cephalopod, usually appearing in a coiled, spiral shape. The extinction of ammonites coincided with the extinction of dinosaurs. Ammonites inhabited the world's oceans and now appear as fossils in marine rocks. Because of their rapid evolution and wide distribution, ammonite fossils provide a useful tool for indexing and dating rocks. It is said that the original discus used by the ancient Greeks in their Olympics was in fact a fossilized ammonite. In India, ammonite fossils are identified with the god Vishnu and are used in various ceremonies. They are mostly collected in Nepal, from the bed of the River Gandaki where it cuts through Jurassic sediments. These fossils are known as "Shaligram shila". The word ammonite is derived from Ammon, an Egyptian god who took the form of a ram. Ammonites are similar in appearance to a ram's horn.
Metaphysical Properties:
Properties: Ammonite is a stone of protection. It provides for insight and it helps to assist one in seeing the 'whole picture. Gives stability to it's user. Since it is associated with the Root Chakra, it encourages ones survival instincts and is grounding.
Feng Shui: Ammonite is believed by Feng Shui masters to be associated to the scales of the mythical creature "Chi Lin" Therefore, it is said to be a powerful wealth stone and brings prosperity, grandeur and illustrious sons, similar to the potency of the Chi Lin.
Tigers Eye - A stimulating stone, Tiger Eye overcomes lethargy and provides motivation. It speeds up a slow metabolism. Tiger Eye increases a low sex drive.
♥ Protection ♥ Clear thinking ♥ Personal empowerment ♥ Integrity ♥ Willpower ♥ Practicality ♥ Grounding ♥ Power ♥ Courage
My main Store contains a vast amount of my Hand made Jewelry, Vintage / Antique and Prehistoric, ice age ivory & bone carvings, Netsuke, pendants, necklaces, Macrame and much much more. All unique, one-of-a-kind, items !
http://www.etsy.com/shop/Fossils2Art
Macrame Fossil Ammonite, Tiger Eye Gemstone Earrings Sterling Silver wire, Pierced dangle Earrings, Hand Made Hemp Cord Micro Macrame
---
Overview
Handmade item
Materials:

macrame, hemp, Micro Macrame, Free USA shipping and Tracking, cord, Sterling Silver, Pierced, Earrings, Gemstone, Pierced dangle Earrings, Earth Animal friendly, Fossil Ammonite, Tiger Eye

Ships worldwide from

United States

Feedback: 44 reviews
Favorited by: 5 people