Our whippy Body butter is SO POPULAR that we want you to know that we also offer an EXTRA LARGE 8 oz wide mouth low profile jar for your scooping pleasure~
Fluffy Dream Cream!! Hand Blended, Ultra Premium Whipped Body Butter with exotic Pumpkin Seed and Kukui Nut Oils. This is an intensive, rich all over body moisturizer which nourishes and regenerates dry and parched skin. Pura Gioia's whipped, creaminess will sooth and soften your skin while transforming your psyche with so many heavenly scents to choose from! Slather some on and you will see why there's a really good reason we call it Body Joy!!
On this listing - YOU choose the scent....
Pamper your dry, parched skin with the richest, most decadent whipped cream you ever could imagine! Try it once and you will be a fan for life because you will not find anything else on the market that can compare! This Creamy Coconut & Shea Butter is whipped up and blended to be heavenly scented, and you'll immediately notice the texture is like fluffy body frosting! Your senses and skin will love it - there is a reason we call it Body Joy! Our Whippy body butters are never sticky or greasy...
Notice our products are Paraben Free, Gluten Free, and SLS Free!
Pura Gioia never uses SODIUM LAURETH SULFATE, PROPYLPARABEN, PARAFFIN, Petroleum based ingredients and many other industry undesirables...which is much better for you!...You can be confident with Pura Gioia ~
This whippy, ultra premium body butter nourishes dry, parched skin like no other cream you have ever tried. Extremely rich and deeply penetrating - yet, it is light and not sticky, greasy or oily at all. A little goes a long, long way! Made from some of the most natural and mild ingredients - easily absorbs into skin.- Not plastic feeling like some body butters....
We use only gentle, often organic ingredients for an Ultra Premium High End Spa Qualty product.
This listing for one JUMBO 8 oz jar.
Extremely rich and deeply penetrating - yet, it is light and not sticky, greasy or oily at all. A little goes a long, long way! Made from some of the most natural and mild ingredients - easily absorbs into skin.
Hand Blended, Ultra Premium Whipped Body Butter with exotic Pumpkin Seed and Kukui Nut Oils. This is an intensive, rich all over body moisturizer which nourishes and regenerate dry and damaged skin. This large 8 oz wide mouth low profile jar of whipped, creaminess will sooth and soften your skin while transforming your psyche with heavenly scents for your senses!
SLS Free! Paraben Free, Gluten Free
We use only gentle, often organic ingredients for an Ultra Premium High End Spa Qualty product.
Choose from these Joyful essences:
Available unscented - just ask for "Bianco" (means "WHITE" in Italian)
Now available in our NEWEST SCENTS just released April 4, 2016:
~Peppermint Cupcake: The cupcake CRAZE is on and one day in the kitchen we baked a batch of Vanilla Peppermint Cupcakes. WOWZA did they taste good and the house was filled with the sweetest minty fresh aroma that we just HAD to replicate the scent so we could slather ourselves from head to toe is Peppermint Cupcake delciousness! HOOKED!
~Passion Fruit Punch: This scent will make you feel happy with your first whiff..fruity, sweet, and refreshing. We blended the scrumptious essence of tropical dragon fruits with sweet and fresh key limes, sweet peaches, apples, plums and papayas and then smoothed it all together with base notes of cassis, muguet, milky musk, and creamy vanilla. A perfectly livel, fun spring and summer dayscent.
~ SPA Day: Who doesn't LOVE a day at the SPA? Now, everyday can be a SPA DAY with our fresh and soothing cucumber mint blend ) and a drop of uplifting Italian lemon zest! Light and lovely, fresh and clean..BREATHE in: "AHHHHHHH SPAAAAAA!"
~Jamaican GOLD: This was a special creation from a very special VIP patron. She LOVES our beachy tropical blenda. One day, she asked if we had a pineapple coconut scent and commissioned us to make one when we said, hmmmm, sorry no. In the lab we went out out we came with this incredibly yummy tropical blend that will transport you to the beaches in Jamaica...you'll say YEAH MON, on this one!
~ Waimea Bay: We fell IN LOVE with this new exotic blend of tropical pina colada, juicy pineapple slices, sweet pear and mandarin orange with a base of anise..but it is not too fruity, but instead fresh and clean. We are very proud of Waimea Bay ~ a lovely, light unisex SPA scent.
~ Bahama Mama: Have you been to Club Med and tried their Bahama Mama Tiki cocktail? Craving a tropical getaway one day we were talking and reminiscing.....since we were too busy to hop on a plane we got to work and created our new Bahama Mama delicious fusion of creamy, sweet coconut milk and ripe, juicy peaches. We are so glad we did and think you are going to LOVE it too!
~Strawberry Cookie Bar: Spring is here and we can't get enough of those huge ripe juicy sweet strawberries, freshly picked from the local strawberry fields on a warm spring day. Mixed with warm sugar cookies and topped with whipped cream and we were in Heaven. Voila ~ introducing Strawberry Cookie Bar...YUM YUM YUMMY!!
~ Bird of Paradise: Our favorite Bird of Paradise Flowers in Bloom will knock your sandals right off your perfectly coifed summer toes! Pink jasmine flowers blended witha light sheer musk and swirled into juicy strawberries, pomegranates and creamy vanilla. Truly chic and beachy!
~ Egyptian Musk: We have had so many requests for Egyptian Musk that it was time to roll our sleeves up and get busy. We worked very hard to find a blend that was perfectly suited to our discrimnating Pura Gioia customers. Proud to introduce our light and beguiling new romantic Egyptian Musk.
~ Enchanted: Falling in love is the best feeling in the world! Blending our sweet bouquet of mandarin, peach, strawberry, current & grapefruit with soft musk & bergamot together and we were absolutely ENCHANTED!! If you are a fan of the scent Love Spell by Victoria's Secret then you are going to LOVE, Enchanted by Pura Gioia
~ Heavenly Paradise: There is nothing more heavenly than sweet, hypnotic essence of blooming gardenias wafting in the warm summer breezes...Gardenias are not just for brides anymore...this blend is priceless....a heavenly sweet summer floral blend - rich, exotic and full of LOVE! If you love Lilacs, gardenias and Orange Blossoms you are sure to fall in Love with Heavenly Paradise.
~ Blood Orange: Sweet Sicilian Blood Orange essence is the prized jewel in the crown of the royal citrus family here at Pura Gioia and makes for the perfect new addition to our SPA blends. Blood Orange is Sophisticated and Modern ~ think deep, red, juicy ripened orange juice scent.
And our New Scents released on November 7, 2015:
~ Banana Muffins: Who doesn't LOVE warm Banana Muffins fresh from the oven? Our creamy, buttery blend of sweet, ripe, bananas, walnut bits, aromatic vanilla mixed with a dab of sugar & spice will make your mouth water. This scent is very comforting!
~ Pumpkin Cookies: Our Pumpkin Cheesecake blend is so popular this time of year that we wanted to introduce new Pumpkin Cookies! Sweet, ripe masked a touch of cinnamon, nutmeg, and cloves...a dusting of ginger blending with buttery danish cookie dough = the most lovely pumpkin cookie scent you can imagine. In LOVE!!
~ Frosted Mulberry: Flavorfull juicy mulberries and frshly harvested red apples sprinked with gentle snow crystals, exotic clary sage, sensuous jasmine, fragrant mimosa, winter musk, golden amber, and vetiver woods. A lovely new classic for fall and winter!
~ Mulled Apple Cider: What is more comforting on a chilly autumn night than mug of hot mulled apple cider? We've infused warming spices with baked fruity apples for a scent that reminds you of a family hayride. Mulled fruit and spicy berries blended with cinnamon and apples,
topped with vanilla nutmeg cream and sweet cloves. Winner!
~ Karma Sutra: Sultry and Romance got married for a musky, woody scent hinting of mulled fruit, citrus peel and spiceberry ... green berries with and vetiver, patchouli, sandalwood and myrrh deliver a soft yet enchanting aroma. Hippie and flower children gather 'round!
~ Blackberry Bliss: Tart and sweet Blackberries blended with a touch of soft florals for a lovely, fresh crisp scent. If you love Blissful Blackberries by Bath and Bodyworks we think you will also LOVE Blackberry Bliss by Pura Gioia.
~ Aromatherapy "RELAX": Have you ever heard of "Calgon, take me away...!?? This scent will do just that, minus the Calgon bit. We are expecting this one to be a best seller for melting the stressful day away! This balancing scent is so with relaxingfreshly picked lavender flowers blended with juicy citrus and woodsy notes. Keeper!!
~ Pumpkin Latte: Fall is here when Pumpkin Latte's arrive in your local coffee house! We were inspired! Rich, dark spresso and milk mixed with pumpkin, cinnamon, nutmeg and clove topped off with whipped cream pumpkin pie spices. Awaken your senses with the invigorating aroma Pumpkin Latte from Pura Gioia
~ Beautiful Morning: It's a beautiful fall morning with our new blend of sun-kissed apples, dewy pears, sparkling cassis....wild daisies, lily of the valley, fresh pink peonies....and white peaches and blonde woods. If are a big fan of Beautiful Day by Bath & Bodyworks, we feel you will LOVE Beautiful Morning by Pura Gioia!
~ Warm Gingerbread: We've skipped ahead of fall just for a little bit with our warm gingerbread, but oh well, what the heck??!! We loved making gingerbread cookies and gingerbread houses sprinkled with nutmeg and decorated with sweet fluffy icing with assorted colorful, sweet candies! Fresh from grandma's oven...one whiff of our Warm Gingerbread blend will flash you back to happy memories of Christmas pasts!
~ White Nectarine Nectar: White Nectarines are a relative of the peach and the sweet, tempting aroma brings back wonderful memories of the last days of summer. Our succulent, juicy nectarine, pear, ripe melon, and peach followed by subtle nuances of white nectarine blossoms, jasmine, and a woody, musky vanilla will quickly become a must have in your Pura Gioia favorites collection.
~ Cinque: How do you say # 5 in Italian? #Cinque is how....If you have ever been captivated by Chanel's iconic #5, you will understand why we set out to create a similar scent. Mixing fresh florals ylang ylang, rose petals, and French jasminewith vetiver, sandalwood and rich fragrant woodsy notes we had captured an elegance that women of all ages will surely LOVE!!
And our New Scents released on July 2, 2015:
~ Beach Day: This new scent epitomizes a beautiful summer day at the beach complete with warm sand, sea spray, salty air and slight aromatic breeze of night blooming jasmine and mandarin blossoms. Perfection!
~ Pineapple Mango Tango: Juicy tropical blend of sweet pineapple and luscious mango enhanced with warm vanilla and lotus flowers.
~ Coconuts 4 Bananas: You'll go simply Bananas for this island fragrance! Such a creamy, tropical blend of mashed banana, coconut milk, and a hint of sweet juicy orange nectar brightened with sweet star anise
~ Pure & Graceful: Simply Pure, Delicate and Clean. If you are a raving fan of Pure Grace by Philosophy then you should really enjoy Pure & Graceful by Pura Gioia
~ Sugar Baby: Summer and watermelon just go hand in hand and our absolute favorite is the Sugar Baby ....so we went in search of the perfect blend for our sweet new delight. This new scent is the ultimate summer refresher!
~ Summer Satin: Girl's of all ages love the feel of SATIN on their skin! This is an enticing array of golden peach and shimmering vanilla wrapped in soft silky musk... sprinkled with Bergamot, Golden Peach, Pink Guava, Exotic Berries, Apricot with hints of Muguet Petals, Mimosa, Peony, Jasmine and bottom notes of Shimmering Vanilla, Dulce De Leche, Sandalwood and a bit of cashmere. Sexy, Soft and Beautiful!.
~ Baja Beach Babe: You will dream you are drifting away to paradise on a palm leaf...floating in a sea of creamy coconut milk splashed with peaches and fresh cream...such a tantalizing summery treat for the senses.
~ Kiwi & Strawberries: Ripe and juicy strawberries dancing with fuzzy kiwis equals a super-sweet island treat ...a mélange of fruit slices blended to perfection. This one will be hard to keep in stock, we know that already!!
~ Pink Chiffon Cake: Light and fluffy vanilla bean chiffon cake ...iced with creamy pink frosting that is so sweet it will carry you up, up and away on puffy blond clouds sprinkled with soft, airy pink flower petals.
~ Bel Cristallo: If you are a Versace Bright Crystal girl than you are going to love our new sensual blend of refreshing yuzu and pomegranate mingled with soothing blossoms of peony. LOVE, LOVE, LOVE!
~Mint Mojito: A fun and refreshing blend of crushed mint leaves, iced sugar cane, lemon slices, sparkling pomelo and mandarin zest. Delightfully refreshing and uplifting!
~ Heavenly Hyacinth: There is nothing more fragrant than those first hyacinth blossoms in the spring. We finally captured this lovely scent and bottled it right up...so sweet, it is truly pure heaven!
And our New Scents released on 10/07/14:
~ Cosi' Dolce (means "So sweet" in Italian - this is a baked treat that is truly "so sweet")
~ Tuberose Nectar
~ Dragon Fruit
~ Nag Champa
~ Flirty Little Tease ( very similar to Victoria's Secret Tease Noir)
~ Waikiki Waves
~ Forget~Me~Not (Dainty little flowers with a dainty little scent)
~ Maderas (delicious cranberry & orange with a twist of ginger ale)
~ Banana & Walnut Muffin
~ Alluring Jasmine
~ YULE Jewel ( Clean & Refreshing Green Christmas Tree vibe)
~ Salt Water Taffy
~ Wild Honeysuckle
~ Tiramisu (chock full of Amaretto)
~ Downey Bear (similar to Downey Rose & Violets)
~ Sierra Cortina SPA (Tangerine & Lemongrass)
~ Grandma's Apple Pie (freshly baked out of the oven - very requested scent! Here at last!)
~ Harvest Mums ( Autumn favorite spot on mum scent and if you love carnation's this is for you~ a very nostalgic scent)
~ Raspberry Cream Torte
~ French Toast (Dripping in Melted Butter and Vermont Maple Syrup)
And our New Scents released on 6/15/14
~ Tuscan Aire (similar to "Vineyard")
~ La Mia Gioia (similar to Herbal Essences)
~ Fluffy Marshmallow
~ Piña Colada
~ Lady Luck (similar to Chanel "Chance")
~ Chocolate Almond Joy
~ Tropical Smoothie
~ Whispering Musk
~ Aloha (similar to "Aloha Vanilla")
~ Trambusco (similar to Armani "Mania")
~ Blueberry Cream Cannoli
~ Vanilla Jasmine
~ Very Cherry Almond
~ Nirvana (Grapefruit & Neroli)
~ Little Surfer Girl
~ Bella Vita (similar to Juicy Couture)
~ Ambrosia Grapefruit
~ Flower Puff (similar to Viktor & Rolf "Flowerbomb")
~ Peaches & Cream
~ Sleepytime (similar to Johnson & Johnson)
And our New Scents released on 2/4/14
~ German Chamomile Tea
~ Bellissima (Lovely SPA scent of forest fresh green leaves, lemon zest, with a slight undertone peaches, apples, and pineapples - similar to Matrix Biolage)
~ Tahiti Treat (Polynesian Tiare Blossoms blended with subtle Coconut undertones - a bit fruity - similar to Tahiti Sweetie)
~ Bora Bora Butter - "Coconutty" Goodness
~ Kimono Blossoms (Lovely addition for our Asian SPA collection - a light & lovely floral blend)
~ Southern Cider Donut
~ Sugared Vanilla Bean (Similar to Warm Vanilla Sugar)
~ Moroccan Rose & Sandalwood
~ Sexy Little Vixen (similar to VS Sexy Little Thing Noir)
~ Sunday Morning Mimosa (if you Love the Lip Joy - this is the perfect companion)
~ Cookie Dough (if you love Caramel Bliss, Yellow Vanilla Cake etc, this will be your new favorite)
~ Island Hibiscus (Lovely blend of Hawaiian Hibiscus, Wild Plumeria, Pink Guave and Sparkling Mandarin)
~ Pink Guava (Tropically delicious mixture of Guavas, Oranges, Papayas, Peaches, Strawberries, and dainty Violets)
~ Maui Blossoms (New for our Hawaiian Floral Collection ~ Hawaiian Pikaki & Neroli blend)
~ Paris Sweetheart - (French Bakery blend of Lemon, Blackberries and Buttery Vanilla)
~ Snowy Day (Fresh, Brisk & Clean Blend of Light Mint, exotic Jasmine and Pine Needles)
~ Erbe Verde ("Green Herbs" in Italian! SPA Blend of over 25 scents including Coriander oil, Eucalyptus, Lavender, Sweet Orange, Bergamot with the sweet seductive aroma of Ylang ylang - VERY similar to Aveda Shampure)
~ Fizzy Cranberries Sparkle
~ Honey Lemon
~ Key Lime Pie
And our NEW SCENTS released on 9/23/13
~ Hawaiian Lei flowers
~ Mandurian SPA
~ Moroccan Mint
~ Crazy 4 Jamaica
~ Berry Pink Mimosa
~ Brazillian Berry
~ Persian Pomegranate
~ Sparkles & Bling
~ Blackberries & Sage
~ Blue Hawaii
~ Frankincense & Myrrh
~ Orange Cream (if you love Dreamsickle Ice Cream Bars you will LOVE this one!)
~ Warm Beach Glow
~ Namaste'
~ Hawaiian Ginger
~ French Pistachio Macaron
~ Breezy Musk oil
~ Candy Apple
~ Capri Olive Oil
~ Lilies of the Valley
~Maple Glazed Pineapple
~ Limey da Coconut
And our NEW SCENTS released on 6/1/13
~Chamomile & Lavender (our new favorite - soft and feminine)
~ Bella Espresso (a lovely coffee scented cream)
~Coconut Cabana
~Hawaiian Sandalwood
~Ginger~Mello (if you love Origins Ginger you will love our Ginger Candy)
~Caramel Popcorn
~Summer Nights (heavenly Wild Tuberose blossoms & Jasmine)
~Seaside Rice Flowers
~Pineapple Broulee
~Yuzu Sea SPA
~Lilacs & Pink Willow
~Pompeii Moon
~ Sugared Lemon Cookies
~ Summer Almond oil
~ Butterscotch Butter
~ Ming Fern & Essence of Lavender
~ Oud Wood Patchouli
~ Seine River Moon (If you love Paris Nights - you will love our Seine River Moon)
~ Almond Honey
~ Bitten (If you love Bite Me, you will love our Bitten!)
~ Sea Kissed Cotton
~ Bing Cherry Bliss
~Black Raspberry & Vanilla
~ Soft & Graceful (If you love Amazing Grace - you will LOVE our Soft & Graceful)
~Dragon's Blood
~Malibu Sun
~Tahitian Lagoon
~Dainty Violets
~Monkey Breath
Or any of our other traditional fan favorites:
AA)~ "Almond Biscotti" ~ You will swoon with this aromatic whippy treat fragrant of traditional Italian biscotti (tasty almond cookies) originating from the Tuscany hillsides ~ perfectly joyful and crispy with rich, flavorful almonds
BB)Black Forest Badejas ~ A bracing blend of "clean" from European spas. Black Forest Badejas is similar to a classic blend reserved for body washes in the spas of Germany, France, and Belgium called Badedas. This scent is an upscale blend of fresh, invigorating leafy greens& florals, basil, citrus, amber, and musk. A brilliant, invigorating, and sparkling scent that will make you feel romantic throughout the evening
CC) Pumpkin Cheesecake ~ A mouth watering "must have" for Pumpkin lovers and who doesn't love cheesecake?? ! Totally scrumptious blend of creamy pumpkin with subtle spices, vanilla, cream cheese and toasted graham cracker crust!! A very comforting fall scent!!
.
EE) "Green Tea & Lemongrass" is so fresh and aromatic - You will be hooked when you take your first whiff of Pura Gioia's citrusy Lemongrass, zesty Key Lime, delicate Verbena leaves, fragrant Green tea, tropical White Ginger, sweet Vanilla Bean, and exotic Golden Amber add up to equal a heavenly scent reminiscent of an Asian resort. Leaves you feeling like a million bucks!!
B) "Strawberry Cake Batter" Scrumptious smelling – You will want to eat it, but please don't! This is definitely a customer favorite - Customers are always telling me how they get so many compliments when the wear "Strawberry Cake Batter"! This scent is yummy, but soft and feminine (not a little girl fruity candy type)! NOT AVAILABLE AT THIS TIME
C) "Banana Cream Pie" ~ You will LOVE this one... Mouthwatering aroma of grandma's freshly made banana cream pie. Sweet, Ripe banana aroma blended with quince and apple, Anjoy pears, juicy pearberry, clove buds and plantain leaves with sweet vanilla extract and warm flaky pie crust.
D)"Sun Kissed Citrus" A fresh and clean blend of summer citrus fruits
E)"Lavender Dreams - You will think you are in a field of lavender blossoms - such a lovely, relaxing fragrance. If you love lavender - you will be very happy with your selection of Lavender Dreams!~(Not recommended Mothers because of the essential oils)
F)"Sea Spray" ~Sea Breezes in a Bottle ~ a high end spa fragrance and probably our best seller.
G)"Honeysuckle Blossoms" ~ This will transport you to a garden of heavenly honeysuckle ~ SO sweet you will swear that you taste a drop of honey on the tip of your tongue!
H)"Caramel Bliss"~ My friend asked me to blend a fragrance like her favorite discontinued Victoria's Secret product. Voilà ~ Pura Gioia debuts: "Caramel Bliss" SIMPLY YUMMY!!
I)"Carribean Coconut"~ This is truly a tropical beach vacation in a bottle !!
J)"Coco Mangolicious"~ Truly a fan favorite – can not keep this one on the shelves …..simply SPA~LICIOUS….
K)"Very Lemony"~ Very Lemony is one of our Pura Gioia proprietary blends - a crisp and clean sophisticated scent not a kids fruity type."Very Lemony" is vibrant and energizing - cheerful and uplifting.. This is SO fresh and clean, and all I can say is: "Very Lemony"!! This scent will leave smelling squeaky clean and good enough to eat.~(Not recommended Mothers because of the essential oils)
L)"Gardenia Breezes"~ This intoxicating scent is not just for brides anymore…
M)"Lilac & Lilies"~ An old fashioned favorite with a new twist for Spring -if you have ever smelled lilacs on a breezy spring day -this will transport you back in time with a whisper ~
N)"Victorian Vanilla"~ Very Romantic and Alluring
P) Oh So Orangey- you will think you just peeled a fresh orange - soft orange fragrance melded with the buttery cream - light, fresh, soft and on the warm, summer side - not over powering at all...~(Not recommended Mothers because of the essential oils)
Q) Pink CandyPop - We haven't met anybody who does not like our "Pink CandyPop" fragrance - a very flirty and romantic scent - yet, playful and irresistible .... smells a bit like candy ..a bit fruity and a bit powdery. Jamaican Vanilla, Strawberry, Lily of the Valley, Bergamot, Fig Leaves,Raspberry, Caramel, Musk, Sicilian Orange, Licorice....too complicated to explain. Anybody who loves Pink Sugar by Aquolina will undoubtedly enjoy our Pink CandyPop" scent.
R)"Spearmint & Green Apples" ~ reathe in this uplifting aroma that will invigorate your senses and stimulate your psyche. Traditional Green Spearmint married with crisp Green Apples and just a hint of Sandlewood to carry you away on a heady fresh breeze ~~(Not recommended Mothers because of the essential oils)
S)"Grapefruit & Orange Blossoms" ~ Romatic combination of slightly bitter Grapefruits with intoxicatingly sweet Orange Blossoms ~ Don't be surprised if you forget that you aren't away for this sophisticated spa retreat experience.~(Not recommended Mothers because of the essential oils)
T) Sunny Island Nectar ~ Tropical Passionfruit, Blooming Jasmine, Sugared Citrus, and assorted Exotic Florals is indeed sunny and bright like the islands!
U } Blue Island Bliss ~ escape to the islands! Breathe in and relax as a bright, tropical blend of lucious melons, exotic fruits, florals, a hint of coconut milk, and more.. Don't be surprised if you forget that you aren't all alone in Tahiti……sweet……. Tahiti in a jar~ your own little slice of paradise!
V) Mango Peach Fusion ~ Mango Peach Fusion is the perfect fruity marriage of Tropical Tangy and Sweet Mango blended with the soft honey flavor of ripe juicy summer peaches......
W) ~ "Lemony Coconut" ~ was custom blended at the request of one of our VIP customers and has quickly become a fan favorite - with tons of reorders and RAVE reviews. You will be hooked when you take your first whiff. Tropical and so Summerlicious- you will feel like you are on beach somewhere!~(Not recommended Mothers because of the essential oils)
X) ~ " Cucumber and Honeydew Melon" Who doesn't love Cool Green Crispy Cucumbers and Sweet, Juicy honeydews? Pura Gioia does it again with another decadent, Summerlicious proprietary blend ~
X2)~ "Hawaiian Plumeria Blossoms" You won't need to travel to a topical island to enjoy the essences of Plumeria blossoms. Be warned this is very addicting if you are so island aroma inclined!
Y)~ "Geranium Rose Garden" - If you loved your grandmother's Flower Garden on a warm, spring day then this one is for you! Our combination of Victorian Roses with sweet, delicate geraniums for a truly lovely and ladylike floral blend.
Z~" Summer Sun, Sand and Sea" ~ This one is truly a day at the beach in a bottle! The only thing missing will be sand in your pants!!
AA) Yellow Vanilla Cake ~ This is featured in the Oh So Popular - Neapolitan Trio and has become requested so much - we are adding it to the menu!! Just like it sounds - sweet and delicious "Yellow Vanilla Cake" - truly scrumptious!! NOT AVAILABLE AT THIS TIME
BB) Black Cherries ~ Tart like juicy, and sweet summer ripened Black Cherries. This one will remind you of sitting in the cherry tree on those hot, lazy days of summer - eating cherry after cherry and spitting out the pits. Just watch out for those pesky crows!!
CC) Chocolate Mousse ~ Who doesn't LOVE, LOVE, LOVE rich and creamy milk chocolate? You had better be prepared for the real deal with this one! Don't be surprised if you get addicted to this one - and if you develop a troupe of "followers" because you smell SO GOOD!!! Bonus - Zero calories!! WOOT WOOT!!
Also available in our NEW "Peachy Cream", Peaceful Patchouli", "Creamy Cotton Candy" "Bahama Beach Berries" and "Pink Powdered Baby")
If you have a favorite and don't see it here - send a message...we may be able to make it as a custom scent blend for you! Some of our most popular blends began as custom blend requests!
Note: The custom formulation request does not include your products....so, please be sure to order the items you would like. (Be sure to ask before placing your order so we can make sure we can make it and also get your custom quote amount - some scents will be less than $17, depending on what notes we need to order in for you)
Also offering the Perfect companion product ~ our Pura Gioia Body Joy Scrubby Bath Butter!
https://www.etsy.com/listing/128702999/sugar-scrubs-new-super-sized-whipped?ref=shop_home_active
These products do NOT contain :methylparaben, propylparaben, DMDM hydantoin, Sodium Lauryl Sulfate (SLS ) or Sodium Laureth Sulfate (SLES). Citrus essential oils are not recommended for moms to be (pregnant) and also can make skin photo sensitive - so please be sure and wear sunscreen afterwards. Caution if you have nut allergies because this contains nut oils.
This listing is for one 8 oz. jar
See the rest of the online boutique here :
http://www.PuraGioia.ETSY.com
See what our customers have to say:
http://www.etsy.com/people/PuraGioia/feedback
(c)Copyright 2014 Pura Gioia Enterprises All Rights reserved. All rights for description, graphics and description on www.PuraGioia.NET and
www.etsy.com/shop/puragioia
are reserved.
Learn more about the shop and process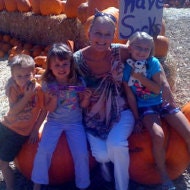 Vicki Butler-Hagen
Your Choice Jumbo Best Spa whipped Body Butter whippy Rich Fluffy blended with Skin Nourishing Pumpkin Seed Kukui Nut oils Pura Gioia
---
Overview
Handmade item
Materials:

pumpkin seed oil, coconut oil, shea nut butter, kukui nut oil, sunflower oil, beeswax, jojoba oil, vitamin E oil, glycerin, distilled water

Made to order
Only ships within

United States

.
Feedback: 2684 reviews
Favorited by: 797 people
Listed on Mar 24, 2017
15779 views