This item sold on December 25, 2012.

RESERVED FOR MARY :)

One long feather earring featuring cruelty-free Rooster, Emu, Pheasant, Peacock and Turkey feathers in a black clay setting with a yummy little natural cluster of Smokey Quartz. All the feathers are bird friendly - naturally molted, and none of them are dyed.. All natural iridescent beauty.

This one off piece will be part of the black moon series - a family of feather earrings with their own distinct identity and composition but with common features that can be collected and mixed and matched in different lengths and tones :) A one of a kind original handmade by me, with love in Byron Bay, Australia!

Smokey Quartz is one of the most efficient grounding and anchoring stones and at the same time raises vibrations during meditation. This protective stone has a strong link with the earth and the base chakras, promoting a concern for the environment and ecological solutions. This stone is a superb antidote to stress. It assists in tolerating difficult times with equanimity, fortifying resolve. Smokey Quartz teaches you how to leave behind anything that no longer serves you. It can be used to protect the earth chakra below the feet and its grounding cord when in an area of disturbed earth energy. Psychologically, Smokey Quartz relieves fear, lifts depression and brings emotional calmness. It alleviates suicidal tendencies and ambivalence about being in incarnation. Smokey Quartz aids acceptance of the physical body and the sexual nature, enhancing virility and cleansing the base chakra so that passion can flow naturally. This crystal alleviates nightmares and manifests your dreams. When it comes into contact with negative emotions, it gently dissolves them.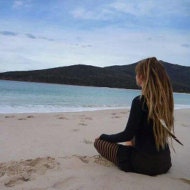 Lauralai
Black Moon: Long Smokey Quartz & Feather Earring RESERVED
Listed on Dec 18, 2012
242 views