This item sold on September 23, 2012.

Mabon's Harvest Gold Rutilated Quartz and Opal set in sterling silver Fairy & Triquetra Ring

Harvest Gold

The Golden Rutilated Quartz 11.78 ct 7.27 X 17.94 X 7.26 High dome translucent Cabochon, set in sterling silver Open backed mounting With a moon and Star set just under the stone . The side stone Is a top Color and vivid brightness That dazzles in any Light . 62 ct stone with Red gold and Green Fire . The Trinity Celtic Triquetra is just under the Opal followed by a double twist Weave that reaches under the band to connect to the Nude Winged Fairy on the other side .

Copy and past link Below to see This Ring from all angels along with the Light qualities of the Stones .

http://www.flickr.com/photos/25259607@N06/7798341002/in/photostream


Ring size 7 3/4

Total Weight 10 Grams even .

Quartz stones that contains mineral inclusions are called "rutilated quartz" or "sagenite", popularly known as Venus-hair stone. Rutiles are small needlelike crystals. These may be red, black or brassy yellow.
Rutilated Quartz Gemstone is a protective stone and said to protect the wearer owner of the stone from evils and harm. It is believed that one can increase the effectiveness of prayers and rituals when done wearing Rutilated Quartz Jewelry. This stone helps to fight fears, guilt, phobias and anxiety. It is said to increase mental and physical stability, creativity and assist in the decision making process. It is an extremely good stone for those suffering from depression as it has the powers of an antidepressant. It is also an extremely good stone for meditation, for seeking higher spiritual experiences and for past life healing. This stone is said to attract love and bring stability in relationships.

Ancient Romans considered the opal the "queen of gemstones", because it contained the colours of every other gemstone. Roman philosopher Pliny described the opal as combining the best characteristics of all gemstones: "in them all you shall see the living fire of the ruby, the glorious purple of the amethyst, the sea green of the emerald, the golden yellow of the topaz and the deep blue of the sapphire..Opal was regarded as a symbol of hope and purity, valued second only to the emerald. The Romans called it cupid paederos, meaning "child as beautiful as love" Opal is known as a karmic stone, reflecting and amplifying what is already present. You can express one's true self more powerfully and access your creative energy that exits within. This makes opal a stone for imagination and the arts, encouraging a lightness and spontaneity that is so important for artistic expression.

Silver acts as a "mirror to the soul", allowing one to see deep within the self ,allowing us to see ourselves as others see us. Silver is Identified with enhancing the powers of the moon, delicate Silver is a metal associated with Hope, meditation, unconditional love, mothering, nurturance, grounding, appreciation of women and nature, mystic visions, spiritual and romantic love, tenderness, kindness, sensitivity and psychic abilities and protection from negative energy "evil" .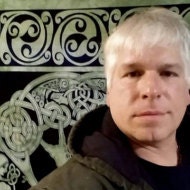 Lee Billings
Mabon's Harvest Gold Rutilated Quartz and Opal set in sterling silver Fairy & Triquetra Ring
---