These hairclips are made with orange peels! You will not believe how cute they look!
Someone told me one day that I should sell some kind of hair ornament, so I kept looking for something that would look cute and feminine, but also singular and distinguished... Some days ago I had this idea: I love flowers on my hair, but I also love reycling... This is how these cute hairclips were born, and named after that very special person who suggested to have a hair clip, my dearest cousin Lucy.
Orange peels are shaped like a blooming rose, and the leaf beside the rose is also from dyed orange peel. You will actually be able to smell the orange on them (no kidding!). Each piece is made with patience and love.
Each piece is actually sewn to the hairclip, making the final product look neat, more durable, and higher quality.
Hope you like them as much as I do, believe me, they look really feminine.
If you have any doubt, please contact me!
Thanks for stopping by =D
*for more hairclips, please click here
http://www.etsy.com/shop/sofiatrinker?section_id=10922995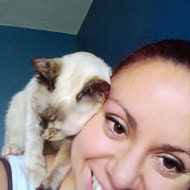 Sofia Sanchez
Alejandra Marin
Listed on Feb 11, 2014
118 views