These old glass fishing floats must be inherently magic. They never cease to inspire the imagination and sometimes a bit on the wild side, or just plain silly! This mesmerizing antique glass fishing float is called 'Iced Sage'. What comes to mind for you? Desert sage brush caught up in a freak ice storm? Fresh sage sprinkled over ice cubes in a new age drink? Or maybe an iced fermented drink that smells like turkey dressing? Go figure. Hereby, I introduce 'Iced Sage', an 'extreme' antique glass fishing float for those passionate or soon to be....over old glass fishing floats!

Iced Sage is a fortunate 'one in 300' all over, or nearly all over 'frosted' glass fishing floats. Frosting occurs from decades of sand-blasting. Some collectors say sand-blasting, the etching or polishing of the glass by the relentless winds and sands, takes place in winds of about 100 mph. I like to think of nature's 'paintbrush' being the wind, sand and waves, with the glass being the 'canvas'. Indeed rare natural art, considering as mentioned, that only about one in 300 glass fishing floats are all over frosted.

Iced Sage measures 3-1/2" diameter or 10-5/8" in circumference. It's about the size of a 'base ball' as collectors would say, for easy reference to size. Of course, being natural art, the frosting is not absolutely even throughout the body of glass, but close enough! Imagine the serendipity and chance involved in the glass float being rolled or bashed about (without being broken) over many decades, such that each side, each area manages to become sand-blasted with relative evenness. What are the chances?

The lovely hand blown glass fishing float is a limey colored sage, or darker sage depending on your lighting and the environment. It's a bit of a chameleon with its hues highly changeable. The very high quality old glass is so thick and heavy, the glass float feels a little like Zeus's 'thunder bolt' in the palm of the hand, yet feels silky and soothing at the same time. A bit of magic! The gorgeous glass lights up like a 'Milky Way' of star-lit bubbling when held directly to the light! The photos hardly do justice to the internal galaxy of bubbling. The old glass float reminds me somewhat of a mushroom. It appears slightly out-of-round, ever so slightly 'squashed' - an endearing quality in such an artifact, giving it an arcane, other worldly, fascinating ancient look.

The seal 'button' is itself an artifact worth of museum display. It is more the very, very old 'blob' type, where a chunk of glass was applied with full competency before any notion of greater refinement or 'artistic' idea was floated about. It's quite thick and well placed, but just has that ancient quality about it. I'm guessing this float originated in the 1930's. Note how the 'eye' of the seal lights up a bit like cryptonite, though perhaps not Superman's glass fishing float! The surround edge on the seal is (hard to believe given it's age) in MINT condition. Now that's gotta be celebrated by casting a wish! MINT as in no chips, no nicks, no grazing.

Perhaps just happenstance or unintended anomaly, but I'm almost positive the seal bears a funny signed mark known as (get ready for this) - 'the dot'. OK, you can laugh, I did too the first time I ever heard of it! It is actually known as 'the single dot'. Walt Pich, who did an enormous amount of leg work, study and research says 'the dot' was tooled into the sealing iron itself, so that it was automatically stamped into the surface as the seal was being applied. The photo of the seal button is taken at such an angle that 'the dot' is not clearly shown, nor emphasized. If rotated and examined at the correct angle, it is more 'dot' like and sure looks like 'the single dot'. I've seen a handful and this seems to be one. Another fact that helps is apparently this mark has only been found on 'base ball' size floats that are blue-green or green. Iced Sage qualifies as green. Congratulations! If you're the new owner, you can make a second wish on 'the dot'!

Iced Sage is a precious 'extreme' antique glass fishing float, deserving the best home. Please care for and help preserve this wonderful artifact and be sure to pass it on to posterity. Thanks:)

Thank you for helping to care for vintage fishing floats which are rapidly being replaced with plastic or synthetic floats.

Your time and energy are valued. Thank you for your interest in lightinawormhole.
**********************************************************************************
SHIPPING: Happy to offer Priority shipping for this float. It will be DOUBLE boxed with extra insulation for maximal protection of its antiquity while in transit. The cost is $12.00. This includes your tracking number and insurance. It will be packed with absolute care. *** Please allow 1 to 3 days to ship and 2 to 3 days for the carrier. You should receive it in a week or less. If you need it quicker, tell me and I'll ship it fast! ***

COMBINED SHIPPING: Yes - I will combine! Floats of generally similar size & weight can be combined so you save on shipping. These decisions are made at the actual time of packing, using my best judgment to keep items safe from damage in transit, protecting them maximally. Best option is to pay the shipping on each item up front. A shipping refund will be issued promptly via Paypal when your parcels are complete. My customers will confirm I am happy to do this. If this doesn't work for you, convo for a 'guesstimate' on combined shipping of items.

THANKS AGAIN FOR YOUR TIME AND INTEREST. HOPE YOU RE-VISIT lightinawormhole.
Learn more about the shop and process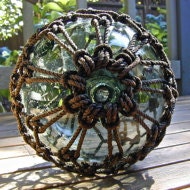 lightinawormhole by Robi
Glass Fishing Float Collectible, Iced Sage MARKED, Nautical, Antique, Home Decor, Ocean, Sea, Beach Cottage Decor, Garden Decor
---
Overview
Vintage item from the 1930s
Material:

glass

Only ships within

United States

.
Feedback: 836 reviews
Favorited by: 11 people