Details
Every successful business needs high-quality business materials with consistent, professional branding. Our Pinstripe Marketing Collection has everything your business needs to go from blah to bling! Easily change the colors to match your branding!

Your purchase will include:

-11 Marketing and Branding Items
---1. 12×12 Pattern (Not Pictured – .PSD with editable shapes)
---2. Business Card (2 PSD Files – Front and Back)
---3. 5×5 Trifold Brochure (2 PSD Files – Front and Back Spreads)
---4. CD/DVD Label
---5. CD/DVD Cover
---6. 5×5 Gift Certificate (2 PSD Files – Front and Back)
---7. 4 Sticker Designs (4 PSD Files – Wallet, Rep Card, Oval, Circle)
---8. 2×7 Bookmark Appointment Reminder (2 PSD Files – Front and Back)
---9. Letterhead
---10. 5×7 Folded Thank You Card (2 PSD Files – Front and Back)
---11. Facebook Timeline Cover
---19 Fully-layered PSD files that are fully customizable, including photo sizes, texts and colors
-Print-ready format using MPixPro and WHCC Templates
-Easy customization
-An information sheet containing font names and sources (actual font files cannot be included) and basic customization instructions

These files are compatible with Photoshop CS2 or newer, Photoshop Elements 6 or newer, for both Windows and Mac.

Please read product descriptions thoroughly before making your purchase. If you have never made a Prairie Sweet purchase before, please take a moment to review our Terms of Use & Policies. If you have questions regarding our policies, please contact us before purchasing and we will be glad to help.

This product comes with a personal and limited commercial license. For the terms of this license and to see our full terms and policies, please visit : www.prairiesweet.com/tou

ALL SALES ARE FINAL.

Your files will be sent by the end of the next business day (usally within 24 hours).

Featuring Photography by Kate Jeppson Photography.
Every successful business needs high-quality business materials with consistent, professional branding. Our Pinstripe Marketing Collection has everything your business needs to go from blah to bling! Easily change the colors to match your branding!

Your purchase will include:

-11 Marketing and Branding Items
---1. 12×12 Pattern (Not Pictured – .PSD with editable shapes)
---2. Business Card (2 PSD Files – Front and Back)
---3. 5×5 Trifold Brochure (2 PSD Files – Front and Back Spreads)
---4. CD/DVD Label
---5. CD/DVD Cover
---6. 5×5 Gift Certificate (2 PSD Files – Front and Back)
---7. 4 Sticker Designs (4 PSD Files – Wallet, Rep Card, Oval, Circle)
---8. 2×7 Bookmark Appointment Reminder (2 PSD Files – Front and Back)
---9. Letterhead
---10. 5×7 Folded Thank You Card (2 PSD Files – Front and Back)
---11. Facebook Timeline Cover
---19 Fully-layered PSD files that are fully customizable, including photo sizes, texts and colors
-Print-ready format using MPixPro and WHCC Templates
-Easy customization
-An information sheet containing font names and sources (actual font files cannot be included) and basic customization instructions

These files are compatible with Photoshop CS2 or newer, Photoshop Elements 6 or newer, for both Windows and Mac.

Please read product descriptions thoroughly before making your purchase. If you have never made a Prairie Sweet purchase before, please take a moment to review our Terms of Use & Policies. If you have questions regarding our policies, please contact us before purchasing and we will be glad to help.

This product comes with a personal and limited commercial license. For the terms of this license and to see our full terms and policies, please visit : www.prairiesweet.com/tou

ALL SALES ARE FINAL.

Your files will be sent by the end of the next business day (usally within 24 hours).

Featuring Photography by Kate Jeppson Photography.
Shipping
Shipping from United States
Processing time
Please contact me to find out when this item will be ready to ship
Items will not be delivered until payment is received.

DIGITAL FILE PURCHASES

If your purchased items are not instant downloads, they will be shipped within 24 hours of your purchase. If you purchase on a late Saturday night or Sunday, you will receive your files on the following Monday.
Payments
Secure options
Accepts Etsy Gift Cards and Etsy Credits
Etsy keeps your payment information secure. Etsy shops never receive your credit card information.
FOR DIGITAL FILE PURCHASES

Payment must be received before any files are sent. If you have issues with any purchase, however, PLEASE let me know and I'll do whatever I can to make it right.

Cancellation may be possible, depending on the circumstance, so long as no files have been sent. If I have not received payment within 24 hours, the transaction will be canceled, unless you have communicated with me and we have agreed on an arrangement.
Returns & exchanges
DIGITAL FILE PURCHASES

Due to the digital nature of these products, there will be NO REFUNDS.
Additional policies
For a FULL account of our Terms of Use (especially if you hope to use our products commercially), please visit: www.prairiesweetboutique.com/pages/tou

TERMS OF USE:
By purchasing digital products from Prairie Sweet, you are entering into a licensing agreement. All Prairie Sweet Templates & Products are protected by U.S. Copyright Laws, Chapter 13, Section 1309.
Prairie Sweet LLC reserves the right to change, modify or update the Terms of Use & Policies for all designs and products. We reserve the right to change modify or update the Terms of Use with or without notice. It is the customer's responsibility to stay current with changes, modifications or updates.

The current Terms of Use can be found at www.prairiesweetboutique.com/pages/tou

These products are compatible with Photoshop CS2 or newer, Photoshop Elements 6 or newer, for both Windows and Mac. They are meant for professional use. This requires a working knowledge of Photoshop, including clipping masks, working with layers and basic editing/customizing skills. If you are unsure of the compatibility of your software or your ability to use these templates as they are intended, you can reference our website for tutorials and guides.
Please read product descriptions thoroughly before making your purchase. If you have never made a Prairie Sweet purchase before, please take a moment to review our terms of use and policies. If you have questions regarding our policies, please contact us before purchasing and we will gladly help whenever possible.

You may use PRAIRIE SWEET digital templates for personal or commercial use
You MAY use the purchased template for your business or for your own personal use only.
You MAY customize the template to best suit the needs of your clients or for your marketing purposes.
You MAY send flattened/customized unalterable files to your client as is appropriate.
You MAY NOT sell or share the purchased product or any part thereof or claim as your own.
You MAY NOT send unflattened (or .psd) files to any client or third party.
You may use PRAIRIE SWEET PAPERS for personal or commercial use, as outlined by the following:
–PERSONAL USE:
——You MAY print your purchased papers to use for scrapbooking, cardmaking, or other crafts.
——You MAY submit projects or crafts for publication in blogs, books, magazines, etc, but proper credit MUST be given.
——You MAY use the papers in a digital format for digital scrapbooking and graphic design for personal or non-profit use only.
——You MAY alter the digital files to suit your personal needs (if sharing publicly, you must note the alterations made).
——You MAY NOT submit projects or crafts for publication in blogs, books, magazines, etc, when the digital file has been altered in any way.
——You MAY NOT submit any projects or crafts for publication without giving proper credit to Prairie Sweet Papers.
——You MAY NOT claim these papers/designs as your own.
–COMMERCIAL USE:
——You MAY print these papers to create items for profit or for business purposes.
——You MAY use the digital files on your business website or blog.
——You MAY use the digital files to create products for your business or for your client that will be presented/sold as a flattened or printed product.
——You MAY send a low-resolution flattened sample image of a completed product that uses Prairie Sweet digital papers.
——You MAY NOT sell any digital products that contain Prairie Sweet digital papers.
——You MAY NOT send digital paper files to any client or third party.
——You MAY NOT send any digital unflattened (.psd) files to any client or third party.
——You MAY NOT alter and resell/share the files or any part thereof.
——You MAY NOT claim these designs as your own.
As an artist, I'm sure it is important to you that your work not be stolen, shared, sold and/or claimed as another artist's work. At Prairie Sweet, we hope you will respect the investment of time, equipment, education and creative talent that goes into each design by NOT stealing, sharing, or selling our designs in whole or in any part thereof. We thank you for your honesty & your support!
We reserve the right to prosecute any violators of the aforementioned license agreement.
RETURN POLICY
To accommodate the immediate needs of our customers, we offer automatic digital delivery of our products when purchased. For this reason, we cannot offer any exchanges or refunds. ALL SALES ARE FINAL.
RESENDING FEE
Your purchased files are available immediately for digital download. Download links expire after 10 days from the time of purchase (or after 5 attempts to download). If for some reason you need us to resend a download link for a previously purchased file, we will do so for a fee of $5.00 per item with a proof of purchase. If the design has since been retired, we cannot resend the files. *****THIS DOES NOT INCLUDE INSTANT DOWNLOADS PURCHASED ON ETSY*****
For a FULL account of our Terms of Use (especially if you hope to use our products commercially), please visit: www.prairiesweetboutique.com/pages/tou

TERMS OF USE:
By purchasing digital products from Prairie Sweet, you are entering into a licensing agreement. All Prairie Sweet Templates & Products are protected by U.S. Copyright Laws, Chapter 13, Section 1309.
Prairie Sweet LLC reserves the right to change, modify or update the Terms of Use & Policies for all designs and products. We reserve the right to change modify or update the Terms of Use with or without notice. It is the customer's responsibility to stay current with changes, modifications or updates.

The current Terms of Use can be found at www.prairiesweetboutique.com/pages/tou

These products are compatible with Photoshop CS2 or newer, Photoshop Elements 6 or newer, for both Windows and Mac. They are meant for professional use. This requires a working knowledge of Photoshop, including clipping masks, working with layers and basic editing/customizing skills. If you are unsure of the compatibility of your software or your ability to use these templates as they are intended, you can reference our website for tutorials and guides.
Please read product descriptions thoroughly before making your purchase. If you have never made a Prairie Sweet purchase before, please take a moment to review our terms of use and policies. If you have questions regarding our policies, please contact us before purchasing and we will gladly help whenever possible.

You may use PRAIRIE SWEET digital templates for personal or commercial use
You MAY use the purchased template for your business or for your own personal use only.
You MAY customize the template to best suit the needs of your clients or for your marketing purposes.
You MAY send flattened/customized unalterable files to your client as is appropriate.
You MAY NOT sell or share the purchased product or any part thereof or claim as your own.
You MAY NOT send unflattened (or .psd) files to any client or third party.
You may use PRAIRIE SWEET PAPERS for personal or commercial use, as outlined by the following:
–PERSONAL USE:
——You MAY print your purchased papers to use for scrapbooking, cardmaking, or other crafts.
——You MAY submit projects or crafts for publication in blogs, books, magazines, etc, but proper credit MUST be given.
——You MAY use the papers in a digital format for digital scrapbooking and graphic design for personal or non-profit use only.
——You MAY alter the digital files to suit your personal needs (if sharing publicly, you must note the alterations made).
——You MAY NOT submit projects or crafts for publication in blogs, books, magazines, etc, when the digital file has been altered in any way.
——You MAY NOT submit any projects or crafts for publication without giving proper credit to Prairie Sweet Papers.
——You MAY NOT claim these papers/designs as your own.
–COMMERCIAL USE:
——You MAY print these papers to create items for profit or for business purposes.
——You MAY use the digital files on your business website or blog.
——You MAY use the digital files to create products for your business or for your client that will be presented/sold as a flattened or printed product.
——You MAY send a low-resolution flattened sample image of a completed product that uses Prairie Sweet digital papers.
——You MAY NOT sell any digital products that contain Prairie Sweet digital papers.
——You MAY NOT send digital paper files to any client or third party.
——You MAY NOT send any digital unflattened (.psd) files to any client or third party.
——You MAY NOT alter and resell/share the files or any part thereof.
——You MAY NOT claim these designs as your own.
As an artist, I'm sure it is important to you that your work not be stolen, shared, sold and/or claimed as another artist's work. At Prairie Sweet, we hope you will respect the investment of time, equipment, education and creative talent that goes into each design by NOT stealing, sharing, or selling our designs in whole or in any part thereof. We thank you for your honesty & your support!
We reserve the right to prosecute any violators of the aforementioned license agreement.
RETURN POLICY
To accommodate the immediate needs of our customers, we offer automatic digital delivery of our products when purchased. For this reason, we cannot offer any exchanges or refunds. ALL SALES ARE FINAL.
RESENDING FEE
Your purchased files are available immediately for digital download. Download links expire after 10 days from the time of purchase (or after 5 attempts to download). If for some reason you need us to resend a download link for a previously purchased file, we will do so for a fee of $5.00 per item with a proof of purchase. If the design has since been retired, we cannot resend the files. *****THIS DOES NOT INCLUDE INSTANT DOWNLOADS PURCHASED ON ETSY*****
Learn more about the shop and process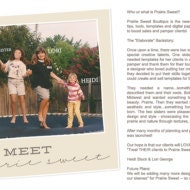 Heidi & Lori
Pinstripe - Photography Marketing Package - 11 Customizable Items - Photoshop Template Set (19 Files Total) MC8002
---