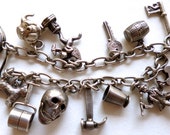 Sorry, this item sold.
Antique Charm Bracelet Sterling Silver Birmingham
Item details

Reviews (4,368)

reviews

Shipping & Policies
Wonderful antique silver charm bracelet with charms from circa 1915-1960s. This unique old beauty features 13 individual small silver charms on a bracelet chain, which measures approximately 7 inches (18cm) measured tip to tip. The chain has a very simple hooking clasp (see 4th photo) and it appears all of the larger links of the bracelet have British hallmarks for sterling silver. Most of the charms are marked silver (see some in 4th photo), and the ones that are unmarked appear to be silver as well although untested. The 13 charms, detailed in the 3rd photo, include the following:
(1) Locket - engraved front, hallmarked Birmingham sterling silver 1915 on backside, a bit difficult to open, old discolored paper inside, dents and dings from wear, snaps securely closed
(2) Teapot - solid, unmarked
(3) Cupid/Eros - solid, unmarked
(4) Flat Key - marked "MADE IN ENGLAND ES" on front, "SILVER" on back
(5) Barrel - hollow, marked "STER SIL" along the side
(6) Skeleton Key - solid, unmarked, teeth form the number "21" at the bottom
(7) Padlock Heart - opens/closes with small prong, marked "SILVER" on back
(8) Clown - solid, unmarked
(9) Cup - marked "STERLING SILVER" along the side
(10) Hammer - solid, stamped "GAP" and hallmarked Birmingham sterling silver 1920
(11) Skull - hollow, articulated/moving jaw, marked "SILVER" on back of skull
(12) Garden Roller - solid, moveable wheel, marked "SILVER" on side of wheel
(13) Scottie Dog - solid, unmarked
Overall a wonderful antique charm bracelet to be treasured!
Insurance is included in the shipping cost for this item.
More treasures here:
http://www.etsy.com/shop/treasurebooth
© Treasure Booth
(INV-20)