Beautiful and whimsical vintage cloth doll that I called Maisie. I found her years ago at a lovely little antiques shop in New Hampshire. She looks like she was made by loving hands.

Maisie is 23" long and has a soft filled cloth body and long legs that have painted designs. Her hair is black braided wool into a curly hairdo and her face has a painted serene expression. Around her neck is a real piece of fur that gives her that worldly style. She is carrying a small envelop purse made of leather and hangs from her shoulder with a gold chain. Her blouse is black cotton with lace at the sleeves and she is wearing a rhinestone bracelet. Her plaid long skirt is made of wool and her little shoes are a plastic leather so the rain won't destroy them.

Maisie has a little loop of string at the back of her head if you want to hang her on the wall but I think that can look pretty gruesome. I put her on my bed or a chair and just pull up her long skirt just a bit to show off her patterned legs.

Someone made this darling lady with lots of creative fun and love. Wouldn't you love something special like Maisie in your boudoir?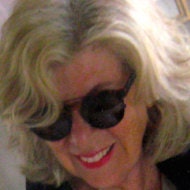 Meg Thomas
MAISIE the Vintage CLOTH DOLL with fur collar and little purse/ Hand Made Doll/ Plaid Skirt
Listed on May 20, 2014
334 views