Bridesmaid, Bride, and other Bachelorette Party Hot Fix Iron On Transfers

Thank you for visiting MOZtrend DIY rhinestone Transfers and other Crafting Supplies for those planning weddings, birthdays and other events! I carry both items I created and some stock designs that are also available for supplies to crafters and others planning weddings, birthdays, etc. If you are interested in purchasing wholesale, please contact me with your business information. Thanks!!!

This package includes a total of 9 IRON TRANSFERS (shirt NOT included- shown so you can see what the design looks like when applies) that you will apply using your home iron.
They are easy to apply and directions will be included in your package and are also available below so that you can see how easy it is to apply them.

THESE ARE iron on hot fix transfers. You can use them to make shirts, tote bags, robes, hoodies or other things for DIY projects! A must have for every Bride and her Bridal Party.


Wording Choice (7 TOTAL @ 4.95 each):clear writing.
1. Just Married AS PICTURED (approx 2 X7.5)
2. Just Engaged AS PCITURED (approx 2 X7.5)
3. Bride (approx. 2 X 5)
4. Bridesmaid (approx. 2 X 8)
5. Maid of honor (approx 3 X 5)
6. Matron of honor (approx 3 X 6)
7. MOB approx (3 X 5)
8. MOG approx (3 X 5)
9. Flowergirl written with little flowers (approx. 1.5 X 5)
10. Jr. Bridesmaid (pink bouquet dotting the "i") (approx. 1.5 X 6.5)

NEED MORE or NEED LESS? Please email me, I will set a special listing for you. thank you!

Color of Stones:
***Writing in Clear as pictured ***

When you check out, in the notes section of ETSY, please:
1. Leave the Date needed
2. Leave the wording choice for each (see above choices)

===========
DIRECTIONS:
===========

Easy to apply suggested directions: (SHOWN APPLIED TO SHIRTS/TOTES, ETC. )

1) Remove plastic backing/cardboard.

2) Place the transfer on the garment or other DIY project where you want them with the adhesive side down so it sticks to the garment.

3.) Cover with a Teflon sheet or another barrier you normally use to press transfers (for example, parchment paper found in the baking section of a grocery store). I do not recommend a towel. The stones may not stick properly if you do use a towel as a barrier.

4.) Iron for 60 seconds on the parchment paper (do not rub but rather press the iron, keep pressing over and over)... (use dry iron, no steam). Use Cotton setting on iron. (Temp 325-350 degrees)

5.) Insert Teflon sheet inside garment or other barrier such as parchment paper and iron on the back of the garment for approximately 60 seconds.

6) Allow the transfer to cool for approximately 3 minutes
Rub with cloth (patting it too) to help the transfer stick while cooling and before pulling.
Then remove the clear plastic.

OR---- see below for the inside out method reuiring a home iron only....

Turn the iron on to cotton setting and let it heat up. Then remove the transfer from cardboard/Plastic packaging. 3. Peel off textured backing from the design (stones should stick to the clear plastic sheet). If any stones have shifted out of place, put them back in place using tweezers. 4. Place plastic sheet, stone side down, on the right side of the fabric and press into place with hand. The clear plastic sheet should stick to the fabric. Make sure this does not shift! 5. Turn fabric inside out. Again, make sure the stones do not move prior to ironing! Place iron over design area and apply steady pressure for 15 seconds - DO NOT MOVE IRON AROUND AS STONES MAY SHIFT - Place iron over design area for another 15 seconds and repeat. Hit with one blast of steam. (Do not overheat or glue will lose its adhesion). 6. Set aside and allow to cool for 3 to 5 minutes.7. Turn fabric to right side out. Slowly and carefully peel the clear plastic sheet away from the fabric. If all stones are not sticking, you may re-iron on the opposite side of the fabric.
Learn more about the shop and process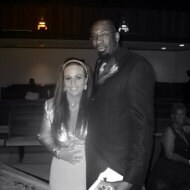 Maureen & Jeffrey
9 Bridesmaid Rhinestone Iron On Transfers : Lot Bride Wedding Party Hot fix DIY for Shirts, totes, other DIY projects
Listed on Aug 21, 2016
1066 views