This elegant 7oz antique style jar with a cork & a gold ribbon is filled with raw unfiltered wildflower honey from my own honey bee hives. A unique gift worthy of any occasion.
Honey has been the food of royalty and kings since the days of ancient Egypt. Found among the gems and treasures of King Tutt was honey still sealed in the honeycomb. Imagine that honey was as valuable as the treasures!! This antique style glass jar filled with honey will make a beautiful golden treasure gift for a housewarming, wedding, bridal, anniversary, graduation or party gift.
This sweet raw wildflower honey comes from organically managed honey bee hives registered here in Tennessee. You get the very best so you can give the very best!
The sweetest raw honey you'll find! 7oz of raw unfiltered Tennessee wildflower honey is in an antique style vintage oval glass jar that has been washed and sanitized and then sealed with a cork for a timeless feel and a "back in the day" look. Honey makes the sweetest gift.
Unique Jar of Honey 7oz Antique Style Oval Jar Raw Tennessee Wildflower Unfiltered Honey Bridesmaid Gift
Ships in 1-3 days.
Link to antique style honey jars shop section
http://www.etsy.com/shop/HillsideBees?section_id=11149337
*About the raw honey item:
This is raw wildflower honey from our Tennessee honey bee hives from real honeybee keepers. We have been beekeeping for years. This 7oz antique style glass oval jar is just too cute and will make a memorable honey gift from the heart for any occasion. Comes with a ribbon. A true sweet heart gift.
This raw pure honey from our honeybee hives is what makes thls 7oz antique style glass oval jar a very special gift. Our totally organically managed honeybee hives produce the highest quality honey. RAW and unfiltered honey. From the honeybee hive to the jar, no chemicals, pesticides, high-fructose corn syrup (or any corn syrup) or medicines are ever used.
Honey is the only food that includes all the substances necessary to sustain life, including enzymes, vitamins, minerals, and water; and it's the only food that contains "pinocembrin", an antioxidant associated with improved brain functioning. So many benefits come with honey.
*Did you know..
The raw honey is harvested and lightly strained for large particles and then jarred in sanitized glass jars. Pure wildflower honey from our own state registered apiary (honey bee yard) in Tennessee. This raw honey includes nectar and pollen from such plants as: goldenrod, white and red clover, sourwood trees, peach trees, apple and pear trees, dandelion and kudzu flowers just to name a few! This gives a depth of flavor and unique health benefits that only our raw honey can deliver.
*Rebecca's complementary recommendation:
Custom hand painted personalized recipe box
Holds 4x6 or 3x5 cards
http://www.etsy.com/shop/HillsideBees?section_id=11636286
Custom hand painted personalized keepsake/memory box
http://www.etsy.com/shop/HillsideBees?section_id=11228267
Link to HillsideBees shop-
http://www.etsy.com/shop/HillsideBees
Learn more about the shop and process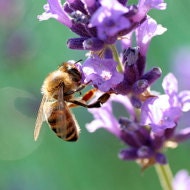 Rebecca the bee whisperer
7oz Jar of Honey Antique Style Oval Jar Raw Tennessee Wildflower Unfiltered Honey Unique Gift Wedding Favor Housewarming Gift Keepsake
---