Ugli Donut © 2012 name and concept
Bunnies will sometimes wee on a cushion or pillow, but they tend to not wee on a doughnut shape if it is hollow inside. I suppose this is because it replicates the feel of when they nap or relax together, as they will often lean against each other or lay in a pile with one on top of the other crossways. In that way it must be comforting.
This one is soft dark blue, magenta, grey and turquoise stripe chunky acrylic, with soft washed British lambswool stuffing inside. It has a hand embroidered orchid accent design. Measures 15 inches wide and 4 inches tall. It is sized for Netherland Dwarf and Minilops. It would also be good for 2 piggies to snuggle in.
It contains a substantial amount of stuffing inside to keep its shape. All bunnies can enjoy a donut bed, and it will be very supportive for an older bunny, a tripod (like our Cassie in the last photo), a bunny with head tilt, and very comforting for a baby bunny.
All the profits from the sale of these beds will go to our sanctuary, as do all our sales on Etsy. Please see the link in my profile to go to our sanctuary website.
No animals have been harmed in the making of any of my products. Wool is hand trimmed from sheep in spring when it is warmer weather and they live a healthy free range life in the UK.
The pretty Chinchilla model is our Shale. She lives with us as a pampered house rabbit, with her hus-bun Herman. You can read their stories and meet all 20 bunnies on our sanctuary website, to which there is a link in my profile.
We are a member of Etsy Rabbits.
If you do not see your country in the shipping and would like to purchase this item, please send me a message and I will sort that out straight away.
Learn more about their shop and process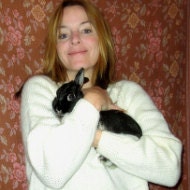 Mrs. Masha
Irina
Ugli Donut bunny bed for a small sized rabbit blue chunky knit with orchid embroidery
Listed on Jan 23, 2013
176 views