Bun-velope © 2012 name and concept
Any time any of the buns go to the vet I wished I had a better carrier liner, as each time getting them in and out was a stressful experience for them. It will also work well for cats and small dogs and even piggies. Both our rabbit vets approve the Bun-velope! I use them for every vet visit and it becomes their own soft cushion to sit on while the vet examines them as well. It keeps them snuggly and warm, it smells like home, and you can take them out of the carrier in it and sit on the vet table for their own soft reassuring surface. If they wee on it, it will still help keep them clean and dry since it has wadding inside, and you can simply wash it when you get home to get the wee out. It's very helpful for after surgery since it's smooth cotton and will keep them stable and padded in the carrier on the way home, in addition to its being a way to get them out of the carrier without having to pick them up with your hands or make them walk or hop out.I recommend carriers with doors on top for all rabbits and so does our vet.
The outside is very soft recycled vintage cotton, with strong triple stitched on, 3 layers of hand printed (by myself) organic cotton ribbon handles*. It has a hand made bunny patch in cotton**. A solid sheet of wadding inside sewn to be anchored in and keep its shape for machine washing. It measures 28 inches total in length, by 18 inches total width. It will fit into any cat sized carrier. It is designed so that the sides of the carrier will be padded as well as the bottom. Machine washable cold water, hang dry.
The pretty and petite Nethie is our Fifi Lapin, who lives with us as a pampered house rabbit. You can read her story and see more photos of her on our sanctuary website, to which there is a link in my profile.
* Stamp itself was created by Qipapers
http://www.etsy.com/shop/qipapers
** Patch custom created for me by Pipistrelles
http://www.etsy.com/shop/pipistrelles
Learn more about their shop and process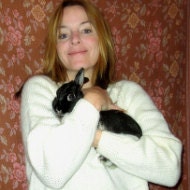 Mrs. Masha
Irina
The Bun-velope - soft carrier liner for bunny rabbits quilted cotton blue and yellow tulips with handmade bunny patch
---
Listed on Oct 3, 2012
52 views