This Custom Made Mach 3 Black TN, (Black Titanium Nitride), Razor and Badger Brush Combination with it's unique very Heavy Duty DUAL CHROME STAND is the newest in our Standard Line that we have added to our product line.

Great for the Ladies and the Gentlemen too........................

THIS ITEM QUALIFIES FOR SPECIAL 6 MONTHS FINANCING THROUGH PayPal.
CLICK on the PayPal Button in this Listings "Payment Methods" for full details.

**Titanium, both Black and Gold carry a 5 Star Rating for Superior Wear Resistance.

With this finely handcrafted, Custom-Made Combo comes:
A hand crafted, MACH 3 Black TN, (Black Titanium Nitride), Razor, with coordinated Alternative Ivory.
A Badger Hair FINEST GRADE XH Brush, 20mm in size, with coordinated Alternative Ivory.
A CHROME Dual Heavy Duty Shaving Stand Holder. Holds both the Mach 3 Black TN and the Badger Brush.
A starter supply of Triple Edge Disposable blades.
Tube of Omega Shaving Cream.
A laminated card for Care and Use of Your Shaving Brush.

These items are all Custom-Made.

Handcrafted one at a time.

Personalized engraving.

Made in the USA.


THE MACH 3 Black TN, (Black Titanium Nitride), RAZOR:

The Razor is Quality Made, HD with BLACK Titanium Plate for long wearing durability, on all components.
Handle is Custom, Lathe turned, handcrafted from Premium Grade, Hand Selected Alternative Ivory.
Razor Handle end is permanently lathe chisel "grooved" to help prevent slippage during wet shaving.
Length of Razor, without razor head: 4-1/2"

THE BADGER HAIR BRUSH:

Badge Brush is Finest Grade XH, 20mm in diameter.
Handle for this is also made from coordinated, Premium Grade, Hand Selected Alternative Ivory.
Badger Brush Handle end is permanently lathe chisel "grooved" to help prevent slippage during wet shaving.
Custom, lathe turned, coordinated, to match the Mach 3 TN Razor handle.
Length of Brush Handle: 2-1/2"
Diameter of Shaving Handle: 1-5/16"
Length of Badger: 2-1/4"
Width of Badger:2-1/4"

THE RAZOR/BRUSH DUAL CHROME PLATE STAND:

This Stand is made by Omega, one of the finest and oldest makers of fine men's and women's products in Italy. We provide their soap products for our other razor kits, and it is a big hit for all that use it.

Very stable base with a clever off angle mounting for brush on one side and a straight upright holder for the razor on the other.

Base for razor has drain port to assure that your razor will remain dry after each use. See Photo #5.

Solid Metal with very HD Chrome Plating.

Base Rings of this Stand are a full 6mm in diameter. (Almost 1/4 inch). Weighs a hefty 2.9 ounces.
Base width measures a full 3" in length
Base width is 1-15/16" in actual width at widest point.
Base stands 2-3/4" tall and accommodates Badger Brush and Double Edge Razor very well as photo #1 indicates.


SHAVING CREAM:

Tube of Omega Shaving Cream, Made in Italy.
Will probably get an argument on this, but my husband says, "I,(he, not me), am old enough to remember getting a haircut from when the Barbers used shaving cream to finish the trim, and this shaving cream brought me back to those times". This is one of the best. Olive Oil Bar Soap that is made in Israel is not available now.
We don't carry the tube refills, but we do supply the information where you can get it yourself.
Guarantee, you will love it. Retail on refill is approximately $10.00 and worth every penny.

++Maintain a cleaning program on wood surfaces periodically or after heavy usages with any good furniture polishes.

++Follow instructions.

++Dry thoroughly. Treat like you would any fine wood product.

++Store in a dry and secure place, away from moisture.

PERSONALIZED ENGRAVING:

Standard engraving will be limited to shape and size of the area involved.
1-Handle of Shaving Brush. (1) line only.
2-Handle of Razor. (1) line only.
May be text, clip art, logo, or your own design.
***Remember the size of the area for engraving.***
Standard Engraving is up to (1) lines of text, plus any (1) logo, clip art or your own design. IF it fits.

*WITH YOUR FORMAT, WadeCreations CAN ENGRAVE IN ANY LANGUAGE*

With your order, please include your TEX, PREFERRED TEXT FONTS, and ART WORK.

NOTE. With the Handles and Stiles being so white, we engrave slightly deeper and use a Black Fill. This gives a wonderful accent to these accessories.

***Prior to being engraved, you will be provided by e-mail, with a "Proof" for your "Approval".

***We will NOT proceed with engraving until we receive this approval back from you.
Keep in mind the "SPACE AND AREA INVOLVED", which is described in each individual item.


*****AND LIKE ALL OF OUR OTHER FINE PRODUCTS FROM WadeCreations *****

***********PRICE INCLUDES ENGRAVING**************

*********WadeCreations IS PayPal VERIFIED************

**NEW POSTAGE RATES EFFECTIVE August 28, 2016

Shipping Weight 2 pounds
****************SPECIAL NOTE ON SHIPPING*********

Shipping in USA by USPS Medium Flat Rate Priority Mail, unless you specify otherwise; can ship Standard Post.

Free Shipping Insurance to the Selling Price of the Razor Set.

Shipping Outside of the United States will by USPS 1st Class, unless you specify otherwise; can ship Priority Mail.

Notify us with your Order so we can change your Postage Rate to Priority and charge you the differences.

Charges and Reimbursement through your PayPal account only.

All Postage Rates are estimates. Any charges over $1.00 will be refunded to your PayPal Account.

CUSTOM FEES "NOT" included.

E-mail us with any questions.
Learn more about the shop and process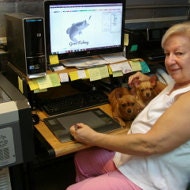 Sharon Wade
Wet Shaving, Mach 3, Black Titanium Razor, Men or Women, Silvertip Badger Brush, Chrome Stand, Alternative Ivory, Personal Engraving, Set 27
---
Overview
Handmade item
Materials:

mach 3 razor, silvertip badger brushes, premium chrome stand, shaving cream, alternative ivory blanks, laser engraving

Ships worldwide from

United States

Feedback: 255 reviews
Favorited by: 9 people