These sweet roses and romantic gold feather charm will add a pop of color and subtle sparkle to any outfit.

Beautiful petite rose (10m) in a lovely hot pink color set in a gold brass setting with a gold plated feather (11x30mm) with a rare vintage black Swarovski drop on gold plated french ear wires.

♥ Dimensions: 2" long, lightweight
♥ Materials:Glass, Resin, Gold Plated
♥ Color: Hot Pink, Black, Gold

Handcrafted in California.
Learn more about the shop and process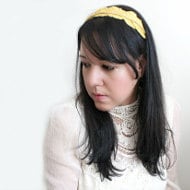 Cecil Marie
Gold Feather Earrings. Floral Jewelry. feather earrings. Bohemian Chic. Bridesmaids Earrings. Spring, Summer, Fuschia Rose, Hot Pink, Black
---