Don't neglect your brows! Your eyebrows shape your face and open up your eyes when filled in and shaped. We all need a little help so I have your solution! Use an angled brush. Dab it in your powdered brow filler, tap off excess in the cap and apply! Voila! Beautiful brows!!!

Why a powder filler?
A powder eyebrow filler is the most natural looking way to fill in your brows. Pencils, gels, cremes, etc. leave a "fake" eyebrows look. You can see the product a lot of the time. Using a powder leaves no harsh lines or streaks as you can blend it to get the most natural finish.

Colors are as simple as 1,2,3,...
1- Blonde to light hair, red hair
2- Light brown hair, can be worn on darker brunettes or redheads
3- Dark hair
Auburn 1- Red Hair, lighter
Auburn 2- Red Hair to Darker Reds
Black- For those who want straight black, no brown.


If you have grey hair go with a 1 or 2. Or, whatever your natural color once was.


********************************************

Customer testimonials...

"I guess I'm never buying eyebrow pencils ever again! You only need a little bit and it really stays on! I'm pretty convinced there is some witchcraft at work here! ;)"
Fadera

"Wow this product really delivers. I have used everything on my brows and this just looks so effortless and natural but defines it perfectly. Thank you for another amazing product!"
LaFemme

"Great brow powder! Pigmented and lasts all day. Love this!"
Kayla

"Loved this item.. need just a tad bit to make a big difference!"
Vin

"New favourite brow powder! It shipped really quickly and it looks AMAZING!! My brows have never looked this good ;-) My hair is medium-dark blond and I ordered #1 and it looks perfect. The colour in the pot looked a little weird, but it matches my hair really well. And you barely need any, so even though it doesn't seem like you're getting a lot, it goes a loooong way! (loved the free lip gloss sample, too--it smells like vanilla cupcakes!)"
Erin

"I just had a chance to use this. With a wet eyeliner brush, it's great!! I am amazed at how much better my brows look with the little "spaces" filled in. Definitely recommended. The little sample is very nice, too. Great seller."
Meghan

"Used this for the first time today--I love how it fills in the gaps without giving that heavy "pencil" look."
Emma

"The reviews are not joking when they say you only need VERY little of this to get the job done. I used only a small sprinkle of it for both brows, and somehow it was still too much. The filler itself however is a great product, it filled in my eyebrows without giving it a drawn on look you get from pencils. It was an absolute pleasure buying from this seller, she answered all my questions and even explained to me how to use the product. (I'm a beginner when it comes to most makeup products) But I would recommend this product and the seller, I will definitely be buying from her again, which I am, since I bought myself the wrong color filler- OOPS!"
Eva

"Works like a charm. It came with another product sampler. Yay vegan."
Annaliese

"Love this; such a natural hue, and I feel great about the ingredients! Thanks too for the lovely samples!"
Saranas in White City, OR

"Love, Love, Love the brows #2. It goes on great and lasts alll day!"
Michelle in San Jose, CA

"Not my current hair color shade but will be soon. Love this product."
Sarah

"Thanks so much! Great product!"
Rhea

********************************************

Mineral eyebrow pigments are made from Mother Earth's finest ingredients.

Ingredients may or may not include...
Sericite Mica, Titanium Dioxide, Iron Oxides, Magnesium Stearate.

My All Natural products are handmade by me =) No harsh chemicals, synthetic dyes, preservatives, fragrances, dyes, parabens, talc or fillers added. Non Comedogenic, Gluten Free, Hypoallergenic, Vegan and NEVER tested on animals!

All brow fillers come in a twist top jar that will last forever! Please be aware all products are weighed to be the same. Contents may differ visually due to particle size but are the same amount.
Learn more about the shop and process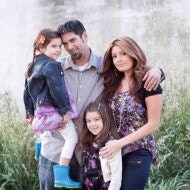 My lil Family
NEW COLORS AVAILABLE! All Natural, Vegan Friendly Eyebrow Filler- Don't neglect your Brows
---
Listed on Feb 20, 2017
21688 views