This item sold on March 27, 2013.

Why wooden sex toys? It all came about when I was asked if I made wooden sex toys by a very prominent person's wife. At first I thought it a bit of a joke, but then my wife said that female colleges at work had also asked if I made wooden sex toys. So I started to do some research.

One of the first thing I discovered is that wooden dildos or phallus carvings are nothing new. In fact some of the oldest know carvings by man are of phalluses. Two antique wooden dildos recently sold at Brentwood Antiques Auction for 3600£! Then there is the fact that wood is naturally antibacterial. It's also warm in comparison to plastic or silicone. The breast implant scandal also made me take a better look at the silicone used in most sex toys. Most come from the Far East and many are ladled as novelty items, beware of these as the "novelty" label is a way for the manufacturer to get around the fact that they are not really meant as intimate toys.
Reading reports about phthalates, a chemical widely found in sex toys, convinced me that in a way I had to make wooden sex toys, if only to give people a choice of materials when choosing intimate toys.

All my carvings are unique; none are turned on a lathe. Each one is carved in about a day then takes at least two days to smooth and finish. I use either a toys safe finish conforming to EN71 part 3, or a food safe finish used for salad bowls and wooden spoons.
One of the misconceptions about wooden sex toys are splinters. A myth I dispel by pointing out that umbrella handles and banisters are also made from wood, no one ever worries about getting splinters from these. In short my wooden phallus carvings are 100% silky smooth having undergone hours of polishing and come in a purple silk lined velvet bag.


This is a hand carved phalus. Made from the burl of a birch tree. It measures 9 inches long and will stand upright on its base. It also features my makers mark and comes with a red satin lined purple velvet bag.
Learn more about the shop and process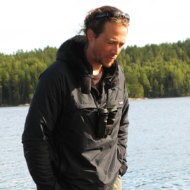 Nathan Elliot Broadley
Listed on Jan 30, 2013
1520 views