Louet art yarn flyer NEWELY REDESIGNED . In stock READY TO SHIP
jill [!at] saorisantacruz.com
Need louet bobbins too? ask me for a special bundle price with additional equipment you want. ie: hand carders,bobbins lazy kate, spinning fibers etc.
bulky bobbins here
https://www.etsy.com/listing/129872147/louet-bulky-s10-bobbins?ref=shop_home_active_8
Why do you need a art yarn flyer ? Absolutely no hooks to catch or hang up fibers! Go ahead and ply 3 or 4 or 5 ply yarns they will glide through this flyer like no other . No snags to prevent draw in on louet's art yarn flyer! Finely, a really WELL DESIGNED true art yarn flyer . not just another plying flyer re marketed as a art yarn flyer ! . what makes this flyer so unique is the simple knob not a hook to catch as the yarn travels from the orifice AND thee movable large sliding ring guide on the flyer arm WHICH SWIVELS AS WELL to allow you to adjust tension control for all of your unique techniques and fibers . Not just for art yarns . I leave my art yarn flyer on for spinning all my yarns with the exception of lace weight.
A Customer review :
"There are no words to describe how thrilled I am with this awesome flyer!! Best of all, shipping was lightning fast. I am so pleased to find spinning accessories on Etsy, and especially from this awesome shop! Super highly recommend and will be looking at this shop's offerings for my spinning supplies in the future! Thank you so much for your great service and wonderful products!!!" Martha
LARGE 3/4" ORIFICE AND SLIDER.
I have used the louet art yarn flyer on my s10 ,S10C and s17 wheels it is a brilliant design and it has made my louet wheels even better and even more if a joy spin on. It has the only sliding flyer guide hook that swivels..this will fit most louet wheels, s10, s15,s17,s70,s71,s75 ,s76,s77,S10C
You will love this flyer so much you will just substitute it and leave it on for almost all of your spinning weights !I personally don't know how i would do without it now!
According to Louet, the ratios on this new Art Yarn Flyer bobbin are 4.2:1, 5:1 and 6.2:1. The standard ratios are 5.5:1, 7.5:1, and 10.5:1. These new ratios give you more range when you want less twist. It also allows you more time to make the fiddley art yarns. I liked the 4.2:1 ratio very much and had no problem with the drive band stretching to fit that large whorl.
So it is versatile for many thinner than bulky weight yarn weight spinning. I have not taken mine off since i got it. I never expected to love this flyer as much as i do!
My feed back from my buyers has all been positive. The spinning world buzz really should be all about this cool new louet flyer..
Utube on the new art yarn flyer here
http://m.youtube.com/#/watch?v=cZNdhZy-kpk&desktop_uri=%2Fwatch%3Fv%3DcZNdhZy-kpk
The laminate in the new flyer is a neutral tan shade . this new color blends in with the wood of the wheels .
Louet has made this new art yarn flyer available to fit the S10 and S10C .
This flyer will also fit the S15, S75 and S17.
https://www.etsy.com/listing/125863341/louet-s17-spining-wheel
it will not fit the victoria, or julia, or the s45.
the flyer takes the standard bobbins REPEAT , you can use your regular bobbins too, or the large bulky bobbins in the s10 size flyer ( same as the ones used for louet's bulky flyer . Available in stock here
https://www.etsy.com/listing/129872147/louet-bulky-bobbins?ref=cat_gallery_9
The orifice is 7/8"
Ratios: 6.2:1; 5:1; 4.2:1
IN STOCK READY TO SHIP
Price for art yarn flyer only no bobbins wheels etc. included.
All in stock orders processed 1-2 business days
Shipped usps priority
AND I SHIP with bubble wrap so that it arrives safely no gambling.
Please note Louet price increase as of jan1, 2015-16 dealers need to comply to the set prices by Louet north america distributers )
Note: I retain copyrights of personal photo images of my work, regardless of ownership.)
Recent Customers feed back:
Happy customers comments :
"I just wanted to send you a note to say thank you. Your beautiful extras made opening my new art yarn flyer like Christmas in July!! I can't tell you how much I appreciate your thoughtfulness and attention to detail.
Happy spinning ~ and weaving..!!
Thanks again for everything!" L
" EVERYONE should have this art art yarn flyer OMG it made me love my Louet wheels even more !!! Thanks jill" B
"Got it!!! I'm so happy, thank you for everything" M
"My box arrived today! (You packed it so cute :). Thanks for the extra wool and candy stick.
Enjoy your day!" C
".... I am so enjoying the Louet art yarn flier that I purchased from you .
I just wanted you to know it is you who inspired me to weave. Your weaving and garments are amazing. Just looking at them brings me joy!
Who knew a year ago I would be spinning and now weaving.L"
"Awesome flyer! Fast shipping, and thanks for the extras!"
""I placed an order yesterday, it arrived today! I really can't find the words to describe my admiration and appreciation for SaoriSantaCruz. The service is superb, the product is superb, the little gifts and peaceful bay leaves inserted in the packages speak volumes of Jill's passion for her art as a weaver and as a business woman. THANK YOU and see you again in a future order!!!" B
" I just received the flyer! I loved your packaging, and the cute little pencil rovings that you included. I'm actually using a bay leaf in tonight's dinner! I look forward to working with this (flyer), and I appreciate the extremely quick shipping. Take care!" A
"This flyer is AMAZING!!! I'm spinning up a crazy slub yarn on it right now, and it's orifice is large enough that I will be able to Navajo ply this yarn through it! I'm soooooooo happy with my purchase, the packaging was beautifully personal, and the item was shipped and arrived extremely quickly. Thank you!' AC
" Hi Jill I Wanted to say I received the Louet art flyer and much more from you . Thanks for expediting the flyer and the inclusion of fiber with your personal touches. I very much appreciate doing business with you , past orders included in that too. I am looking forward to the Louet S10 wheel when it arrives. " SA
"I love my art yarn flyer! Really the best accessory for a Louet! It fits my S75 like a glove, and makes me happy as I spin great big fat art yarns. The shipping was fast! Jill always packs products well and the extra touch and little goodies makes me feel extra special. I am a loyal customer and will be back for more!" BG
"There are no words to describe how thrilled I am with this awesome flyer!! Best of all, shipping was lightning fast. I am so pleased to find spinning accessories on Etsy, and especially from this awesome shop! Super highly recommend and will be looking at this shop's offerings for my spinning supplies in the future! Thank you so much for your great service and wonderful products!!!"M
"This has been the most pleasurable shopping experience on line I have ever had!"DW
"Thank you so much Jill. This will assist me in my goals to create unusual art yarns. I greatly value your knowledge and customer service. You are a great resource."A
Learn more about the shop and process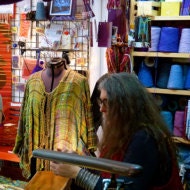 Jill N Sanders
Louet Art yarn flyer New design S10C in stock ready to ship : Saorisantacruz
---
Overview
Materials:

Louet art yarn flyer with sliding guide hook, three quatrters width orifice and guide, louet S10C flyer for bulky bobbins, use regular louet bobbins, OR bulky bobbins, Louet large orifice flyer

Only ships within

United States

.
Feedback: 1161 reviews
Favorited by: 41 people
Listed on Nov 3, 2016
1699 views