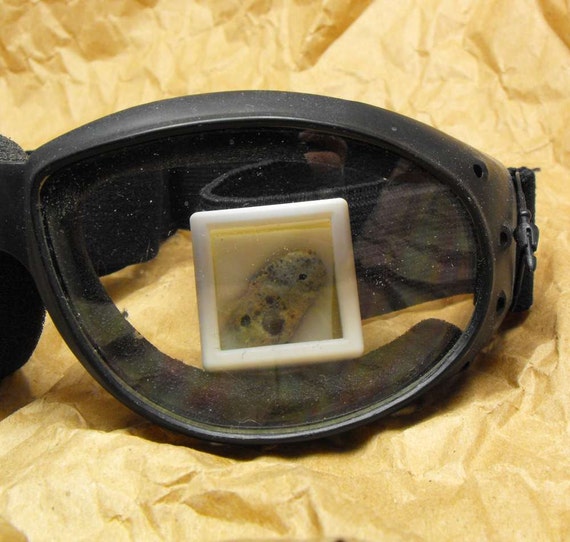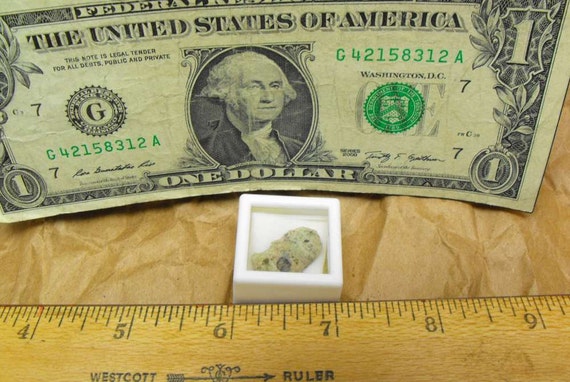 SALUTATION: Greetings fellow Etsyan lab rat! Everything you read about me on the bathroom wall is true...I'm EASY! Don't like the price below?...give me your OBO!

CONTRAPTION: Plutonium-based Trinity nuclear bomb blast glass specimen. AKA Itsa hunk of atomic-age tourist trap crap that I had to roller derby over to, and elbow my way through the groping crowds, to fetch it just for you.

MATTER: man caused glass

WANNA-BE ID-O-METER READING: And you thought you had everything---well you are wrong! Or maybe you need a gift for the person in your life who thinks they have everything. Screw diamonds and gold...nothing says class like a souvenir from the very start of the atomic age. Or it may just be the inspirational "stare it down" plot prop doo-hickey that you leave lying around to cure your writer's block. In any case, I am sure you will find some purpose for it that'll be a head-turning, jaw-dropping, air-gasping tour de force!

--snippet from wiki--

Trinitite, also known as Atomsite or Alamogordo Glass, is the glassy residue left on the desert floor after the plutonium-based Trinity nuclear bomb test on July 16, 1945, (The date of the test is usually considered to be the beginning of the Atomic Age) near Alamogordo, New Mexico. Trinity was the code name of the first detonation of a nuclear device. This test was conducted by the United States Army. The glass is primarily composed of arkosic sand that was melted by the atomic blast. It is usually a light green, although color can vary. It is mildly radioactive, but is safe to handle.

In the late 1940s and early 1950s, samples were gathered and sold to mineral collectors as a novelty. Traces of the material may be found at the Trinity Site today, although most of it was bulldozed and buried by the United States Atomic Energy Commission in 1953. It is now illegal to take the remaining material from the site; however, material that was taken prior to this prohibition is still in the hands of collectors.

--end snippet--

PROPORTIONATE TO: [ about 1 inch ]
[ ] small enough for a flea circus
[ x ] about fairy size
[ ] small enough to fall down a rabbit hole
[ ] could shove it into a breadbox
[ ] about as big as Bigfoot's footprint
[ ] compares to a ___________
[ ] could fit into Godzilla's coffee cup
[ x ] see photo with ruler / ask if specifics needed!

ACQUIRED VIA:
[ ] feverishly dump dug
[ x ] weasel'd offa sumbody
[ ] accidentally stumbled upon
[ ] dirt fished
[ ] fell from the sky
[ ] fell off a truck
[ ] found mysteriously on doorstep
[ ] late night mad lab concoction

EXISTING STATE: [ ain't a thing wrong with it ]
[ ] never used & glorious
[ x ] gently used & lovely
[ ] obviously used & weathered
[ ] heavily used & exploited
[ ] misused & bunged up
[ ] abused & defunct
[ ] Filthy-McNasty & barely hanging on for dear life

YOURS FOR THE ASTONISHING MEAGER SUM OF: You can make this amazing acquisition part of your ever-growing collection for the reasonable price of $15.00 OBO!

POST SCRIPT: Get it whilst it's hot! Fill up your demented mad scientist lab with as much Odditorium paraphernalia as you can cram in a box...I gladly combine shipping and send Flat Rate to save you bucks but first, prior to finalizing your order, you must e-mail so I may adjust the fees accordingly. Will refund any shipping overages exceeding $3.00 too!

MOTTUM ODDITORIUM: Your studio is your smithy--keep it HOT!
ATOMIC BLAST SOUVENIR Vintage 1945 Trinity Glass Trinitite Atomsite Alamogordo specimen First detonation of nuclear bomb started atomic age
---
Overview
Vintage item from the 1950s
Material:

glass

Only ships within

United States

.
Feedback: 79 reviews