◇ ☾ ◇ ☾ ◇ ☾ ◇ FROM THE HERBOLOGIST ◇ ☾ ◇ ☾ ◇ ☾ ◇

I feel grateful and awe-struck to be able to put this work out into the world and to invite so many beautiful and clever souls into a circle of learning and magick! I have designed the course that I was looking for years ago - a place to dig deep into the world of herbology, revel in mystery, take delight in our ability to heal, and embrace the enchantment of our lives and worlds.

The circle is forming, the web is singing, and the Moon is calling our names...

I hope to see you at the Lunar Apothecary!

◇ ☾ ◇ ☾ ◇ ☾ ◇ THE LUNAR APOTHECARY ◇ ☾ ◇ ☾ ◇ ☾ ◇

The Lunar Apothecary is for the brave, the odd, the curious, the moongazers, and midnight gardeners. Come if you are ready to experience a world of Moon medicine and magick, where we seek to know "As Above, So Below" in our herbal practice. If you are drawn to live your life by the pace of Lunar tide, recognizing your inner changes with the changing face of the moon – come meet us in the garden at midnight. If you want to learn to make herbal remedies and formulations both medicinal and magickal – join our circle. If you are intrigued by the world of medicinal astrology and its important legacy in Western Herbalism – sit down for a cup of moon-blessed tea with us.

We have space for you, clever friend, if you're ready to answer the call.

Expect to work with lunar plants in new ways, incorporating the written and spoken word to better understand the influence of the Moon in your life, herbal practice, and medicine-making.

Expect to learn in a way that recognizes enchantment as a tool of healing. Whether crafting charms or brewing tinctures, both are given equal reverence and attention.

Expect to change and shift, opening yourself up to the cleansing and compassionate power of lunar herbology.

Expect to embrace all that is dark and beautiful, night-filled and starry, to fully experience the rich spectrum of a life lived not just for the bright expanse of day, but the healing mantle of night.

The Moon is rising – are you ready to join our circle?

Review from a happy Luna: "I am positively overwhelmed with the information and knowledge conveyed in LA...I am only in week 1 and my mind is blown. This is exactly what I've been looking for. If you are questioning if this is the right place for you, say yes. I'm so glad I did. :)"

◇ ☾ ◇ ☾ ◇ ☾ ◇ DETAILS ◇ ☾ ◇ ☾ ◇ ☾ ◇

The Lunar Apothecary is a year-long ecourse with lifetime access for ☾ womyn ☾ composed of HUNDREDS of pages of inspiring newsletters, pdf books, hand-drawn goodies, and guided meditations about herbal medicine and magick. You'll be invited to join an exclusive online circle with your fellow Lunar apothecarians and I'll be present to answer questions and offer weekly guidance. By the end of the course you'll know how to flow with lunar rhythms, create custom-tailored herbal remedies and charms, and have a deeper understanding of your practice as an herbalist.

◇ Access to a private learning community including classroom forums and spaces to connect with your fellow students!
◇ Lunar Materia Medica
◇◇◇ A growing collection of in-depth plant profiles
◇ Moonlight: The Lunar Apothecary Newsletter
◇◇◇ A bi-monthly, full of Lunar and herbal inspiration for the coming month and guidance about the current moon phase
◇ Guided Journal Exercises
◇ Lunar Plant Profiles
◇ The Mansions of the Moon Guide
◇◇◇ Exploring the ancient Lunar horoscope
◇ The Celestial Wheel : The Moon + The Zodiac
◇◇◇ Exploring the twelve signs of the zodiac and lunar herbology
◇ The Lunar Compass : Nightly + Monthly Calendar
◇ Herbal Moon Rituals, Amulets, & Charms
◇ Medicine-Making Tutorials
◇◇◇ Teas
◇◇◇ Extracts
◇◇◇ Flower, Gem, + Moon Essences
◇◇◇ Lunar Dreaming
◇◇◇ Basic Lunar Aromatherapy
◇◇◇ The Basics of Formulation
◇◇◇ The Art of Herbal Powders
◇◇◇ The Art of Magickal Herbalism
◇◇◇ The Art of Elixirs
◇◇◇ The Art of Ritual
◇ Guided Moon Meditations
◇◇◇ Five audio recordings of guided meditations including building your own sacred lunar space + meeting your lunar plant ally
◇ Moonrite: Creating Nightly, Weekly, and Monthly Lunar Rituals + Celebrations
◇◇◇ Developing a Lunar spiritual practice for yourself and your community, including a guide for hosting Moon Tent Revivals full of herbal magick + medicine!
◇ Growing + Harvesting Plants by the Moon Illustrated Chart

☆ ☆ ☆ BONUSES! ☆ ☆ ☆

◇ NEW MATERIAL REGULARLY! The Lunar Apothecary is continuously updated with exclusive learning material for you to enjoy.
◇ Online call-in classes + class recordings from topics ranging from creating your own custom trance elixirs to building an inclusive herbal practice.
◇ ALL my ebooks previously and to-be published will be available for free to all Lunar Apothecary members.
◇ A Guide to Seasonal Lunar Tonics
◇ Community Medicine-Making Challenges
◇ Access to our annual Solstice Swap!
◇ All the materials from the Lunar Apothecary are yours to keep and use and learn from and love forever.

Start Date: Right now! When you sign up within 1 - 3 business days you will be sent an invitation to our private learning circle and can begin the course.

Non-refundable purchase. During checkout PLEASE INCLUDE THE EMAIL ADDRESS you would like to use for the course in the "Notes to Seller" section. By joining the Lunar Apothecary you agree to our sacred community and membership guidelines:

http://wortsandcunning.com/the-lunar-apothecary-membership-guidelines/

☆ HOW DO YOU DEFINE WOMYN? ☆
We don't - you do! The Lunar Apothecary is a womyn's only space. You determine your own gender and we are trans-inclusive. If you identify as a womyn/woman/wemoon you are very, very welcome to join our circle.

☆ ☆ ☆ PRAISE FOR THE LUNAR APOTHECARY ☆ ☆ ☆

"I have wanted to purchase Lunar Apothecary membership for over a year, and I am SO GLAD I was finally able to do so. It is EVERYTHING I hoped it would be, AND MORE." - Heather

"LOVE LOVE LOVE LOVE The Lunar Apothecary."

"What can I say? This class is changing my life. I am more in tune with the moon's cycles, I am learning so much about astrology and herbs. I feel magickal."

"I am positively overwhelmed with the information and knowledge conveyed in LA...I am only in week 1 and my mind is blown. This is exactly what I've been looking for. If you are questioning if this is the right place for you, say yes. I'm so glad I did. :)"

"What can one say about such a remarkable/wonderful/magical thing/course/place/mindset? Thanks a million PLUS ONE for organizing and putting together such a terrific amount of work and study into one glorious whole! We are all so much better for it. Blessings, dear Luna :)"

"Amazing. So much thought and energy was put into the class. It should easily be sold for $300 instead."

"Such an amazing course, Alexis put so much love, art, details and wisdom in this course. <3"

"Information beyond my wildest dreams!!!"

"Wow! What a plethora of information! Thank you so much for allowing me into your library! :) This is amazing and truly inspiring..."

"6 weeks in, and all I can say is this program is worth triple its price. Chocked full of amazing detail, folklore, clever recipes, amazing meditations, and more esoteric and astrological knowledge than you can shake a stick at. Simply amazing."

"The Lunar Apothecary is the most incredibly detailed, thorough resource I could possibly imagine. 12 weeks is no joke - there is enough material here to keep me happy for years to come! I love losing myself in the pages upon pages of Alexis' lovely words and hand-drawn ornaments. A magical powerhouse."

"WAY more value than what was paid. This woman has inspired course work and is such a contribution to us newbies who are just starting out in our exploration of herbal knowledge. Thank you!"

"Very extensive course and an active forum that comes with it. I really love being part of it!"

"This course has an incredible wealth of information! I am enjoying it very much and slowly working my way through. I was blown away by how much valuable information is here. It is clear that it is a labour of love the way it was created and compiled. I highly recommend it! Wonderful course! Beautifully put together!"

"Absolutely FABULOUS e-course!!!!! So very interesting and educational, and fun!!! I'm amazed at the work that went into this!!"

"A lot if information for the price this is well worth every penny!"

"LOVE, LOVE, LOVE! There is so much information here, I am learning so much. I wish I could just sit and read it all all day long. Unfortunately, I can't. But this is an AMAZING course!"

"Wonderful e-course! I would recommend it to anyone wanting to know more about lunar magic, ritual, and herbal uses/properties!"

"This course is amazing. I have learned so much and now have rhythm to my medicine making."

"It is an AMAZING course. Highly recommend."

"Excellent. Awesome. Fabulous eCourse!"

"The Apothecary is absolutely wonderful so far! So much love and effort went into this class and you can really tell. Alexis has a true passion for what she does and it shines through in all the lessons. I can't get enough of this class!"

"So far so great! I think this course is going to be amazing. Any chance to learn some of Alexis' wisdom should be grabbed with both hands."

"Loving the course so far, keep up the good work :)"

"Wonderful course!"

"Excellent course, fast delivery. Thank you"

"Fantastic course! I can tell alot of care and effort went into making this. She really knows her stuff. :)"

"Wonderful, wonderful course!!!"

"love this class, so much amazing information!"
Learn more about the shop and process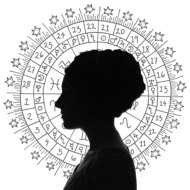 Alexis
Lunar Apothecary - a LIFETIME of Magickal & Medicinal Moon Herbology - eCourse for Womyn / Women - Herbalism, Magick, Ritual, Adventure
---
Overview
Handmade item
Instant Digital Download: 1 PDF included
Materials:

enchantment, womyn, women, witch, wisdom, zodiac, astroherbology, astroherbalism, magick, herbalism, herbology, herbs

Feedback: 857 reviews
Favorited by: 175 people
Listed on Jan 20, 2017
6016 views