Welcome to Digital Nails! I'm a self-proclaimed polish-aholic and my love for creating my own polishes bloomed from a fun hobby for myself into this shop!

Wibbly Wobbly v 2.0 is an insane blend of grass green holographic, teal, aqua, chartreuse, & hot pink glitters, in a multitude of shapes and sizes suspended in the sheerest of blue jelly base specially designed to hold up lots of glitter. This polish has matte, metallic, blue microflakies, HUGE dots, tiny holos - it's an explosion of sparkle. It's 15ml and is designed to layer over other colors, as shown in the photos above.

This polish is inspired by one of my favorite episodes of the tenth Doctor - Blink. In this episode, he describes time in a way that is delightful and silly but deep and inspiring and it makes total sense. Here's the quote:

The Doctor: People assume that time is a strict progression of cause to effect, but *actually* from a non-linear, non-subjective viewpoint - it's more like a big ball of wibbly wobbly... timey wimey... stuff.

This awesome description of Time as an evolving, ever-changing ball of squishy goo really inspired the depths leaning to the crazy edges of my creativity. I spent months on color theory, trying my hardest to represent this concept of Time and how whack-a-doo it is, and just how hard I could push color boundaries to see what would work. Then, cue Husband. Husband sees me concocting and measuring all day and decides that he wants to get in on the fun! Well, after some hemming and hawing, an "OK, I guess so", and some coaching and strict SCIENTIST instructions to write down ALL THE THINGS, he pulled glitters from my stash that I wouldn't have dreamed of pairing together, and Wibbly Wobbly and Timey Wimey were born. How perfect it is that I have been searching for a proper way to capture the chaos and discord of the idea of Time as a ball of weir wiggly stuff, while somehow finding a way to keep it coherent and beautiful - AND that he did essentially what I had been working on for ages in three hours? SO AWESOME. This is why he's amazing.

Whether you're a Whovian, like myself or just a fan of the crazypants glitters, this polish is positively perfect for any occasion, particularly if a handsome young man with two hearts and a penchant for saving the universe happens to ask you to come along and step into his bigger-on-the-inside blue police box. Hello, Sweetie!

Always, my polishes are 5 ree, which means I don't use any ingredients that contain toluene, formaldehyde, or dibutyl phthalate, formaldehyde resin, or camphor.
Learn more about the shop and process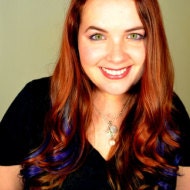 Rapahelle Yax
Wibbly Wobbly v2.0 : A timey wimey Doctor Who inspired glitter nail polish by Digital Nails
---
Shop similar items from sellers around the world