15% OFF and NATURAL NOW 40% Off! A modern design of old-fashioned sew-on leather grips for your city bicycle handlebars.

The cut-outs are both tactile finger holds and windows to the chrome of your handlebars below, revealing submarine-like the bare material underneath.

Tough enough for a chopper, sophisticated enough for a Dutch bike. No matter your bike style, the Bare Knuckle Grips make a statement while putting the feel of fine leather beneath your hands.

The Bare Knuckle Grips sew on to your flat handlebars, similar to our City Grips, however, the cut-out finger holds show off the chrome of your handlebars for a modern twist on an old-world material that is as functional for tactile gripping as it is stunning in design.

The vegetable-tanned leather is finished with Walnut Studiolo's weatherproof dressing for durability that stands up to any condition.

The simple installation will be a point of pride. The Bare Knuckle Grips come as a kit that you install yourself and includes pre-punched stitching guides, needle and waxed thread in white, tan, dark brown, or black, and instructions (bar ends not included).

The leather pictured here is dark brown.

Need help deciding which pair of bar wraps to get? Check out our handy infographic here:
http://bit.ly/1aiomYK

INSTALLATION: how-to video here, same as our City Grips: http://youtu.be/NnTTm4xFQjw
Pictorial installation how-to here: http://snapguide.com/guides/install-leather-city-bike-grips/

KIT CONTENTS: Included in each purchase is two grips, a stitch kit containing needle, thread, and instructions. Bar plugs not included, read more in our blog post: http://blog.walnutstudiolo.com/2014/08/10/bar-plug-options-for-your-leather-bar-wraps-and-city-grips/

SPARE PARTS: Replacement double-sided tape, extra stitch kits, and leather care dressing available in our Parts section.

LEATHER: Your Walnut Studiolo product uses natural, vegetable-tanned leather and will not look exactly as pictured here. Real, natural leather carries is a natural material, so every hide has unique characteristics that individually personalize each product. Just as no two fingerprints are alike, each piece of leather is distinctive in its color, grain, and markings, which may include scars, mars, or blemishes that are a natural part of the cow's life and a sign of the high quality of the leather we use.

COLORS: Natural, Honey, Dark Brown, Black

THREADS: White, Tan, Dark Brown, Black

MATERIALS: Vegetable-tanned leather

DIMENSIONS: Fits 7/8" diameter city bicycle handlebars x 5 1/2" long. Cuts to length easily with an exacto blade or scissors.

MONOGRAMMING: Sorry, this item cannot be monogrammed.

PHOTOGRAPHY: To see more images of customers with Walnut Studiolo gear, follow us on Instagram with hashtag #walnutstudiolo.
Photography credit: Erin Berzel Photography and Austin Goodman. Installation photo by customer Kelly Shaeffer.

SELECT PRESS AND TESTIMONIALS:

The City Bike Grips were featured on a Signal Cycles bike on Urban Velo:

http://urbanvelo.org/walnutstudiolo-leather-grips/

And on a Rapha bike by Beloved Cycles in the Oregonian:

http://blog.oregonlive.com/playbooksandprofits/2011/01/walnut_studiolo_supplies_leath_1.html

"My city grips are working out great in the rain! The grip is great on wet hands and they don't get spongy or soggy like some other grips. They are wonderful!!" -HAILEY M.

"Very happy with this purchase. I enjoy the look so much that I seriously want to buy another bike just so I have a reason to get another pair of these grips. Also, I asked for the grips to be matched to the color of a Brooks honey leather saddle and it turned out perfectly. The combination looks stunning. I'm gonna enjoy these for a long time. Thanks." -MIKE P.

"Subject: Walnut Studiolo City Grips - Rave review.
Last week my order for the Walnut Studiolo City Grips arrived. I was excited!
Up until now, I've owned quite a few bicycle grips and was never satisfied with how they felt (or looked) because of their rubberiness or spongeyness or stiffness. As a graphic designer, I wanted a very specific look and feel for my bicycle grips. When I opened the package, I was delighted to see the high quality and beautiful feel of the leather... I knew I had made the right choice with your City Grips. This product is gorgeous.
With slight intrepidation, and after following the instructions of cleaning the handlebars, I proceeded to stitch the City Grips onto my bike. I've never sewed anything on my own in my life before. :) The stitching guide was clear and the process wasn't as difficult as I had imagined that it would be. Simply put, they look and feel great. I am exceedingly proud to have a Walnut Studiolo product on my bike...
Best regards and keep up the great work!"
-TIM K.
Learn more about the shop and process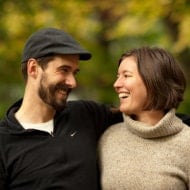 Geoffrey and Valerie Franklin
Frequently asked questions about WalnutStudiolo
SALE! Bare Knuckle Grips - Leather Bicycle City and Mountain Bike Handlebar Wraps
---
Listed on Apr 18, 2017
16703 views