Want to shoot your DSLR in the manual modes, but can't remember all the settings? Is all the terminology Greek to you? If so, you should consider using our NEW PHOTOGRAPHY APP. Designed by Mary Buck, photography educator, for amateur photographers who want to take their photography to a new level, or any photographer who wants a cheat-cheat at their finger tips.

Mary developed the photography app in 2012. Many of her students would leave class and say. "this was a very informative course, but how am I going to remember everything?" Mary got to work and developed the recipe theme, because she loves to cook and bake. (an example of what one of the recipes looks like is shown above.) Since 2012 over 1,000 photographers have purchased the app. Mary also has the app of her phone and admits using it recently when she photographed the super full moon.

The Photography App includes a baker's dozen (13) recipes for 13 different situations:

Shallow Depth of Field
Extreme Depth of Field
Stop Action
Slow Motion
Live Concerts
Indoors Dark Backgrounds
Low Contrast/Close-ups
High Key Images
Back-lit Subject
Sunrises & Sunsets
Starry Sun
Fireworks
Full Moon

Each recipe card has the ingredient mix for:

Aperture
Shutter speed
ISO
White Balance
Lens focal length

And directions on how to mix it up for a PERFECT PHOTOGRAPH. Also includes 3 recipe tips on how to understand exposure and flash.
AVAILABLE FOR THE IPHONE OR IPAD ONLY.
Learn more about the shop and process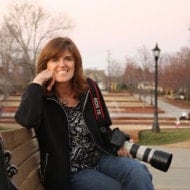 Mary Buck
Listed on Jan 9, 2017
59 views