Embossed Floral Red on Cream and Red Rose Scroll Cover
2013 - 2014 or 2014 Weekly/Monthly Planner
Planner/Notebook Size: 6" X 8.5"
***SIGNATURE COLLECTION***
-One of a Kind or Limited Edition Couture Stationery
-Designed With Exotic Handmade Paper from India, Nepal, Japan, Thailand
-For Stationery Lovers who Want a Unique, Functional Fashion Accessory
-Keep for Future to See What a "Day in the Life" Was For You This Year
***CHOOSE START MONTH
12 Month Planners (January 2014 - December 2014)
14 Month Planners (November 2013 - December 2014, +$4)
***CHOOSE LAYOUT***
1) ACADEMIC LAYOUT Picture 2 (Perfect for Students)
-Left Side: Weekly Calendar Space with Holidays and Dates
-Right Side: Weekly Task Pad Optimized for Student Organization
-Sections for Assignments, Exams & Quizzes, Extracurricular, To-Do List, Notes, Ideas
-Includes Class Schedule Pages
2) CLASSIC LAYOUT Picture 3 (Most Popular and Versatile Template)
-Left Side: Weekly Calendar Space with Holidays and Dates
-Right Side: Weekly Task Pad With To-Do List, Things to Buy, Notes, and Ideas
3) FLEXGRID LAYOUT Picture 4 (Ideal as a Family Planner, Meal Planner, or Fitness Planner)
-Left Side: Weekly Calendar Space with Holidays and Dates
-Right Side: Weekly Planning Pad with FlexGrid
-Features FlexGrid and Sections for Things to Buy, To-Do List, Notes, and Ideas
-First Column of FlexGrid Can Be Printed With CUSTOM HEADINGS...Option to Purchase Add-On for $3 Here:
https://www.etsy.com/listing/128234108/add-on-to-melvedy-designs-flexgrid
*Medium Size FlexGrid Is Best for Those With Small Handwriting...Large Size FlexGrid Planners Are Also Available for Those Who Prefer More FlexGrid Writing Room
ALL LAYOUTS INCLUDE:
-Monthly Calendar Pages (2 page spread, Picture 5)
-Black Ribbon Bookmark (Flame Sealed to Prevent Fraying)
-Special Occasion List
-Year at a Glance
-United States/Canadian Holidays
*Customer Testimonial: "The Weekly Task Pad is fantastic....great for when I know I need to do something this week, but am not sure which day I'll be able to get it done. I love being able to look at my whole week and to-do list at the same time!"
Design Protected with Crystal Clear PVC-Reinforced Plastic Cover
Bound with Dark Gold Spiral Binding--Lays Flat for 180 Degree View
Printed on Thick, High Quality Paper to Minimize Ink Bleeding
Premium Durable Black Back Cover
***CHECK OUT CUSTOM ADD-ON OPTIONS HERE***
https://www.etsy.com/shop/MelvedyDesigns?section_id=12857000
***SHIPPING INFO***
-Your order will be shipped within 2-4 business days through USPS.
-Business days do not include holidays and weekends. Items traveling to domestic destinations (U.S.) typically arrive 5-10 days after an order is placed.
-Postal delays due to inclement weather are rare but possible.
-International destinations (including Canada) can take up to 6 weeks due to delays at customs, but most orders arrive within 2-3 weeks.
***LOOKING FOR MORE PLANNERS? SHOP HOME: Visit shop home at
http://www.etsy.com/shop/MelvedyDesigns
and navigate by using the section tabs on the left side of the page. Now offering large size and medium size planners in a variety of designs, layouts, and styles.
***WANT A CUSTOM LAYOUT DESIGNED ESPECIALLY FOR YOU?***
Love the Task Pad Layout But Want a Few Changes to the Task Pad to Make Your Planner the Perfect Solution for Your Specific Planning Needs?
Please contact shop with the details of your preferences. If the changes requested are feasible, you will receive a price quote and instructions on how to place a custom order. Once the order is placed, you will receive a proof of your custom task pad for approval before your planner is shipped. Please note that only reasonable requests accompanied by a clearly articulated vision of what the customer wants are accepted.
-Changes to Any Task Pad (Right Side in Pictures) May Be Made.
-No Changes Can Be Made to the Weekly Calendar Pages (Left Side in Pictures).
-Changes to Task Pad Headings/Section Titles Will Usually Be an Additional $3-5.
-Major Changes to Task Pads (Combining Different Elements From Various Task Pads) Will Usually Be an Additional $5-$10.
*NOTE: There is an additional customization fee for ANY AND ALL changes to the task pads due to the extra time it takes to communicate, redesign/reformat, and collate/print/bind custom planners separately from the standard layouts. After contacting the shop with your design preferences, a link to your reserved custom listing with the additional fee included will be sent to you. Customers may not simply purchase the item in this listing and request a custom change in the Note to Seller box during checkout. Attempts to avoid payment by misusing the Note to Seller box will result in the cancellation of your order.
PROBLEM SELECTING LAYOUT OPTION AND START MONTH FROM DROP DOWN MENU? If for any reason the drop down menu for selecting your customization options doesn't work, please leave the layout choice and your start month choice in "Note to Seller" during checkout.
HAVE QUESTIONS? Feel free to contact the shop through Etsy!
***************************************
Proudly Handcrafted in the USA
Thank you for your interest!
Learn more about the shop and process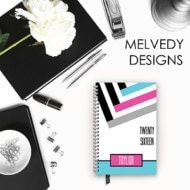 M
Red Rose Planner 2014 Organizer Calendar
---