HORSE DRAWN PLOW
Oliver Van Domelin, Mountaindale Farm
Washington County, Oregon 1977
16x20 Inch Archival Giclee Print, true archival print, 150+ years
Satin Paper, Pigmented Inks
Image Dimensions @ 12x18 Inches with white border
Signed/Titled and Dated by Clyde Keller
Presented in Archival Sleeve, Unframed
Shipped Flat, Insured with Tracking
PRICE: $280.00
OR--
11x14 or 12x18 inch Fuji Crystal Archive photographic print(s)
Lustre Paper, fade resistant for over 20 years
Image dimensions @9x13.5 or 11x16.5 inches with white border
Signed/Titled and dated by Clyde Keller
Presented in archival sleeve, Unframed
Shipped Flat, Insured with Tracking
PRICE: $95.00 and $145.00
NOTE: The printed copyright information appearing on the web display print, is removed for your purchase print.
Photographed in July of 1977 and part of a popular regional photographic calendar entitled "Valley People." The documentary project concerned documenting descendants of the Tuality Plains settlers of Washington County, Oregon.
Pictured is pioneer descendent Oliver Van Domelin with his horse drawn plow, on his Mountaindale Farm taken 32 years ago. Oliver is representative of the valley's pioneer heritage... and the last of a then living pioneer. Photographed in July of 1977 and part of a popular photographic calendar entitled "Valley People."
Of particular note is the fact that Oliver didn't wait for me as I was in the middle of changing rolls of film on my 35mm Nikon camera. So... what is observed in this photograph is that I am actually running to catch up with him as the horses made their way out into the field. I relied on a fast shutter speed and an "eagle eye" to capture this image while both of us were in full motion. A favorite for many years, this image captures the lively feel. It is an authentic document of an era no longer with us.
Photo Copyright © 1977 Clyde Keller
ABOUT CLYDE KELLER:
Hi, I'm a photographer and artist selling my fine art prints at
clydekellerphoto.etsy.com
.
My work is sold as Fine Art Giclee (inkjet) prints or fade resistant Fuji Crystal Archive (photographic) prints.
Clyde is known internationally for his historic photographs of Robert F. Kennedy. His RFK images are featured in Rory Kennedy's documentary film, "ETHEL" which debuted at the 2012 Sundance Film Festival. The RFK Center for Justice and Human Rights has recently acquired key images from Clyde's RFK portfolios for their collection. Historic photos of author Ken Kesey, William Burroughs and actor Bill Murray are featured in Mark Christensen's book Acid Christ. Clyde's portrait of actor/director Warren Beatty is the cover photo for Peter Biskind's, Star. Several vintage documentary images appear in a new NFL films project, entitled, "Fearsome Foursome" as well as Dan Forrer's upcoming HBO documentary film centering on the birth of Hip Hop music. The Seattle Museum of History and Science now features his vintage Seattle skyline panoramas. His regional portraits of surviving pioneer families (and characters) appear in several new books, periodicals and webzines, including Ken Bilderback's, Creek with No Name, a new soft cover about the history of Cherry Grove, Oregon.
Clyde is the grandson of Clyde Leon Keller, (1872-1962) an important Oregon-based Plein-Air Impressionist Painter. His portfolios can be viewed at www.clydekeller.com.
TREASURY ITEM
August 30, 2011-- Included in the absorbing treasury entitled, Before Electricty...
http://www.etsy.com/treasury/MTUxMTc0Mjh8NjQ5NjY3NjQz/before-electricty
Curated by Mike and Kathie Strongylos of StrongylosPhoto:
http://www.etsy.com/shop/StrongylosPhoto?ref=pr_shop_more
ARTIST STATEMENT--
Partners, Mike & Kathie, formed Strongylos Photo after many years of doing their own thing both behind the lens and in the darkroom. Friends since childhood, in Spring 2011 they decided to relocate to their hometown of Imperial Beach, California. Kathie had been living in Asheville, NC since 1991, while Mike was living in the University Heights neighborhood of San Diego.
Mike's unique style of capturing images offers the viewer an opportunity to reflect, to wonder, to look beyond the photo and feel the moment of it's time…whether that moment occurred 30 years ago, or last week.
Featuring in the intriguing treasury entitled, "
He works hard so pamper him......"
http://www.etsy.com/treasury/4d76c16ed45b8eef073eb1f0/he-works-hard-so-pamper-him
Curated by Kath of Natural Pet Products:
http://www.etsy.com/shop/NaturalPetProducts
ABOUT NATURAL PET PRODUCTS
Blessed to live in the Great Smoky Mountains a region of the Appalachian Mountains, the oldest mountain chain in the world. It is a place of great beauty that includes mountain lakes, whitewater rivers, waterfalls, deciduous forests and a diversity of other plant life as well as wildlife. It was the inspiration for coming up with Smoky Mountains Naturals & Conundrum pet products! My partner & I are going into our 17th year of business. We have created items that are natural recipes, safe, work great, are 100% pesticide free, eco friendly & biodegradable!
Learn more about the shop and process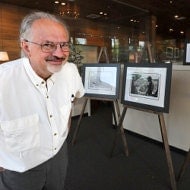 Clyde Keller, photographer
Oliver's HORSE DRAWN PLOW, Clyde Keller Photo, Fine Art Print, toned Black and White, Signed, vintage 1977 image, Treasury
Overview
Handmade item
Materials:

nikon f film camera, 24mm nikkor wide angle lens, pigmented inks, archival materials

Ships worldwide from

United States

Feedback: 53 reviews
Favorited by: 50 people
Listed on Jun 13, 2016
2106 views