It's a rainy day in retro archipelago.
The cratered moon presides through showers of flowers.
Pink islands' trees bloom blue-gray leaves,
joined across seas by silver roots and sapphire stones.

These three funky, '50's vintage silk crepe kimono fabrics combined here create a George Jetson meets Robinson Crusoe cartoon universe that I think you might want to visit for awhile despite the rain. The fabrics have a beautiful flowy drape; this hanging will dance gracefully in the slightest air movement, like when you walk by it as it hangs on your wall. The buttons are large, early plastics with great planetary textures. The bottom one is set with blue rhinestones.

The piece measure 23.5" long by 12.25" wide. The back is unfinished; the piece is meant to hang against a wall. Ribbons sewn to the top tie to a bamboo pole or other support for hanging. I will include a natural finish bamboo pole with your purchase. Please let me know the length you would like: 16", 18" or 20".

I began making wall hangings about a year ago – inspired by the artwork of two friends with whom I practice yoga and by Tibetan prayer flags – to support my own and others' yoga or meditation practice. Most of the time my prayer flags are about focusing on the here and now. The bottom represents connection to the earth and the top represents sky. The middle is where we are, where practice occurs. The buttons are centered in each section, mandala-like, to encourage centering. This one, however, is just for fun.

I've always admired cultures such as Japan's that pay attention to beauty in the everyday, offering frequent moments of pleasure and mindfulness. This kind of attention is shown in each piece of the endless variety of fabrics – silk, wool, cotton, rayon, dyed, painted, woven, embroidered, printed. I love that the fabric all comes from used kimonos – the occasional flaws are the evidence of living. The buttons, some inherited from my grandmother, are small surprises; think of the effort someone went to, to design and make these beautiful or interesting things for such a simple purpose.

I will be listing more pieces over time. Please contact me if you are interested in specific colors or imagery. I may have just what you want and am willing to take commissions. My hope is that you will find one (or more) that will enhance your practice, delight your eye or grace your living space.
Learn more about the shop and process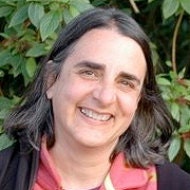 Ellen Kissman
Rainy Day in Retro Archipelago Kimono Fabric Collage Wall Hanging
---
Overview