"Survivor In The Fog"
Lone Juniper, Belknap Crater, Oregon Cascades
August 1999
16x20 Inch Archival Giclee Print, true archival print, 150+ years
Satin Paper, Pigmented Inks
Image Dimensions @ 12x18 Inches with white border
Signed/Titled and Dated by Clyde Keller
Presented in Archival Sleeve, Unframed
Shipped Flat, Insured with Tracking
PRICE: $280.00
OR--
11x14 or 12x18 inch Fuji Crystal Archive photographic print(s)
Lustre Paper, fade resistant for over 20 years
Image dimensions @9x13.5 or 11x16.5 inches with white border
Signed/Titled and dated by Clyde Keller
Presented in archival sleeve, Unframed
Shipped Flat, Insured with Tracking
PRICE: $95.00 and $145.00
NOTE: The printed copyright information appearing on the web display print, is removed for your purchase print.
Belknap Crater is a mystical place on top of our local world here in Central Oregon where weather and light constantly change to delight the eye. This August 1999 image of the lone Juniper tree in the foreground continues to attract. Like the place itself I return to this print with its own special magic firmly grounded in the realism of a moment found and experienced. Belknap is a region that defies the old cliche... "once you've seen it, you've seen it all." It is inspiring and nurturing for the imagination... it is a sanctuary away from the more mundane and calculated workaday world. True, the "rough, jagged clinkery surface" is at the same time foreboding. This is an alien like landscape which cannot be ignored.
"Survivor In The Fog" Copyright © 1999 Clyde Keller
ABOUT CLYDE KELLER:
Hi, I'm a photographer and artist selling my fine art prints at
clydekellerphoto.etsy.com
.
My work is sold as Fine Art Giclee (inkjet) prints or fade resistant Fuji Crystal Archive (photographic) prints.
Clyde is known internationally for his historic photographs of Robert F. Kennedy. His RFK images are featured in Rory Kennedy's documentary film, "ETHEL" which debuted at the 2012 Sundance Film Festival. The RFK Center for Justice and Human Rights has recently acquired key images from Clyde's RFK portfolios for their collection. Historic photos of author Ken Kesey, William Burroughs and actor Bill Murray are featured in Mark Christensen's book Acid Christ. Clyde's portrait of actor/director Warren Beatty is the cover photo for Peter Biskind's, Star. Several vintage documentary images appear in a new NFL films project, entitled, "Fearsome Foursome" as well as Dan Forrer's upcoming HBO documentary film centering on the birth of Hip Hop music. The Seattle Museum of History and Science now features his vintage Seattle skyline panoramas. His regional portraits of surviving pioneer families (and characters) appear in several new books, periodicals and webzines, including Ken Bilderback's, Creek with No Name, a new soft cover about the history of Cherry Grove, Oregon.
Clyde is the grandson of Clyde Leon Keller, (1872-1962) an important Oregon-based Plein-Air Impressionist Painter. His portfolios can be viewed at www.clydekeller.com.
TREASURY ITEM
May 25, 2011 Featured in the imaginative treasury entitled, "I Just Had the Strangest Dream of a Sci-Fi Apocalypse" -
http://www.etsy.com/treasury/4dde6693a2836d91f211881b/i-just-had-the-strangest-dream-of-a-sci
Curated byNancy of haroldluvsmaude:
http://www.etsy.com/shop/haroldluvsmaude
ARTISAN STATEMENT:
Hello my name is: Nancy. I am a Greek person, who loves to make art... and drink lots of coffee.
Harold and Maude has been one of my favorite stories since I was a kid, (I'm still a kid though, just bigger). Maude has been a huge role model for me... with her philosophy, her charisma, her passion for the arts, and her "incidental" love of collecting things.
Like Maude, I'm into painting, making craft stuff and reusing objects... I love to smell flowers, listen to birds, watch clouds on a sunny day... feel warm breezes and hear the soft twinkling sounds of chimes... ahhh! ...mellowness.
oh yeah, and... I LOooVE Cat Stevens.
This shop is dedicated to Maude's eccentric and eclectic life style and to Harold, for seeing and loving all of Maude's beauty.
Curated by Paula Art in her "your enamel heart" Treasury:
http://www.etsy.com/treasury/4d377c345d8d8eef924e77e1/your-enamel-heart
Visit PaulaArt at:
http://www.etsy.com/shop/PaulaArt#
ABOUT PAULA ART: Here you will find Recycled Pipe Vases, Contemporary Wall Clocks and Mixed Media Originals for your home or office. My collectible art is hand made, using as much recycled, reused, and reclaimed items as possible.
Learn more about the shop and process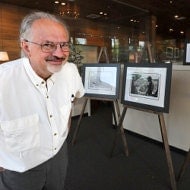 Clyde Keller, photographer
SURVIVOR In The FOG, Belknap Crater, Oregon Cascades, Clyde Keller Photo, Fine Art Print, Color, Signed, Treasury, Pine tree
Overview
Handmade item
Materials:

nikon f4 film camera, 16mm nikkor fisheye lens, pigmented inks, archival materials

Ships worldwide from

United States

Feedback: 53 reviews
Favorited by: 58 people
Listed on Oct 14, 2016
1531 views