This is an abstract collage in the "One Man's Treasure series".

The canvas is painted red, the circles are cut out from magazines and circulars I get sent at home and the tool used is an XL Fiskars Squeeze puncher.

This series speaks about the beauty found in all items, including throw-away items, and how things that we throw away are "new" for such a short time. At this rate, the earth will be stripped of all it's natural elements before we pass this lifetime.

Frankly, I don't like buying new things. Not because I don't have money, but because too often what we have right here is just enough. How often have I bought my kids toys to have them ignore forever a day later? or thrown away something that still had life left in them? It's so sad that too often beauty, "living the life" and "living a full life" is equated with the "quality" of things you own.......how empty and short lived that fulfillment can be.


Collage comes signed and dated in front and labeled and dated in back. The collage is done on a gallery wrapped canvas.

You can read a write-up about this work on my blog at:
http:\/\/miriamsartjournal.blogspot.com\/2009\/01\/most-recent-work.html
enjoy....and peace!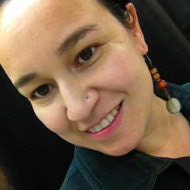 Miriam Cutelis
Listed on Nov 11, 2016
671 views