TREASURY ITEM-- Merry Xmas from Sonja and Clyde--
For Christmas Artists Exposed by Vicki Diane Designs
http://www.etsy.com/treasury/ODU5MjN8NTk2MjQx/christmas-artists-exposed
"MYSTIC MOUNTAIN"
Mt. Washington, Oregon Cascades
Interpretive Landscape
16x20 Inch Archival Giclee Print, true archival print, 150+ years
Satin Paper, Pigmented Inks
Image Dimensions @ 12x18 Inches with white border
Signed/Titled and Dated by Clyde Keller
Presented in Archival Sleeve, Unframed
Shipped Flat, Insured with Tracking
PRICE: $280.00
OR--
11x14 or 12x18 inch Fuji Crystal Archive photographic print(s)
Lustre Paper, fade resistant for over 20 years
Image dimensions @9x13.5 or 11x16.5 inches with white border
Signed/Titled and dated by Clyde Keller
Presented in archival sleeve, Unframed
Shipped Flat, Insured with Tracking
PRICE: $155.00 and $195.00
NOTE: The printed copyright information appearing on the web display print, is removed for your purchase print.
Mount Washington with its pristine forests and spectacular natural beauty was the subject of this July 2003 photograph made just before sunset on our way to Sisters, Oregon.
Just weeks later on August 16th, the region would be engulfed in forest fires that would burn through October. Much of the primeval old growth woods seen in this image were razed by the fire leaving a charred landscape.
In this interpretive impressionistic work I wanted to impart a feeling from the memories and rapture this site could evoke. In the presence of such beauty, Mt. Washington could cast a spell on all those that gazed upon it. The sensation was undeniable. Standing under the grandeur of Mt. Washington at it soared over woodsy greens, itself struck by bold intensities of color soon to fade... it was hard to imagine that this sanctuary could have been vulnerable to the flames that consumed it.
The print is bold in its use of color reminiscent of the impressionist Georges Seurat of the late 19th Century. Points of color and light capture the essence of this primeval scene in my own version of his "chromoluminarism."
MYSTIC MOUNTAIN, Copyright © 2003 and artwork 2009 by Clyde Keller
Clyde and Sonja Merry Xmas (Portrait by Christian Heeb) with Mystic Mountain backdrop
PLEASE NOTE: Print of Sonja and Clyde incorporates this beautiful, MYSTIC MOUNTAIN, image into our portrait. Portrait by Christian Heeb of Bend, Oregon. An 8x10 inch print of us included with purchase.
ABOUT CLYDE KELLER:
Hi, I'm a photographer and artist selling my fine art prints at
clydekellerphoto.etsy.com
.
My work is sold as Fine Art Giclee (inkjet) prints or fade resistant Fuji Crystal Archive (photographic) prints.
Clyde is known internationally for his historic photographs of Robert F. Kennedy. His RFK images are featured in Rory Kennedy's documentary film, "ETHEL" which debuted at the 2012 Sundance Film Festival. The RFK Center for Justice and Human Rights has recently acquired key images from Clyde's RFK portfolios for their collection. Historic photos of author Ken Kesey, William Burroughs and actor Bill Murray are featured in Mark Christensen's book Acid Christ. Clyde's portrait of actor/director Warren Beatty is the cover photo for Peter Biskind's, Star. Several vintage documentary images appear in a new NFL films project, entitled, "Fearsome Foursome" as well as Dan Forrer's upcoming HBO documentary film centering on the birth of Hip Hop music. The Seattle Museum of History and Science now features his vintage Seattle skyline panoramas. His regional portraits of surviving pioneer families (and characters) appear in several new books, periodicals and webzines, including Ken Bilderback's, Creek with No Name, a new soft cover about the history of Cherry Grove, Oregon.
Clyde is the grandson of Clyde Leon Keller, (1872-1962) an important Oregon-based Plein-Air Impressionist Painter. His portfolios can be viewed at www.clydekeller.com.
TREASURY ITEM
Featured by Elizabeth graf in her newest treasury--
"The Excitement is Building and Building with Gift Choices Galore!!"
http://www.etsy.com/treasury/NTYyOTY2NHwyNzIxMTQxNTQ3/the-excitement-is-building-and-building
Elizabeth Graf's fine art store on Etsy is well worth a visit--
http://www.etsy.com/shop/ElizabethGraf
"ABOUT ME: I have a HUGE body of work which not only includes paintings, but drawings and photographs. I plan in the future to present prints for sale besides my paintings. I have shown in galleries and art shows but I think I have found my perfect "niche" in Etsy -- selling online allows me the maximum amount of time to tend to my artwork and artist's psyche!"
"MY PAINTINGS TELL STORIES" - My GREATEST inspiration in my childhood were the illustrations by John R. Neill for The Wizard of Oz series of books. The black and white drawings danced, flowed, moved out of the page -- so powerful! Other inspirations include "everything tropical", marine life, Chinese/Asian, flowers/plants (scenes from my property) and the look of French Provence linens and their colors -- well, let's just say: EVERYTHING!"
Newly featured by Vicki Diane for For Christmas Artists Exposed
http://www.etsy.com/treasury/ODU5MjN8NTk2MjQx/christmas-artists-exposed
-
or on FB--
http://www.facebook.com/photo.php?fbid=10151204310449962&set=a.399116259961.176983.588329961&type=1&theater
Here's Sonja's BlueRider page with the same portrait--
http://www.etsy.com/listing/47228382/for-christmas-artists-exposed-clyde
Featured by BrandyKayzakianRowe in her new Treasury to HELP THE GULF COAST:
http://www.etsy.com/treasury/4c13eee9f43a8eeff99c81be/help-the-gulf-coast
Visit Brandy's Etsy Shop at
http://www.etsy.com/shop/BrandyKayzakianRowe
Learn more about the shop and process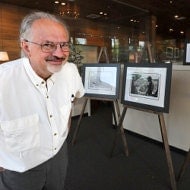 Clyde Keller, photographer
MYSTIC MOUNTAIN, Oregon Cascades, Clyde Keller Photo, Fine Art Print, Color, Signed, Treasury, primeval scene, painterly
---
Overview
Handmade item
Materials:

nikon with 85mm nikkor lens, pigmented inks, archival materials

Ships worldwide from

United States

Feedback: 53 reviews
Favorited by: 77 people
Shop similar items from sellers around the world