ATTENTION! This item is based in the UK. If it suits you better, please follow the link below to purchase directly from Alex Wrekk in Portland, OR, USA. Thanks.
https://www.etsy.com/uk/listing/215184525/stolen-sharpie-revolution-a-diy-resource?ref=shop_home_feat_4
This is the 5th and latest edition of this book and was printed December 2014
Since 2002, Stolen Sharpie Revolution: a DIY Resource for Zines and Zine Culture has been the go-to guide for all things zine-related. This little red book is stuffed with information about zines. Things you may know, stuff you don't know and even stuff you didn't know you didn't know! Stolen Sharpie Revolution contains a cornucopia of information about zines and zine culture for everyone from the zine newbie to the experienced zinester to the academic researcher.
Stolen Sharpie Revolution consists of thoughtful lists and step-by-step how-to guides on everything from definitions of a "zine," where to find zines, why they are important, how to make them and how to participate in zine culture. This book has everything you need to get started creating your own zine, or to figure out what to do with the zine you just made.
Stolen Sharpie Revolution serves as both an introduction into the wide world of zine culture and as a guide to taking the next step to become a part of it.
ISBN 978-0-9817941-1-2
152 pages 5.5" x 4.25" perfect bound book
Printed at 1984 printing in Oakland, California on recycled paper with soy based ink
26,000 copies in print
Past Reviews of Stolen Sharpie Revolution:
It's difficult to sift through the lovingly created zines that pile up in our library without grabbing paper and pens, hijacking the office copy machine, and printing my own. Now that I've stumbled upon Stolen Sharpie Revolution,Alex Wrekk's guide on making your own hand-crafted publication, I have no excuse not to. The DIY guide offers invaluable advice on creating, printing, and distributing zines. And if all that doodling, cutting, and pasting becomes overwhelming, you can always sit back and relax with a title ordered from the list of distros (distributors), bookstores, libraries, and websites compiled in Wrekk's resource appendix. --Kristen Mueller, Utne Reader
You know that saying of how the first Velvet Underground record didn't sell that well, but for every copy sold a [new] band was formed? I keep my copy [of Stolen Sharpie Revolution] on me at all times, if not for reference, then for inspiration. --Finding Datura
Alex is a goddess of the zine world. Brainscan is one of the rare books that tells a truly personal story that people care enough to read. But if Brainscan is a biography, SSR belongs in a non-fiction section. Here Alex lends her years of expertise to zinester virgins (figuratively). She walks them through the gates and into the depths of a scene that has always frightened newcomers. In fact, this lesson is so thorough that if Portland High School taught a zine publishing class (and I'm sure this will happen soon), this will be its textbook. Also included in this edition are how to start a zine library, how to start a distro, and 40+ reference pages of materials, events, and distros. --Pocketful of Change
Learn more about the shop and process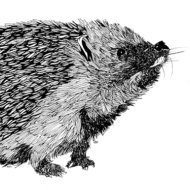 Steve Larder
Stolen Sharpie Revolution: a DIY Resource for Zines and Zine Culture (5th edition 2015)
---
Listed on Feb 14, 2017
1045 views