Brandubh (pronounced "Bran-doo") is the Irish version of the Viking game Hnefatafl and is from the family of Tafl games. Brandubh is the smallest and simplest version of this game known. This makes it a great game for beginners and children, but also makes the game more intense. With so few pieces, every move counts, and strategy is essential!

The black pieces are the attackers, attempting to capture the Chief by flanking him with two pieces. The Chief and his guard are the natural coloured pieces - to win, the Chief must make it to one of the 4 corners of the board.

The game is simple to learn, but like many simple games, has subtle strategy. It takes a while to get good with the attackers - the Chief seems to have all the advantages! Once you've played the game a few times, however, you should get a hang of how to play as both sides. A match should include at least 4 games, to give each side opportunities to play each side. My wife and I enjoy the game a lot. It's quick to play, too, with matches taking about 15 minutes each.

This is a great game to pass the time on camping trips, at SCA or Ren-Faire events, or at home with family. Because of the short play time, it works well for "tournament play" with a group of friends.

The game mat is made from 3/4 oz Hermann Oak leather. Hermann Oak leather is tanned in the USA from North American cow hides. The pouch is made using quality kipskin, a fine, supple vegetable tanned leather. The lines are inscribed into the leather and will never fade.

Th attacker pieces have been dyed using "iron black", a medieval period dye made from a solution of iron oxide.

The game pieces, the pouch and the mat have been finished with a beeswax-based leather treatment to keep them supple and water resistant.

The game comes with basic rules and care instructions. Many variations of the rules are possible, so experiment!

If you want to see how this item was made, check out this post on my blog. The process is the same for this game and for Fox and Geese:

http://sparrowhawkleather.blogspot.ca/2014/07/fox-and-geese.html

This is a made-to-order item and may take up to 2 weeks to ship, though most of the time I will be able to do it much quicker. Contact me for a timeline if you need to know.

All shipping costs are included.

WARNING: The pieces are small and a choking hazard, and should be kept out of reach of small children.
Learn more about the shop and process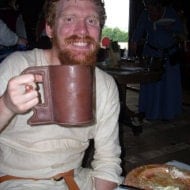 Jake Diebolt
Brandubh - Medieval Board Game - Shipping Included
---
Listed on Jan 13, 2017
295 views