A beautifully colored version of the original black and white version I created. Bright white Om symbol within the circle of the lotus flower. Peaceful and calming with positive energy. Also shows a lotus flower in each corner for decoration.
Print size is 10" x 10" on 110lb medium gloss card stock.
FREE shipping in the continental U.S.!

This is a very standard size, you should have little or no problem finding a frame for this.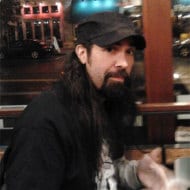 Christopher Gendron
Listed on Nov 5, 2016
33 views