35" in diameter plate with unique design

This, on Ottoman design inspired master piece was made by my father. It has been used for expositions and it is now on Etsy for sale.
It is a very large plate that can be used as wall decoration as well as a decorative tray.
The red colored patterns are decorated with a special technique; we use liquid clay to make them raise and look 3D.
Its size makes it a very special plate because its nearly flat, 90cm wideness is really hard to get out of the kiln in a good condition.

The process of making this plate;

Step 1. Making the 90cm diameter plate from white clay,
Step 2. Letting it dry for 20 days in our special caves (our workshop is in the mountain which is an ideal place for the shaped piece to dry),
Step 3. First firing (without any drawing/painting) at 1050 degrees celsius, took 15 hours to fire and another whole day to cool down,
We had to take over the first 3 steps again because there appeared cracks while that firing and that took us another 25 days.
Step 4. cleaning the surface/ drawing/ painting, 2 months
Step 5. glazing
Step 6. second firing 1000 degrees celsius, took also 15 hours to fire and another 24 hours to cool down.
It took 4 months for this art piece to get ready for display.
Learn more about the shop and process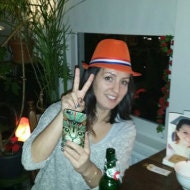 Sara
Listed on Jan 9, 2017
196 views