The "Vintage" finish features concentric circles cut into the weathered surface, working with the age and distress of the tank to highlight a classic beauty. Like smile lines etched into the weathered face of a joyful soul, the "Vintage" finish seeks to highlight the warm beauty that has been sculpted by time.
Your drum will be precisely tuned to the scale that you pick. Not sure which scale to choose? Please visit the scale library at my website and listen. I recommend using headphones for the best experience hearing the drums.
www.handsonfire.com/our-scales/
PLEASE NOTE : the pictures are posted as examples of the "Vintage" finish. Each one is unique according to properties and character of the particular tank it's made from. Your drum will look similar, but will hold its own unique beauty.
Your drum will include a set of mallets, but you can also play with your hands.
if you would like an extra pair of mallets, they can be ordered here:
https://www.etsy.com/listing/246868530/extra-mallets
To add a cushion ring for displaying you tongue drum, see this listing:
https://www.etsy.com/listing/248937191/tongue-drum-cushion?ref=listings_manager_grid
I tune many of my drums to 444 and 423 hz, which are frequencies more in tune with our body's natural frequencies. You can choose which frequency you prefer.
432hz - more calming tone
440hz - best for playing with other instruments
444hz - bright and cheerful tone
At HandsOnFire, I don't recycle propane tanks, each drum is the Renaissance of a propane tank. Just like people, something wonderful happens when we step beyond the utility of everyday life and into an atmosphere where beauty is formed. That beauty is even more enchanting when it comes from a unique and unlikely source. I think these drums resonate with people because we are hard wired to appreciate beauty, to enjoy the pleasure of simple fascination in a realm of new possibilities.
That's why I love working with a repurposed material, because like these tanks, there is more inside all of us. I believe we all have a creative fire that needs to be expressed, needs a Renaissance. It's my sincere hope that the beauty and inspiration of these drums will bring you the simple pleasure of delighting in fascination, and ignite your creativity. From my hands to yours, let your creative fire find an expressive voice on one of these drums!
Jonathan Rose
HandsOnFire
If you don't see what you're looking for, drop me a line. It would bring me joy to craft an instrument that will spark your creative fire!
Pentatonic
D3 Minor: D3 F3 G3 A3 C4 D4 F4 G4
D3 Major: D3 E3 F#3 A3 B4 D4 E4 F#4
E Minor: E3 G3 A3 B4 D4 E4 G4 A4
E Major: E3 F#3 G#3 B4 C#4 E4 F#4 G#4
F Minor: F3 G#3 A#3 C4 D#4 F4 G#4 A#4
F Major: F3 G3 A#3 C4 D4 F4 G4 A#4
G Minor: G3 A#3 C4 D4 F4 G4 A#4 G4
G Major: G3 A3 C4 D4 E4 G4 A4 C5
A Major: A3 B3 D4 E4 F#4 A4 B4 D5
A Minor: A3 C4 D4 E4 G4 A4 C5 D5
B Major: B3 C#4 E4 F#4 G#4 B4 C#5 E5
B Minor: B3 D4 E4 F4 A4 B4 D5 E5
C Major: C4 D4 F4 G4 A4 C5 D5 F5
C Minor: C4 D#4 F4 G4 A#4 C5 D#5 F5
D4 Minor: D4 F4 G4 A4 C5 D5 F5 G5
D4 Major: D4 E4 F#4 A4 B5 D5 E5 F#5
Phrygian
D3 Phrygian: D F G A# C D F G
F# Phrygian: F# A B D E F# A B
G# Phrygian: G# B C# E F# G# B C#
G Phrygian: G A# C D# F G A# C
A# Phrygian: A# C# D# F# G# A# C# D#
A Phrygian: A C D F G A C D
B Phrygian: B D E G A B D E
C# Phrygian: C# E F# A B C# E F
C Phrygian: C D# F G# A# C D# F
D4 Phrygian: D F G A# C D F G
Akebono
D3 Akebono: D3 E3 F3 A3 A#3 D4 E4 F4
E Akebono: E3 F#3 G3 B3 C4 E4 F#4 G4
F Akebono: F3 A#3 C4 C#4 F4 F#4 A#4 C5
G Akebono: G3 A3 A#3 D4 D#4 G4 A4 A#4
A Akebono: A3 B3 C4 E4 F4 A4 B4 C5
B Akebono: B3 C#4 D4 F#4 G4 B4 C#5 D5
C Akebono: C4 D4 D#4 G4 A4 C5 D5 D#5
D4 Akebono: D4 E4 F4 A4 A#4 D5 E5 F5
Spanish Gypsy
E Spanish Gypsy: E3 F3 G#3 A3 B3 C4 D4 E4
F Spanish Gypsy: F3 F#3 A3 A#3 C4 C#4 D#4 F4
Hijaz
E Hijaz: E3 F3 G#3 A3 B3 C4 D#4 E4
Learn more about the shop and process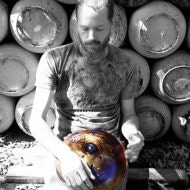 Jonathan Rose
Custom Steel Tongue Drum w/ "Vintage" Finish - Hank Drum, Tank Drum
---
Overview
Handmade item
Materials:

Recycled steel propane tank, steel, recycled, repurposed, used, metal, welded

Made to order
Ships worldwide from

United States

Feedback: 56 reviews
Favorited by: 37 people
Listed on Nov 23, 2016
1041 views