Order in May and receive a half-pound of beautiful, soft Gulf Coast Native Sheep roving for free, plus free shipping! Perfect Travel Wheel comes complete with protective travel bag. Full-size wheel folds easily for taking to spinning events or your favorite park on a sunny day!

Details

• The Sonata is now available unfinished

• Wheel diameter: 19″

• Folded dimensions: 22″ by 19″

• Orifice: Height 30″ (can be raised as much as 2″), size – 3/8″

• Bobbins: Three included that will fit all other Kromski wheels. Kromski bobbins have yarn capacity that is 50% greater than many other popular wheel bobbins.

• Single drive with Scotch tension

• Includes threading hook, attached Lazy Kate and bottle of spinning wheel oil; uses an elastic drive band

• Ratios: 6.7, 12.5, 14 to 1; see optional Jumbo and Faster flyers below for other ratio ranges.

• Ball bearings on wheel crank; flyer bearings are custom designed injection molded parts engineered by Kromski for excellent performance.

• Weight: 11.5 lbs.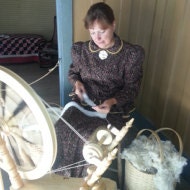 Lisathemom
Kromski Sonata Spinning Wheel
---
Listed on Feb 6, 2017
359 views