This is a limited edition (only 100 made), signed, numbered print of the design "Internal Constellations". I created this design for a limited edition skateboard design for Devil Street Decks out of Brooklyn.
The size of this print is 10"x34" (that's almost 3 feet tall!). The actual design is 9"x33" and is the same size as the file used for the skateboards. I've included a 1/2 inch border on the prints in case you want to matte it but it looks good framed without the matte just with the white border.

"Internal Constellations" is a design I came up with as part of my "Book of Gosh" project, which is ongoing. I like the idea of space and time being both within and outside. We are indeed all connected, flesh, time, space, mystery, stars, and everything else we don't know exists yet. It only makes sense that it is all both inside and out.

As mentioned, this is limited to only 100 prints, so once they're gone, they're gone! And each one is signed and numbered by me, the artist.
Shipping is free in the continental U.S.
Outside the U.S. shipping is an additional $15.00 USD.

Prints are rolled and shipped in a tube for best protection.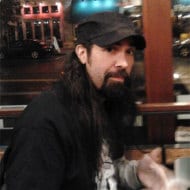 Christopher Gendron
Listed on Oct 11, 2016
44 views