This is a limited edition (only 100 made), signed, numbered print of the design "Signal the Recycler". I created this design for a limited edition skateboard design for Devil Street Decks out of Brooklyn.
The size of this print is 10"x34" (that's almost 3 feet tall!). The actual design is 9"x33" and is the same size as the file used for the skateboards. I've included a 1/2 inch border on the prints in case you want to matte it but it looks good framed without the matte just with the white border.

"Signal the Recycler" is about life and death. Birth. Dying. Reincarnation. The entire circle. The entire cycle. Whatever you want to call it or whatever you believe...the fact remains, our bodies are created and our bodies die. This is a celebration of that fact. A reminder to enjoy life and fill it with what you want....for one day, your time will come and someone will Signal the Recycler for you.

As mentioned, this is limited to only 100 prints, so once they're gone, they're gone. Each one is signed and numbered by me, the artist.
Shipping is free in the continental U.S.
Outside the U.S. shipping is an additional $15.00 USD.

Prints are rolled and shipped in a tube for best protection.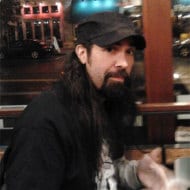 Christopher Gendron
Listed on Oct 11, 2016
37 views