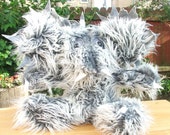 Sorry, this item sold.
Plush Chupacabra, Shaggy soft grey / white faux fur
Item details

Reviews (39)

reviews

Shipping & Policies
Made of a super soft shaggy grey & white faux fur, his spikes and eyes are a sturdy grey wool felt (and plastic safety eyeballs). He's got big fangs and loads of claws. He measures about 18 inches tall from dupa to spikes. Stuffed with polyfil he's made for hugging!

Chupas can be customized. Just convo me and let me know what colors you'd like your Chupa.

All my creatures are made with love and a super type-a attention to detail. Chupas are happiest in homes with kids over 4 years old.

I blame Leonard Nimoy. Since the 1970's I've been fascinated with cyptids. Cryptozoology is a much maligned and overlooked branch of science.

Take the chupacabra. Native to northern Mexico, Puerto Rico and the southwest US; they've recently been spotted in Milwaukee. (They do tend to get chubby with all the beer and cheese.)

This chupa has been hand-raised and very tame. I wouldn't tempt nature by leaving him alone with a goat...but he's been well received by the neighborhood kids.

Chupacabras have become minor celebrities in Milwaukee since they've started making public appearances. Winter is here and new Chupas have asked to find new (maybe warmer) homes.

Feel free to contact me with any questions!


ABOUT CHUPACABRAS (from Wikipedia)
The Chupacabra or Chupacabras (pronunciation: /tʃupa'kabɾa/, from the Spanish words chupar, meaning "to suck", and cabra, meaning "goat"; literally "goat sucker"), also called El Chupacabras in Spanish, is a legendary cryptid rumored to inhabit parts of the Americas. It is associated more recently with sightings of an allegedly unknown animal in Puerto Rico (where these sightings were first reported), Mexico, and the United States, especially in the latter's Latin American communities.[1] The name comes from the animal's reported habit of attacking and drinking the blood of livestock, especially goats. Physical descriptions of the creature vary. Eyewitness sightings have been claimed as early as 1990 in Puerto Rico, and have since been reported as far north as Maine, and as far south as Chile. It is supposedly a heavy creature, the size of a small bear, with a row of spines reaching from the neck to the base of the tail.