• • Length : 25 inches
• • Materials : large silver bead, amber, lemon quartz, prehnite, glass beads, Swarovski elements, citrine, fluorite, amethyst, freshwater cultured pearls

- - - - - - - - - - - - - - - - - - - - - - - - - - - - - - - - - -

Amber is noted in metaphysics to give a soothing, light energy that is both calming and energizing at the same time. It is said to help manifest desires and heighten intellectual abilities, clarity of thought, and wisdom. It is reputed to cleanse its environment by drawing out negativity, and to relieve physical pain the same way. It is used mystically to bring the energies of patience, protection, psychic shielding, romantic love, sensuality, purification, balance, healing and calmness to those who wear or carry it. It is considered a good luck charm for love and marriage.

Prehnite is a very protective stone and can protect one on all levels. It strengthens the life force and generally increases and stimulates energy, while at the same time bringing powerful calming energies. Thus, prehnite is said to ease worries and restlessness of all kinds. Prenite is used to aid spirit communication through meditation or visualization, out-of-body travel, and powerful dream work. Prehnite is also known as a stone of prophesy which stimulates inner-knowing.

Citrine is a fabulous stone to use to combat negative energy of any kind by breaking them up and dissipating them. It is helpful to clear unwanted energies from the environment, whether it be home, office, car, or other space indoors or out. Family issues caused by negative energies can also be cleared for resolution with citrine. Citrine is also a stone that brings hope. Since citrine eliminates negative energies, it is good for protection in general and helps bring stability energetically.

Amethyst is a meditative and calming stone which works in the emotional, spiritual, and physical planes to provide calm, balance, patience, and peace. Amethyst is used as beneficial when dealing with legal problems and money issues, which can lead to prosperity and abundance, though it is not the best known prosperity stone.

Fluorite promotes spiritual and psychic wholeness and development, protection, and brings peace. It helps one meditate and learn to go past the "chatter" that our minds tend to generate when first learning to meditate. Deeper meditation past the "chatter" can give access to cosmic truth, attune to spirit guides or animal totems. This energy can be used to manifest one's life purpose. Fluorite protects psychically as a psychic shield, protect from chaotic vibrations by evening them out in an orderly manner. It is used to clear energy fields and auric cleansing in particular. Fluorite is also used to remove astral attachments, which brings a reduction or elimination of negative energy.

Quartz is said to help structure, focus and amplify thoughts and information. It is also thought to transmit energy. Because the color yellow is associated with clarity, communication and happiness, lemon quartz is believed to help balance and strengthen these aspects.
Learn more about the shop and process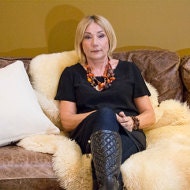 Halina Zylinski
Multiple Strand Layered Amber, Lemon Quartz, Prehnite, Swarvoski, Citrine, Fluorite, Amethyst, Pearls Necklace OOAK
---
Overview
Listed on Sep 23, 2016
47 views