• • Length around neck : 15 inches
• • Materials : leather, agate, citrine, amber luster

- - - - - - - - - - - - - - - - - - - - - - - - - - - - - - - - - - - - - - - - - -

Agate is a stone of strength. It was used by the Ancients on the breastplates of armor to give warriors strength and make them victorious in battle. Energetically, it is considered to give strength in both battle and physically. Agate enhances creativity and strengthens the intellect, making it a beneficial stone for both students and artists. It is also known as a good luck stone. As a stone of harmony, one of the things agate does is balance yin/yang energy.

Citrine is a fabulous stone to use to combat negative energy of any kind by breaking them up and dissipating them. It is helpful to clear unwanted energies from the environment, whether it be home, office, car, or other space indoors or out. Family issues caused by negative energies can also be cleared for resolution with citrine. Citrine is also a stone that brings hope. Since citrine eliminates negative energies, it is good for protection in general and helps bring stability energetically.

Amber is noted in metaphysics to give a soothing, light energy that is both calming and energizing at the same time. It is said to help manifest desires and heighten intellectual abilities, clarity of thought, and wisdom. It is reputed to cleanse its environment by drawing out negativity, and to relieve physical pain the same way. It is used mystically to bring the energies of patience, protection, psychic shielding, romantic love, sensuality, purification, balance, healing and calmness to those who wear or carry it. It is considered a good luck charm for love and marriage.
Learn more about the shop and process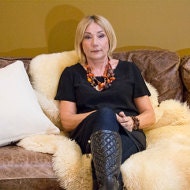 Halina Zylinski
Listed on Sep 23, 2016
68 views