• • Pendant : 1.5 x 1.5 inches
• • Length : 23.5 inches
• • Materials : picture medallion, silver, rose quartz, agate, brown lava, frosted glass stone, silver metal beads, citrine, carnelian, mahogany obsidian

- - - - - - - - - - - - - - - - - - - - - - - - - - - - - - - - - - - - - - - - - - - - - - - - - - - - - -

Agate is a stone of strength. It was used by the Ancients on the breastplates of armor to give warriors strength and make them victorious in battle. Energetically, it is considered to give strength in both battle and physically. Agate enhances creativity and strengthens the intellect, making it a beneficial stone for both students and artists. It is also known as a good luck stone. As a stone of harmony, one of the things agate does is balance yin/yang energy.

Citrine is a fabulous stone to use to combat negative energy of any kind by breaking them up and dissipating them. It is helpful to clear unwanted energies from the environment, whether it be home, office, car, or other space indoors or out. Family issues caused by negative energies can also be cleared for resolution with citrine. Citrine is also a stone that brings hope. Since citrine eliminates negative energies, it is good for protection in general and helps bring stability energetically.

Carnelian is an agate class of chalcedony that is a stone of creativity, individuality and courage. Like all agates, it has protection energies. It can aid memory, including recall of past lives. It can assist one in finding the right mate. It is also a stone of protection in general and from anger, jealousy and fear. In addition it can help with manifestation of one's desires, and brings good luck. Carnelian can help ease or remove sorrows. It also helps stabilize energies in the home.

Obsidian is a very protective stone, and is excellent for removing negativity. It is also excellent protection against psychic attacks. In particular obsidian protects the gentle from abuse, and is used to cut attachment cords to release one. It is a very grounding stone, and very healing. Obsidian is also an excellent manifestation stone.

Rose Quartz is a translucent or transparent pink crystal. It is known as the 'Love Stone' and is said to be the stone of unconditional love. This crystal opens the Heart Chakra and is believed to encourage forgiveness and to help you to let go of anger, resentment and jealousy.
Learn more about the shop and process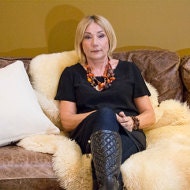 Halina Zylinski
Multiple Strand Layered Rose Quartz, Agate, Brown Lava, Frosted Glass, Citrine, Carnelian, Obsidian Necklace OOAK
---
Overview
Listed on Sep 23, 2016
32 views