This the wisdom
of woodspaces
this is the meditation
of Earthplaces…

Earthprayer, Birthprayer, Lifeprayer, Womanprayer is a 114 page book of earth-based poetry containing four thematic sections all rooted in connection to the land and to the cycles of life. This poetry collection is one of the results of a committed, devotional, year-long "woodspriestess" practice. I maintained this practice throughout 2013, eventually spending approximately 330 days that year in the same place in the woods listening to what they had to tell me about life, myself, and the Earth.

In late December 2012, I decided to begin a year-long spiritual practice of checking in every day at rocks in the woods behind my house. I committed to spending at least a few minutes there every day, rain or sleet or shine, with children or without, and whether day or night throughout 2013. My idea was to really, really get to know the space deeply. To notice that which changed and evolved on a daily basis, to see what shared the space with me, to watch and listen and learn from and interact with the same patch of ground every day and discover what I could learn about it and about myself. I wanted to really come into a relationship with the land I live on, rather than remain caught up in my head and my ideas and also the sometimes-frantic feeling hum of everyday life as a parent and professor. As planned, I maintained my practice throughout 2013, eventually spending approximately 330 days in the same place in the woods (some days were missed due to traveling).

I tend towards a Goddess-oriented, panentheistic, spiritual naturalism. When I enter the woods, I often experience what I have termed "theapoetics"–spontaneous, spoken aloud poetry that brings me into direct connection with that source of life I call the Goddess.

Perfect for readings for women's programs!
Learn more about the shop and process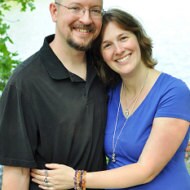 Molly and Mark
Earthprayer, Birthprayer, Lifeprayer, Womanprayer Poetry Book printed (ritual, earth-based, goddess, thealogy, ecofeminism, mother blessing)
---
Listed on Nov 27, 2016
1038 views