2017 IN and OUT: printable monthly income & expenses tracker (14 A4papers)

2017 IN and OUT: printable monthly income & expenses tracker (14 A4papers)
Ask a question
---
Overview
Handmade item
Instant Digital Download: 2 PDF included
Materials: paper, printable, budget tracker
Favorited by: 34 people
This shop accepts Etsy gift cards
Description
---------- CHRISTMAS DISCOUNT!!! 15% off on all products by using the coupon "CHRISTMAS" (valid till december 31) ----------

ITEM AVAILABLE IN ENGLISH / SPANISH / ITALIAN

Money tracking made effective, fun and beautiful.
A playful tool to get control of your life and live stress free!

This is the right tool for you if you are concerned about where your money actually goes, how much income you really make and how much you really need, you have started many times an excel sheet to track your money movements but it's somewhere in your hard disk and you don't even remember what's the file name.

This is a simple, intuitive and effective tool that calls you to fill it in every day and provides you a glanceable overview of your money movements.
It can be used for one person, a whole family or a small business. The playful and simple concept behind it makes it suitable also as an educative tool for kids that start to have their own little amount of money.



------------ HOW DOES IT WORK

The tool calls three main actions 1) think 2) track 3) overview and evaluate.

1) Think: take some time to think which categories can be used to classify your incomes and expenses. There are many, you have to find the one that make sense to you. As an example, your expenses categories can use as a parameter the grade of need (unavoidable expenses, emergency expenses, basic expenses, extra expenses, luxury expenses …) or simply the nature of the expense (housing, transportation, food, eating out, sport …).
List your categories names and assign a colour to each one of those.

2) Track: now you are ready to track your money movements.
Every evening take your monthly sheet and write down the expenses & incomes of the day: the amount, a description, and color the spot according to the category it belongs to. In this way, simply by taking a look at the colours you'll see on the go what kind of income or expenses you have.
At the end of the year add pup all your items and get the total incomes, total expenses and total revenue.

3) Overview and evaluate: the last sheet is made to facilitate an overall overview, compare, evaluate and plan your next financial steps.
You' ll be asked to:
- write down every month incomes & expenses (in & out) by copying them from the monthly sheets
- making a diagram using this numbers that will show you the year trends
- calculate the monthly average incomes, monthly average expenses an monthly average

As last step you'll be prompted to think about what can be improved, what would be your next financial objective and plan steps to reach it.



------------ PRINTING INSTRUCTIONS

You can easily print your income & expenses tracker planner at home on standard A4 paper. Black and white works perfectly, but you may want to have your cover in colours. A pair of scissor will complete your piece of art :).

- cover_colours.pdf: choose the color you prefer and print front and back.
On the back part cut along the dashed line and fold 2 times the paper following the two dotted lines in the middle.

- inside_sheets.pdf: print only front.
Cut the sheet following the dashed line on the right so that as a result you'll have a rectangle displaying the month coming out (see last image). Fold the paper following the dotted line in the middle. Repeat this for all the 12 months sheets. The 13th sheet is the evaluate & improve sheet and you simply have to cut it vertically.

Order all your sheets from January to December, place the evaluate & improve sheet as last one and place them inside of the cover. The sheets are loose and printed only front so that every month you can hang or have your sheet always visible to mark your expenses every day.

TERMS OF USE

By purchasing this item you are agreeing to my term of use.
This item is intended for personal use only.
Resale, reproduction or redistribution not allowed.

If you have a specific need of a different use please feel free to contact me.
I am open to enter into a specific agreement that can satisfy both parts.


------------ FEEDBACKS
If you happen to find it useful or if you have improvements to suggest I am more than happy to hear your opinion!
---------- CHRISTMAS DISCOUNT!!! 15% off on all products by using the coupon "CHRISTMAS" (valid till december 31) ----------

ITEM AVAILABLE IN ENGLISH / SPANISH / ITALIAN

Money tracking made effective, fun and beautiful.
A playful tool to get control of your life and live stress free!

This is the right tool for you if you are concerned about where your money actually goes, how much income you really make and how much you really need, you have started many times an excel sheet to track your money movements but it's somewhere in your hard disk and you don't even remember what's the file name.

This is a simple, intuitive and effective tool that calls you to fill it in every day and provides you a glanceable overview of your money movements.
It can be used for one person, a whole family or a small business. The playful and simple concept behind it makes it suitable also as an educative tool for kids that start to have their own little amount of money.



------------ HOW DOES IT WORK

The tool calls three main actions 1) think 2) track 3) overview and evaluate.

1) Think: take some time to think which categories can be used to classify your incomes and expenses. There are many, you have to find the one that make sense to you. As an example, your expenses categories can use as a parameter the grade of need (unavoidable expenses, emergency expenses, basic expenses, extra expenses, luxury expenses …) or simply the nature of the expense (housing, transportation, food, eating out, sport …).
List your categories names and assign a colour to each one of those.

2) Track: now you are ready to track your money movements.
Every evening take your monthly sheet and write down the expenses & incomes of the day: the amount, a description, and color the spot according to the category it belongs to. In this way, simply by taking a look at the colours you'll see on the go what kind of income or expenses you have.
At the end of the year add pup all your items and get the total incomes, total expenses and total revenue.

3) Overview and evaluate: the last sheet is made to facilitate an overall overview, compare, evaluate and plan your next financial steps.
You' ll be asked to:
- write down every month incomes & expenses (in & out) by copying them from the monthly sheets
- making a diagram using this numbers that will show you the year trends
- calculate the monthly average incomes, monthly average expenses an monthly average

As last step you'll be prompted to think about what can be improved, what would be your next financial objective and plan steps to reach it.



------------ PRINTING INSTRUCTIONS

You can easily print your income & expenses tracker planner at home on standard A4 paper. Black and white works perfectly, but you may want to have your cover in colours. A pair of scissor will complete your piece of art :).

- cover_colours.pdf: choose the color you prefer and print front and back.
On the back part cut along the dashed line and fold 2 times the paper following the two dotted lines in the middle.

- inside_sheets.pdf: print only front.
Cut the sheet following the dashed line on the right so that as a result you'll have a rectangle displaying the month coming out (see last image). Fold the paper following the dotted line in the middle. Repeat this for all the 12 months sheets. The 13th sheet is the evaluate & improve sheet and you simply have to cut it vertically.

Order all your sheets from January to December, place the evaluate & improve sheet as last one and place them inside of the cover. The sheets are loose and printed only front so that every month you can hang or have your sheet always visible to mark your expenses every day.

TERMS OF USE

By purchasing this item you are agreeing to my term of use.
This item is intended for personal use only.
Resale, reproduction or redistribution not allowed.

If you have a specific need of a different use please feel free to contact me.
I am open to enter into a specific agreement that can satisfy both parts.


------------ FEEDBACKS
If you happen to find it useful or if you have improvements to suggest I am more than happy to hear your opinion!
Reviews aren't loading right now. Try again later!
Downloads
File delivery
Your files will be available to download once payment is confirmed.
Here's how.
Payments
Secure options
Accepts Etsy Gift Cards and Etsy Credits
Etsy keeps your payment information secure. Etsy shops never receive your credit card information.
I accept PayPal and credit card as form of payment. All purchases must be paid for at the time of sale within 3 days otherwise the transaction will be canceled. After payment has been received & cleared; your item will ship within 3 business days.
Returns & exchanges
Please don't hesitate to contact me with any issues with your order.
Additional policies
TERMS OF USE

By purchasing this item you are agreeing to my term of use.
This item is intended for personal use only.
Resale, reproduction or redistribution not allowed.

If you have a specific need of a different use please feel free to contact me.
I am open to enter into a specific agreement that can satisfy both parts.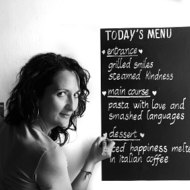 serena previtali