IMPORTANT
When describing and designing my gemstone jewelery, I refer to the historic 'meanings' attributed to each stone, and the symbolism and stories that have evolved around each shiny rock throughout the course of human history, for example diamonds have come to represent eternal love, and are often used in engagement rings for this very reason.
Please be aware that the properties mentioned in this listing relate to folklore, and spiritual or traditional metaphysical beliefs, and are for entertainment purposes only. They are not intended as any sort of medical diagnosis or treatment, and should NEVER be used to replace the advice or treatment of your medical practitioner.
If you have concerns about your physical or mental health, please consult your doctor, dentist or hospital immediately.
My fascination with Aromatherapy began many years ago, when I studied Aromatherapy and Massage.
Unfortunately, fate intervened, and now my disability and lack of mobility mean that this option is no longer open to me.....
But, although I cannot continue as a massage therapist, I still create my oil blends for personal use.
To this end, I have combined the possibility of using essential oils alongside my gemstone jewellery, to create a double edge sword to fight both physical and emotional issues.
(I include an explanation of the way that aromatherapy works at the end of this listing)
Thus, when creating this gemstone bracelet to address anxiety and panic attacks, I also add Lava Stone which is porous, and can absorb essential oils to also address anxiety.
I recommend using Lavender Essential oil for its wonderful healing, calming properties, or you might like to create your very own blend, just as I have, using for example, Lavender, Bergamot and Clary Sage.
These oils are believed to reduce anxiety, stress and depression, calming and balancing emotions and instilling a sense of peace, helping to avert Panic Attacks.
Alternatively, proprietary essential oil blends are widely available to address anxiety and promote calm, if you don't wish to create your own, but these are not tailored to your specific requirements and can be much more expensive.
For further information on creating your own blends, you can contact me or search a reputable aromatherapy website, but never ingest any oils, or apply undiluted to the skin without specialist advice.
Dab a few spots of your choice of essential oil/oil blend directly onto the lava beads and gently rub in. The stone will absorb the oil, and the warmth from your body will help to gently release its aroma, as you benefit from its emotional or physical healing benefits.
You will benefit from these properties as you go through the day, but any time you need an additional boost, just sniff the beads!
The scent can last on the beads anywhere from a few hours to a few days, and as it gradually fades, you can reapply oil as desired.
I will apply my Anxiety-Ease blend to the stones before posting, although the effect will possibly dissipate during transit.
Panic Attacks can strike at any time, you become caught in their tight grip as you experience a sudden onset of fear or anxiety, your chest tightens, your heart pounds, and you begin to sweat.
This can lead to other symptoms, such as tingling or numbness, dizziness, burning and lightheadedness, and you may feel overwhelmed, helpless and terrified.
Gemstones on the Turquoise spectrum are known for their peaceful, calming and restorative properties.
Holding or touching these gemstones while you focus on your breathing can help you to feel grounded and secure, so they are perfect to help you to cope with panic attacks.
Their gentle energy helps you find your way back to peace, achieving a calmer state of mind by helping you to relax and release the tensions and stress.
I have chosen the following gemstones because they are believed to demonstrate calming, restorative properties as listed below.
Turquenite (also known as blue Howlite) is a stone of tranquility, peace, and protection. It is believed to help you to balance your emotions, which leads to reducing stress and anxiety. Turquoise helps restore depleted vitality and lifts sagging spirits.
Chyrsocolla is said to get rid of negative energies, calms, and allows truth and inner wisdom to surface and be heard. Its calming effect helps with nervous disorders, such as anxiety, depression and panic attacks. Chrysocolla calms and helps ease emotional heartache, providing strength and balance.
Amazonite is a harmonising crystal that offers nurturing, soothing energies and is excellent for reducing anxiety. It dispels feelings of negativity and aggravation, helping you to remain calm and to feel in control of your situation.
Amethyst is a natural tranquilliser and believed to be a master healing crystal known to be one of the most effective in alleviating anxiety. It relieves stress and strain, soothes irritability, balances mood swings, dispels anger, rage, fear and anxiety. Simply holding it is said to impart calmness and serenity, and provide peace of mind. It is also a very protective stone, particularly for travelling, thus is an excellent gem to address driving test nerves or anxiety surrounding a journey that needs to be made.
Lava stone also offers its own intrinsic properties and meanings. It is recommended for its ability to calm emotions and is considered a stone of rebirth, getting rid of unnecessary feelings and emotional attachment. Lava is formed of both Fire and Earth, and combines the qualities of both, with Fire's assertive, passionate energy, tempered by the grounding, balancing energy of Earth.
Creating Your Bracelet
Each bracelet consists of semi precious gemstone beads, with spacer beads defining each group of gemstones.
I generally use Swarovski types pacers, as the multi faceted nature of them reflects and augments the healing energy, although should you prefer, small silver plated or hematite spacers can be substituted, or omitted entirely, just let me know when you place your order.
Throughout the process of creating your bracelet, I will be in contact with you to check your exact requirement, I want you to be as happy with your bracelet as possible
Your bracelet will be made using either non stretch beading thread, with a lobster claw or toggle closure. These bracelets are adjustable, but can be made to fit perfectly.
Alternatively it can be made using Memory Wire, which retains its shape rather like a bangle and is available in one size which fits most average female wrists.
Prices vary according to size, as larger bracelets require more gemstones.
The following sizes are available from the drop down menu:
Memory Wire 1 size only
Lady S: 6.5"
Lady M: 7"
Lady L: 7.5"
Lady XL: 8"
Male S: 7.5"
Male M: 8"
Male L: 8.5"
Male XL: 9"
To finish off this bracelet, a charm of your choice will be added.
Perhaps you would like a tiny peace charm, or a butterfly that represents growth as it emerges from a cocoon into the sunlight, or perhaps you have another symbol that is meaningful to you.
Please select your choice of charm from the drop down list, or, if the charm you require is not listed, select "own choice" and follow this link to see the full range of available charms
https://www.etsy.com/uk/listing/227397686/add-on-charms-for-purchased-bracelets?ref=shop_home_active_1
Once you have found the charm you would like, convo me its number to let me know your choice.
So, the means to begin to control these panic attacks can soon be in your hands, encircling your wrist with beautiful gemstone beads, enveloping you in healing essential oils as it metaphorically surrounds you with calm and healing energies.
How Do Essential Oils Work?
The sense of smell is very powerful indeed, and has been proven to balance emotions and moods, as well as having a profound emotional and physical effect, via the central and autonomic nervous systems.
Smells are especially powerful because they can trigger specific memories to cause emotional responses, and creating a positive association with a scent and then conditioning oneself to that scent can help to alleviate symptoms of anxiety and depression.
Essential oils can be used to alleviate symptoms of many conditions, and work in two ways, firstly the scent can work emotionally as described above, and secondly the natural composition of an individual oil has distinctive chemical properties, such as anti-inflammatory or cell rejuvenation etc. When applied to the skin, these active chemicals can be absorbed, just like in common medications, such as creams and patches.
Thus, these oils can enter the body through the skin, or through inhalation.
Different factors can affect the absorption of essential oils through the skin. If you massage or apply heat to the area first, it will increase circulation to that area, and cause an increase in absorption of essential oils. Some areas of skin (under arms, head, palms, soles of feet, etc.) are also more permeable than others.
It is recommended that most Essential Oils be diluted before being applied to the skin, using a carrier oil such as coconut or olive oil, added to a bath or as an ingredient in lotions and other beauty products. Another way that essential oils enter the body is inhalation through the nose or mouth. This can be via a diffuser, or steam inhalation.
During inhalation, molecules travel through the nose to the brain and can affect the heart rate, blood pressure, breathing, memory, stress levels, and hormone balance. Molecules inhaled are also carried to the lungs and interact with the respiratory system.
Wearing the beads at the pulse points of the wrist means that the essential oil can quickly access the bloodstream, as well as enveloping you in its healing scent. So you can now look and smell fabulous, as well as feeling better!
*Safety Information*
Avoid wearing your bracelet when sleeping, bathing or showering.
To avoid any unexpected allergic reaction, it is advisable to research and dilute test any oil you have not previously used, before applying it to exposed skin areas.
Do not use essential oils during pregnancy without consulting a qualified aromatherapist.
The Anxiety Calming Blend used on this bracelet was made with pure Essential Oils of Lavender, Bergamot and Clary Sage in Grapeseed Carrier Oil.
Unlike some unscrupulous or often uninformed sellers, I will never use synthetic or imitation gemstones in my jewellery. Consequently, I am sometimes unable to source specific genuine gemstones (eg Malachite) at a price that will not impact greatly on the cost of your item. In these cases, rather than use synthetic or imitation stones, I use alternatives with similar properties.
Occasionally, a few very pale gemstones are colour enhanced, which does not affect their meanings and properties.
You can be assured that you will be receiving the genuine article
** Every item in my shop is custom made to order, exactly to your requirements. Please be aware that this means an order can take up to 10-14 days to create, before shipping. **
Learn more about the shop and process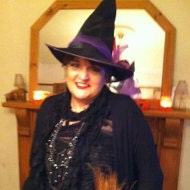 Welsh Witch
Frequently asked questions about MagicMixes
Ease Panic & Anxiety with Aromatherapy Essential Oil Diffuser and Gemstone Bracelet
---
Overview
Handmade item
Materials:

faceted glass beads, silver plated clasp, Lapis Lazuli, chrysocolla, Amethyst, Lepidiolite, Amazonite, Turquenite, Charms, Gemstone, Tibetan Silver

Made to order
Ships worldwide from

United Kingdom

Feedback: 160 reviews
Favorited by: 45 people
Listed on Nov 26, 2016
790 views