Title: "Sweet Mint, " 2015

16" X 12" Giclee fine art print of original acrylic painting with small white boarder. Fits a standard frame with an 11" X 14 " picture opening.

Original framed painting available upon request - $750.00 - measures (16.5" × 23") Original Acrylic on canvas.
Price includes original acrylic abstract painting with custom rustic-modern oak frames made by House of Boys Art + Design.

I consider myself a colorist, focusing more on featuring intense colors rather than forms. My abstract paintings are modern, bold, feminine and colorful. As I layer colors on the canvas, my pictures tend to evolve, with each layer adding texture and depth. I am inspired by trends in fashion, decor, garden design, architecture, and always the ocean!

I hope that my art brings warmth, style, and color to every room.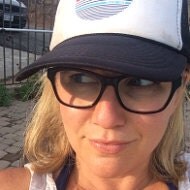 Caryn Owen
Listed on Oct 3, 2016
139 views