86 Sales
|
On Etsy since 2008

FORT ROCK MOON RISING
16x20 or 20x30 Inch Archival Giclee Print
Printed on Epson Satin Paper
Image size @ 10x18 inches or 15x27 inches on white borders
Signed/Dated and Titled on lower white border
Signed/Titled and Dated by Clyde Keller
Presented in Archival Sleeve, Unframed
PRICE: $280.00, $345.00
OR--
11x14 or 12x18 inch Fuji Crystal Archive photographic print(s)
Lustre Paper, fade resistant for over 20 years
Image dimensions @7.5x13.5 or 10x18 inches with white border
Signed/Titled and dated by Clyde Keller
Presented in archival sleeve, Unframed
Shipped Flat, Insured with Tracking
PRICE: $155.00 and $195.00
NOTE: The printed copyright information appearing on the web display print, is removed for your purchase print.
Fort Rock has an undeniable appeal. We're lucky to live in Central Oregon where this ancient and remarkable landscape is available on day trips. This image was made in 1998 during a spectacular moon rising just as the sun had set. This created a most unusual setting for the making of an evocative atmospheric landscape... and not since duplicated in over12 years since photograph was made on film. Fort Rock is entrenched in Oregon prehistory and is located in the Oregon Outback near Christmas Valley.
This archival giclee print offers an exquisite range of color, tone and brilliancy faithfully capturing this atmospheric subject at dusk. Although the pictorial view is wide field the perspective is natural inviting the eye to explore the scene in all of its glorious detail. Makes a strong impression. Suitable for immediate safe viewing and ready for framing.
NOTE: The actual print has a white border and no typogr4aphy as shown in this display ad.
TREASURY ITEM
February 14, 2015-- Featured in THE Treasury entitled, "Happy Valentines day."
https://www.etsy.com/treasury/ODYxODA1MnwyNzI0NzAzMDQ3/happy-valentines-day?campaign_label=convo_notifications&utm_source=transactional&utm_campaign=convo_notifications_010170_10683759063_0_0&utm_medium=email&utm_content=&email_sent=1423944598&euid=ofXaXdPNMqPcsl-oWzX6BMn-w8w0&eaid=74607774&x_eaid=dc1a6b5760
Curated by Gina from ginasvintageshop
https://www.etsy.com/shop/ginasvintageshop
ABOUT:
If you sit still long enough you can hear the story behind each and every vintage and antique item, even if the story is simply an imaginary tale. Vintage and antique holds our history, our hearts and our memories.
An antique in a technical term means any thing that is 100 years old. However, the dictionary defines antique as an objet that is "belonging to, made in, or typical of an earlier period". The dictionary also defines this term as an "object having special value because of it's age, especially a domestic item or piece of furniture or handcraft esteemed for it's artistry, beauty, or period of origin. Over time the word antique has been used to describe an item 50 years old or older. Others have used this term to define it by generation. For example 80 years would equal 2 generations, making that item an antique. In my shop, I list any item prior to the 60's as an antique.
December 5, 2013-- Featured in the enticing treasury entitled, "Sugar plum Fairy"
https://www.etsy.com/treasury/MTU1NjgxMDF8MjcyNTM2ODc1MA/sugar-plum-fairy
Curated by friend Louisa Rull from FeltSoapGood whose New Zealand shop features handmade Felted Slippers Hats and Baby Wool Clothing.
https://www.etsy.com/shop/FeltSoapGood
ABOUT:
Felting from New Zealand wool is wonderful--
I was born in Russia, and live in New Zealand with my family. My kids are the models for some of my creations, my husband is my IT and Photo consultant.
Now when I am seriously exited with felting I want all the world to see what I can do with it.
February 2, 2013-- Featured in the treasury entitled, "Rock On"
http://www.etsy.com/treasury/MTkzODY3NDd8MjcyMTM1NjcyNw/rock-on
Curated by Yvette Peterson from alaskanstardust:
http://www.etsy.com/shop/alaskanstardust
ABOUT:
Gemstone and metallic wrap bracelets, silk applique and velvet pillows, gem topped hairpins, and rhinestone earrings are offered here at Alaskan Star Dust. **Please be aware that I live on a remote Alaskan island - this does affect shipping time**
July 21, 2012-- Featured in the treasury entitled, Bring a Little Nature Indoors
http://www.etsy.com/treasury/MjA1NzU5NDB8MjcyMDUyODkwNw/bring-a-little-nature-indoors
Curated by Olive from Beans Stones Etc. --
http://www.etsy.com/shop/BeadsStonesEtc?ref=pr_shop_more
About:
I am a scientist (geologist) who enjoys creating all sorts of handmade items. I like to experiment with different materials and to mix and match different elements in my designs. I use natural materials such as tagua nut and wood, but semiprecious stones are my favorite natural beads because I appreciate the Earth and the beauty that can be found on it.
I enjoy seeing what results from the experimentation with colors, textures, and materials to make unique and interesting, original pieces. In addition to semiprecious stones and a variety of beads such as natural materials, Czech glass, vintage style glass, and crystal beads, I include additional techniques and materials to add intriguing elements to the design such as copper and brass wire, ribbon, ladder ribbon, sari silk ribbon, paper clips, reclaimed cotton, and handmade polymer clay beads.
July 20, 2012-- Featured at the lead image in Elizabeth Graf's newest treasury entitled,
Serenity, Good Fortune and Long Life!! Treasury #4
http://www.etsy.com/treasury/NTYyOTY2NHwyNzIwNTIzODQx/serenity-good-fortune-and-long-life
Elizabeth Graf's fine paintings and other art work can be viewed here:
http://www.etsy.com/shop/ElizabethGraf?ref=pr_shop_more
Artist Statement:
I grew up on Long Island, New York, which is an island AND a long peninsula (connected by bridges) not far from the beach and I now live in Florida, which is a long peninsula (connected by land) -- and I am not far from the beach. From the moment I could hold a crayon I have been an artist -- and possessed a "light bulb" inside my head that was always shining. It is a wonderful way to live Life -- being creative and always inspired. I feel very lucky.
I have shown in Manhattan, upstate New York, on both coasts of Florida (including Miami and Miami Beach). For a while I had an 8 foot x 8 foot mural along Collins Avenue in South Beach. One of the paintings on this website was made into a billboard that stood for a month along the bay in Sarasota, FL.
I like to see the good and beauty in everyone and everything. It is my hope that my artwork reflects these feelings.
My mother's family was from the Caribbean and probably is the reason for my fascination with marine life, plants and tropical motifs.
April 9, 2012-- Featured in Elizabeth Graf's fabulous new treasury, LET'S HEAR IT FOR THE BLUES! Come on in -- you are invited!
http://www.etsy.com/treasury/NTYyOTY2NHwyNzA3ODY5MTIz/lets-hear-it-for-the-blue..
Do visit Elizabeth's store to view a fine selection of her creative art (gorgeous paintings!) at this link:
http://www.etsy.com/shop/ElizabethGraf
Featured by Patrice of ivorymoon in her captivating Treasury entitled TREASURES WAITING TO BE DISCOVERED:
http://www.etsy.com/treasury/4cf996012efe8eef9bc96ef9/treasures-waiting-to-be-discovered
Vist ivorymoon at
http://www.etsy.com/shop/ivorymoon
This is a most interesting shop offering handmade jewelry specializing in work with natural materials, stones, fossils, wood, and pearls... they are a cottage industry and state "wefrom our cottage to your castle."
Featured by Anastasia of LAccentNou in her fabulous "Catch The Moon" Treasury
http://www.etsy.com/treasury/4c088e28ab056d918639f0ce/catch-the-moon
Visit her shop at
http://www.etsy.com/shop/LAccentNou
Featured by ElizabethGraf in VISIT MY ART GALLERY-2
http://www.etsy.com/treasury/4bf405154d168eef215c4aea/visit-my-art-gallery-2
May 18, 2010
Visit Elizabeth's Fine "One Of A Kind" Fine Art Oil Painting Store at:
http://www.etsy.com/shop/ElizabethGraf
Previously featured by Vicki Diane of VickiDianeDesigns, July 26, 2009 Treasury
Learn more about the shop and process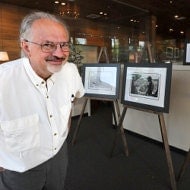 Clyde Keller, photographer
FORT ROCK MOONRISING, Central Oregon, Outback, Clyde Keller Photo, Fine Art Print, Color, Signed, Treasury, landscape
---
Overview
Handmade item
Materials:

pigmented inks, archival materials

Ships worldwide from

United States

Feedback: 53 reviews
Favorited by: 328 people
Shop similar items from sellers around the world