Heirloom Sweet Corn Vegetable Seed Organic Garden Non Gmo Country Gentleman ShoePeg
organic seeds, earth, sun, water, recycled paper
~ about ~

Genuine old-style sweet CORN flavor. One of the finest for roasting, it's also great for canning. Country Gentleman corn, a heirloom variety, is the most well known variety of shoepeg corn. Named for the similarity of its kernels to wooden pegs used in shoemaking, shoepeg corn is characterized by small, irregular white kernels of unsurpassed tenderness and sweetness. The American South has made this type of corn its own, and it is virtually unrecognized in other areas of the United States. Country Gentleman was first offered for sale in 1890 by S. D. Woodruff & Sons. Sweet, delicious and milky; tender white kernels on 8" ears. The ears have no rows, as this is a shoepeg type, and kernels are packed in a zigzag pattern. One of the best heirloom sweet corns. 90 days. Annual. 20+ Organic seeds.

~ planting ~

Prepare the soil with compost or other organic matter. One week after frost or when the soil consistently reaches 60 degrees F, plant the corn 1" deep and 8-12" apart. Planting blocks of four short rows ensures good pollination. Germination should take place in 5-6 days. For companion planting benefits, plant corn with cucumbers, peas, or pole beans; plants that like shade also do well with corn. Avoid planting tomatoes near corn.

Growing Country Gentleman Corn Seeds: After the corn emerges, keep it moist and carefully remove weeds; since corn cannot fight against weeds, mulch may be beneficial. Additional organic matter or compost helps growth, since corn is a heavy feeder. Keep in mind that corn has shallow roots which can easily become damaged by hoeing.

~ harvesting ~
Corn is ready about 3 weeks after the silks appear; harvest when the silks are brown, but not dried, and the husks are dark green; ears should be plump. Pull back the husk and pop a kernel with your thumb; a milky juice squirting out means corn is ready. If juice is watery, corn is still immature.

~ additional instructions ~
- all seeds are heirloom, open-pollinated, organic & non-gmo (unless noted otherwise).
- detailed instructions are included with every seed package.
- inquire for discounts available on bulk quantities.
There was a problem calculating your shipping. Please try again.
No returns or exchanges
But please contact me if you have any problems with your order.
Gift wrapping available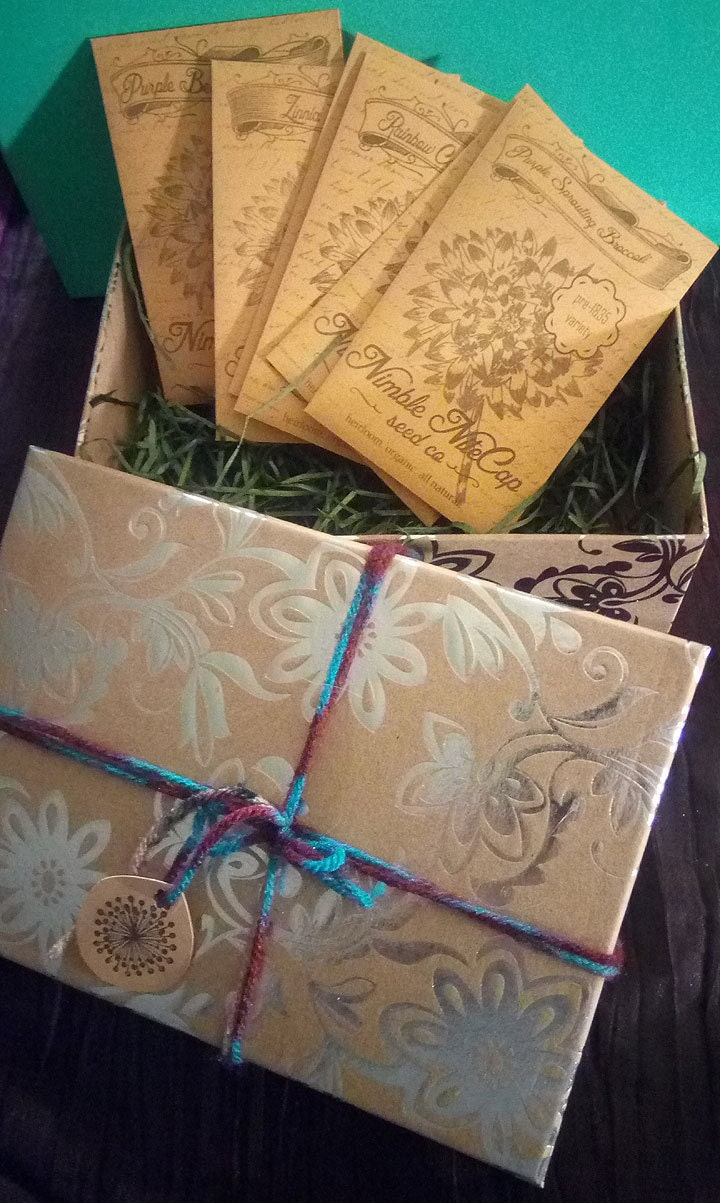 Gift wrapping by NimbleNitecap

Reviews aren't loading right now. Try again later!